With a weekend full of hearty tunes, airy singing and friendship made, it's hard to pin-point which aspect makes Telluride so special. Maybe it's the fact that when you're dancing at night, you can look up and see the moon slowly crawl it's way over the mountain peak. Or perhaps it's the flooding of music that drowns your ears so beautifully you just can't help but close your eyes. Whatever and wherever the magic comes from, the Telluride Bluegrass Festival is a memory-making four days that brings residents all over Colorado — and across the states — together for the simple celebration of music.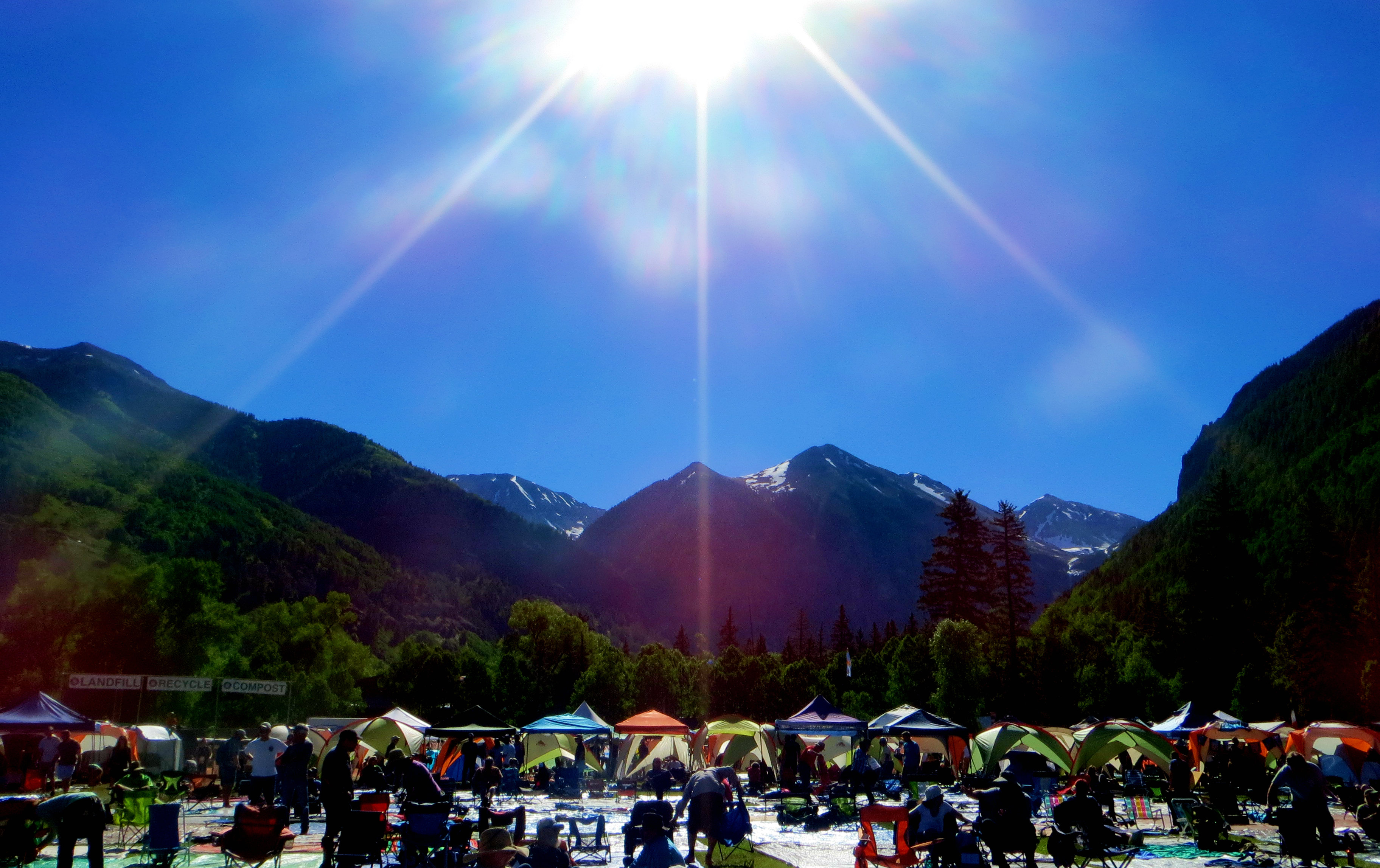 On Saturday, the morning started out with the final round of the Band Contest. The four remaining groups, Chain Station Quartet, Ragged Union, Fireball Mail and Mile High Express, rang us into the late morning, with 2015's winner, Lil Smokies, taking the stage right after. The winner Fireball Mail hails from Nashville and I wasn't surprised to hear they took it all — their fast-paced and full vocals amplified the energy that freely flowed between one another. As winners, they are guaranteed a spot during next year's Festival.
Chain Station's performance was soulful and clear with a twinge of smooth folk and Ragged Union came dressed out like gentlemen, with fedoras and suits — and as someone who was already sweating from the heat at 10:00 am, I applauded their bravery of such fine outerwear in the Colorado sun. While they were dressed in such finery, their lyrics and picking of banjo brought a sense of playfulness into their performance. Finally, the quartet Mile High Express ended the contest, showcasing a subtle beauty through their instruments and Jenny Bousquet's feminine vocals.
As the sun reached its peak in the sky, Mandolin Orange came out onto the stage. The duo of Emily Frantz and Andrew Marlin created for a more intimate experience in the world of bluegrass. "We were hired to chill everyone out for a bit," they laughed into the microphone, Frantz bringing her violin to life and Marlin taking over the vocals for a moment. Their most recent 2015 release, Such Jubilee, dances from nostalgic lyrics to intriguing folklore. The duo comfortably commanded the stage, allowing the crowd to relax and wade into more streaming waters of folk than they had previously been introduced to.
Rocking back and forth between one another, they created an unique balance of quick stringing and melodic singing. They gave no mention of song titles, just labeled one moment after another to describe what was about to unfold from their fingers and vocals — from a song about "falling in love with a stranger at a bar" to "feeling like a horse," and "being on a mountain," the crowd was able to have an entryway into Mandolin Orange's musical poetry.
Even though they were just two musicians, they were able to create a cacophony of sounds that showcased their mastery over their instruments. I kept thinking to myself, this is what bluegrass sounds like in its purest form. They played songs such as "House of Stone," "Calvary," and "The Wrecking Ball," a curated set list that dabbled into a variety of their albums. They also performed a cover of a Gregory Alan Iskov song, and I'm pretty sure the entire crowd fell even more in love with them. When they exited the stage, I felt refreshed going into warm afternoon, ready for the onslaught of dancing and free flowing vibes that were about to be released from the gates.
The Tim O'Brien band came on next, with Yonder Mountain String band swiftly following. Members from Greensky Bluegrass, Leftover Salmon and even Sam Bush performed with Yonder, creating for a lively show that was the perfect wake up call for the evening. Of course, the marshmallows came flying out, raining down on the stage once Yonder took over (a Telluride tradition, and if that doesn't make you want to come next year, I don't know what will), and they remarked, "We were kind of hoping y'all would have forgot the marshmallows."
They rattled off new titles from their album Black Sheep, graciously sharing the stage with one another. Their dynamic focused on energy and response, all playing off one another and improvising their way through cherished Americana tunes.
The whole weekend seem to rush by as quickly as the banjo plucking that the artists could so easily create. Of course, everyone came out to get down with Sam Bush on Saturday night, and he brought Bela and others onto the stage to remind us all why this festival was created. Often called one of the founding fathers to this festival, I don't think Sam has set down his instruments once in the past forty-three years.
Leftover Salmon carried out the night, only young hipsters and hippies left parading to his sounds. At one point, I asked to those around me, "Where did we just go?" for the jam session had created a spiral of sounds, twisting us down until our ears were worn out. And can we just have a moment of silence for the talents of percussionist Alwyn Robinson? Having joined the band just a couple years ago, his youth and skill stole the show. The members slowly faded out their instruments and walked off the stage, leaving Robinson to bang it out with his drums. Pouring tribal beats into reggae rhythms, the crowd was stunned into silence, leaving their dancing behind for the moment to merely appreciate the artistry that was taking place.
I think it's safe to say a lot of stumbles took place in the dark to the tents, wondering where did all that music come from, and how the hell are we going to ever say goodbye tomorrow?