Anyone who has resided in Denver long enough has heard of The Lumineers' beginnings here in the city – maybe your friend saw them at the Hi-Dive or the Meadowlark. Maybe you saw them yourself soon thereafter at Red Rocks opening for Cake and just didn't know who they were at the time. Regardless, it's safe to say that the Lumineers are no longer a Denver hidden treasure, rather they have become a national–even worldwide–household name.
Note: we found a full recording of one of their 2010 performances at the Hi-Dive you should check out here. Interestingly enough they performed "Gun Song" and "Sleep on The Floor" in the set, which weren't released to the public until 2016's album Cleopatra six years later.
This folk-pop band just released their sophomore album Cleopatra after years of anticipation with striking cover art from the 1917 silent film of the same title. The Lumineers have reached the Billboard's No. 1 spot for only the second time in the bands history with "Ophelia" (previously they hit number one for "Ho Hey"). Now, they're back on tour with notable openers SLEEPWALKERS and Soak and finally back at Red Rocks for two sold-out performances.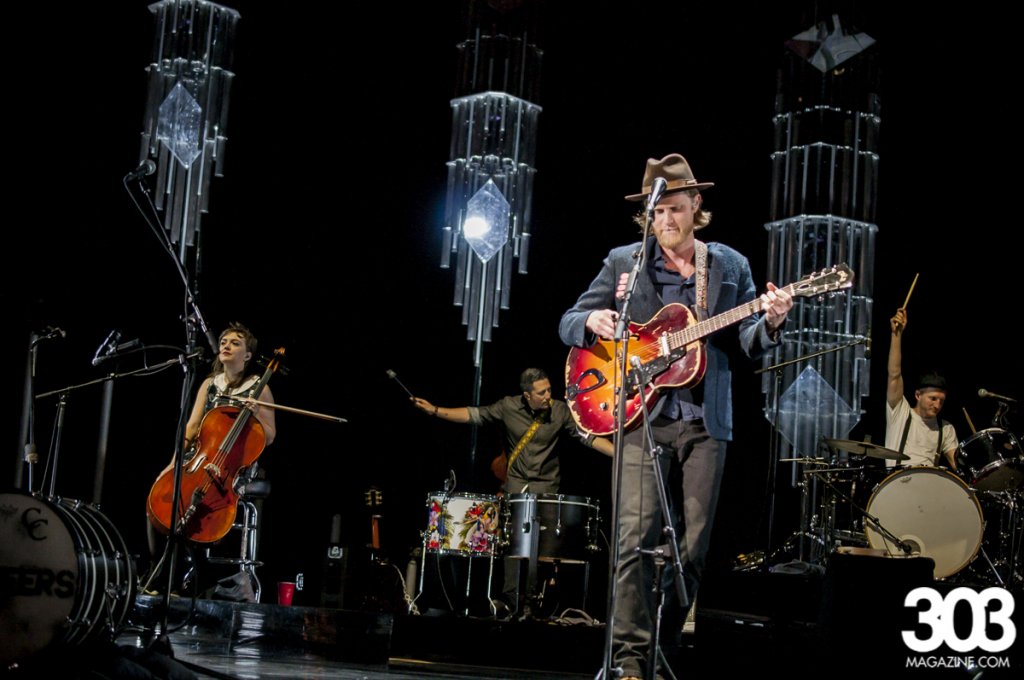 Now, before I go any further I should start with a disclaimer—I am not what you would describe as a Lumineers fan. I appreciate live music immensely–especially local music, but The Lumineers just aren't in my niche. Regardless, I appreciate them enormously as artists and performers and was incredibly excited for this show as there was a heavy certainty that their music would translate wonderfully live.
SLEEPWALKERS opened the performance with a surprise guest-star–J Roddy Walston, who the band had previously toured with. Soak followed with an ambient change in things emphasizing the singers wonderful vocals. Soon after, The Lumineers energetically ran onto stage as the diverse crowd rose up in applause and joyous shouting, and the moment we'd all been anticipating for years finally began.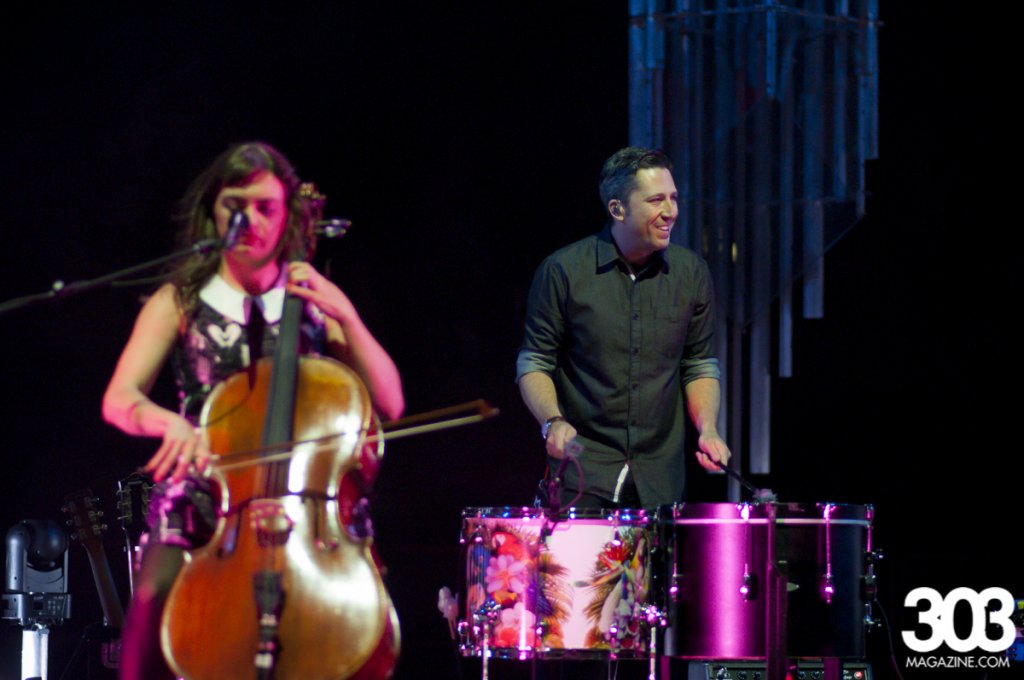 The band opened with the energetic and upbeat "Sleep on the Floor," lighting up elegant chandeliers suitable to their simplistic style of music. Immediately their live sound began to feel more relatable and real than their recorded songs. Their energy was fantastic, often jumping around the stage and even spending three songs performing in the audience. As frontman Wesley Schultz said, the band always likes to get into the crowd, even at Red Rocks.
I have to say, the band is exceptional in the art of creating moments. During songs like "Angela" and "Dead Sea" the fans were captivated, forgetting about everything else and crystalizing memories forever. The live version of "Dead Sea" was more staccato than the recorded version with an excellent choice of added emphasis on the folky piano and cello. "Slow it Down" brought many in the crowd to tears as Wesley's raspy range was accented, echoing through the audience.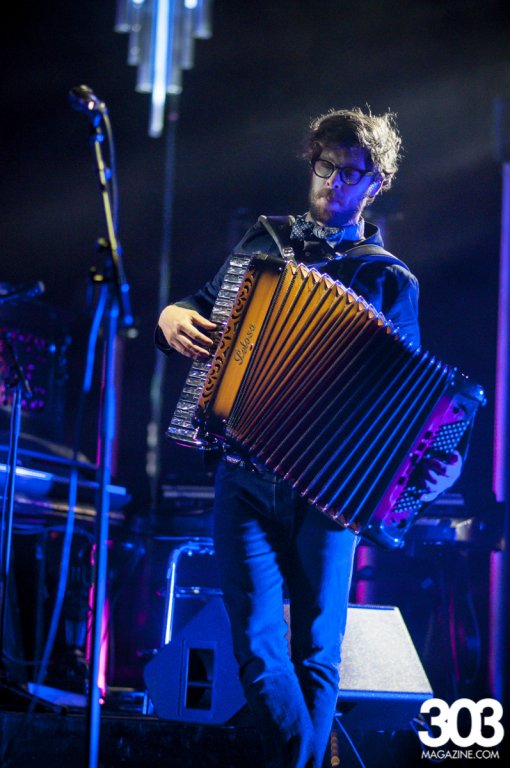 Overall for fans of The Lumineers, this must have been an amazingly fulfilling performance from the folk-pop group. However for myself, I feel like it was a missed opportunity for the band to take it to the next level at their long-awaited sold-out Red Rocks shows. Recently, I've seen other notable folk bands such as Devil Makes Three, Shakey Graves and Deer Tick, all who have flexed their instrumental talents on stage. Quite often members of The Lumineers band would put down their instruments to shout their famous interjections (i.e. Ho! Hey!) or simply disappear off stage for awhile. Seems like an unsatisfying trade when that time could have been used for them to showcase their musical talent. For a five-person live folk-pop band, I wanted more.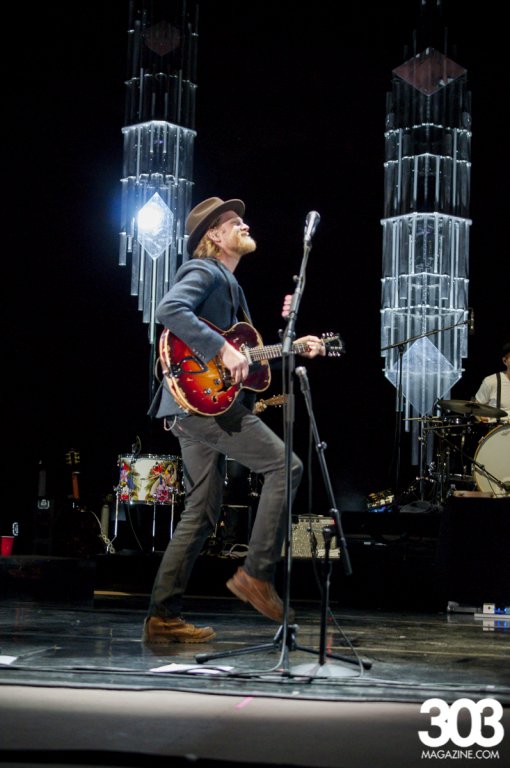 There is so much potential for the Lumineers. Their stage presence is vibrant, and their sound is catchy, to say the least. However, I'm ready to see what they can do. After watching their live performance, I feel like they're holding back, especially considering each one of them individually are wonderfully talented musicians. It almost feels like they were purposefully doing so to create more of a crowd-pleasing performance for their fans.
The Denver band has only recently released their sophomore album, and they just started their second tour, so it's early and we have to leave room to see what direction their next release will take–the band needs time to mature just like any other. Regardless, the incredibly successful Lumineers have gone from selling out two nights at the Bluebird to selling out two nights at Red Rocks. The Lumineers have truly come a long way. I can't help but feel proud of them and happy that if they play their cards right, they could be legends someday. 
All photography by Candace Peterson – see our full gallery of the show here.