There's an interesting variety among the food and booze events this week in Denver. You can learn to make Juleps just in time for the Derby, or grab a spicy, pepper infused beer for Cinco de Mayo. The Big Wonderful also launches this weekend in RiNo with food trucks galore. If that's not enough, you can wind down on Sunday with your mom and a glass of champagne. Get out and eat something new this week at one of these events.
Tiki Takeover
When: Monday, May 2. 5p.m-12 a.m.
Where: Union Lodge No. 1, 1543 Champa St., Denver
The Low Down: Join bartender A. Minetta Gould of Ste. Ellie and Alex Daniluk from Union Lodge No 1. for some delicious rum drinks this Monday. Snack on some popcorn while you enjoy an expertly crafted cocktail in Union Lodge's turn-of-the-century space.
Cocktail Class
When: Tuesday, May 3. 6-7 p.m.
Where: The Crimson Room, 1403 Larimer St., Denver
Cost: $30
The Low Down: The Crimson Room is rolling out a new monthly cocktail class on the first Tuesday of each month. The class will launch this week with a Kentucky Derby theme and a  focus on Juleps, sweeter drinks made with sugar. Along with your admission to the class, you'll get two cocktails, learn bar basics, tips for making great drinks and recipes to take home with you. Master the perfect Kentucky Derby cocktail before the big party on Saturday.
San Francisco's Trick Dog Comes to Denver
When: Thursday, May 5- Sunday, May 8.
Where: Williams & Graham, 3160 Tejon St., Denver
The Low Down: Say goodbye to Williams & Graham as you know it this week because a new restaurant concept is taking over. While the W&G staff go on vacation, Trick Dog, one of San Francisco's beloved bars will pop up in it's place. Stop on by for four days of a new menu, vibe and rules. Overhauling its entire menu every six months, Trick Dog's newest menu 'Trick Dog: Top Secret' is inspired by conspiracy theories from around the world. Having opened in San Francisco in 2013, the bar was a finalist for a James Beard Award for Outstanding Bar Program last year and a semi-finalist this year. Don't miss your your chance to experience a little west coast in the Mile High.
Chili Pepper Beer Fest
When: Thursday, May 5. 5p.m.
Where: Alpine Dog Brewery, 1505 Ogden St., Denver
Cost: $6 per pint
The Low Down: Celebrate Cinco de Mayo with some spice at Alpine Dog Brewery. Try one or all four of their chili pepper–infused beers and grab food from The Pikine Grill. You'll find a Habanero IPA and a Chocolate Chili Pepper Stout among the unique list.
The Big Wonderful Opening Weekend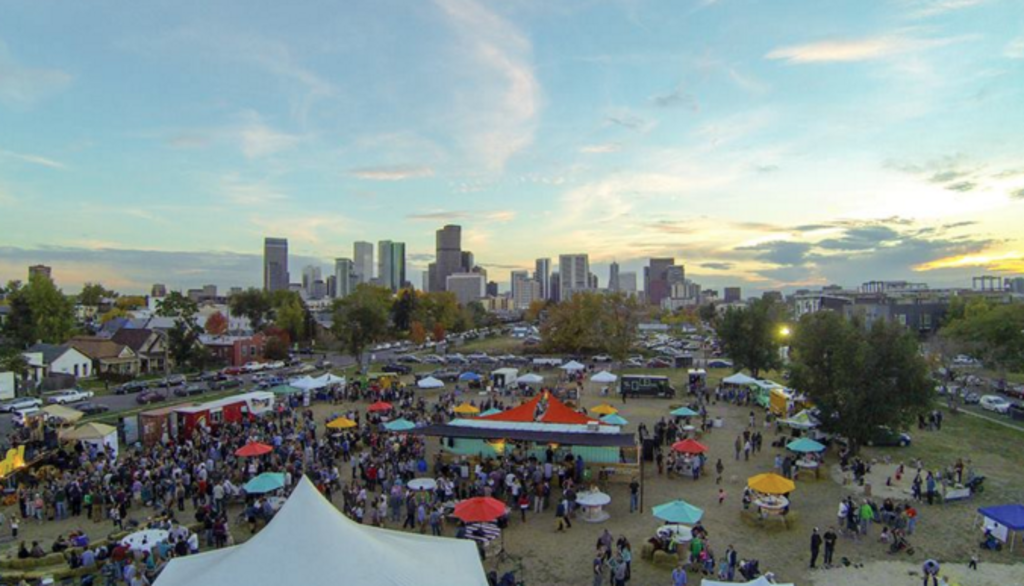 When: Friday, May 6-Sunday, May 8
Where: 2601 Lawrence St., Denver
The Low Down: The Big Wonderful is back for 2016 with three solid days of fun. Bringing together Colorado makers in art, music, fashion and food, it's the perfect weekend event and marketplace for all. You'll see plenty of food trucks including Em's Ice Cream, Goin' South, Barbed Wire Reef, Fire Truck Crepes, Baba & Pop's Kitchen and High Point Creamery. Enjoy cocktails, games and live music amongst the many vendors. Friday is the pre-party and Saturday will be the first full day for artisan shopping. A special Mother's Day celebration will happen Sunday with a champagne and bloody mary brunch. Times do vary each day, so take a look at event times here.
Rosé & Champagne Brunch
When: Sunday, May 8. 11:30 a.m.
Where: Frasca Food & Wine, 1738 Pearl St., Boulder
Cost: $60. Call 303-442-6966 for reservations.
The Low Down: Frasca Food & Wine opens its doors for brunch for the first time this Sunday. Co-owner and master sommelier, Bobby Stuckey says the brunch is not only inspired by his memories of brunch in the Bay Area, but it celebrates the unofficial start of rosé season. The two-course meal will include a basket of house-made baked goods along with optional pairings of Rose, Champagne and Chablis. You can expect a tasty menu, including chicken liver mousse, soft-shell crab and yellowfin tuna.