"Enter, journey, transcend." The Portal is guaranteed to take you on a mystical trip, seamlessly weaving together film, dance and live theater into an entertaining performance and immersive experience. The storyline revolves around the main character, Dante, as he journeys through deserts and mountains in pursuit of Beatrice, all the while haunted by his own inner demons: a "hero's journey," much like The Divine Comedy or Siddhartha. A tale of transformation and empowerment, The Portal borrows inspiration from world mythology and rave culture, with a hint of Pink Floyd and a dash of Burning Man for good measure.
"The Portal strives for collective journey, not just passive entertainment."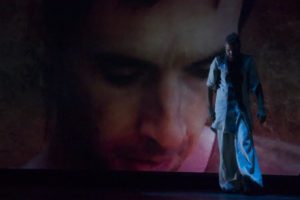 Executive director and producer Luke Comer is an artist, author and co-producer of the Arise Music Festival. Despite working in many mediums, Luke favors the themes of human biological and cultural evolution throughout his work. Combining elements of electronic tribal beats, psychedelic rock, fractal art, audience participation, experimental cinematography and live dance, Luke has created something entirely unique with all local players.
By incorporating his "trance theory," Luke has applied fractal mathematics and concentric pattern repetition to The Portal's visuals, music, performance, and lighting. The "trance theory" creates a "unified sensation and a mesmerizing effect on the audience," enhancing the immersive experience.
Learn more about The Portal in this Huffington Post article, Step Into The Portal: A New Rock Opera in Denver. Comer is quoted in the article as comparing The Portal to healthy food, which is both delicious and nutritious. "It's both entertaining and good for the spirit," he boasts. The article also cautions, "Though not for everybody, The Portal is for anybody who chooses to step through its gateway with an open mind and a free spirit."
The Portal premiers this weekend at The GlitterDome, located at 3600 Wynkoop St. in the RiNo district.
Tickets range from $17.50 to $50 and are available at https://www.ticketfly.com/org/5199. Discounted "early bird" tickets are still available.
The Portal shows at 8pm on the following dates:
Oct. 9th, 10th,
Oct. 16th, 17th, 18th,
Oct. 23rd, 24th, 25th,
Oct. 29th, 30th, 31st