As Telegraph opens its doors today, observant diners may notice similarities between the neighborhood bistro and bar and Brazen, its sister restaurant. Several popular Brazen menu items—including the meatballs and s'mores—remain virtually unchanged at Telegraph. Other elements, such as the house-made cornbread, are repurposed in new dishes.
But for owner Chris Sargent, that's totally fine. The Brazen concept works in the Berkeley neighborhood—so why not take a similar approach in the Wash Park area with Telegraph?
"We're not steering too far away from Brazen," said Sargent. "[Telegraph] is approachable, it has really good food, and it will be a lot of fun. We don't take ourselves too seriously. And I think a lot of people will appreciate that."
Telegraph aims to provide guests with the highest quality of service, and will serve dinner seven days a week, with lunch on Wednesday, Thursday, Friday, and a weekend brunch.
The Concept
Much like its Berkeley counterpart, Telegraph's goal is to be fun and unpretentious, all while appealing to the surrounding neighborhood—an area that Sargent says is starving for good food. Sargent, and his wife and director of operations Carissa, had been eyeing 295 S. Pennsylvania for years. "The reason we love this space is because we love filling niches. I think there's a really big niche to be filled in Wash Park," said Sargent. "I felt the same way with Berkeley, and that's why we did Brazen there."
Telegraph is situated at the intersection of Pennsylvania and Alameda, a unique location that juxtaposes the sleepy single-family homes of West Wash Park with a busy thoroughfare. While the space has cycled through four different restaurants since 2010—Pho Basil, Pho Pasta, CafeBar and Grey Cactus—Sargent claims that the previous iterations didn't account for important factors such as consistency and hospitality.
The restaurant will work hard to sustain an inviting neighborhood feel. And a large part of that rests in attention to service. "When you have your friends over, what do you do? You make sure it's clean. You make sure they have a drink. You make sure they have food," said Sargent. "Whatever they need, you always make sure it's there. It's no different here."
The Space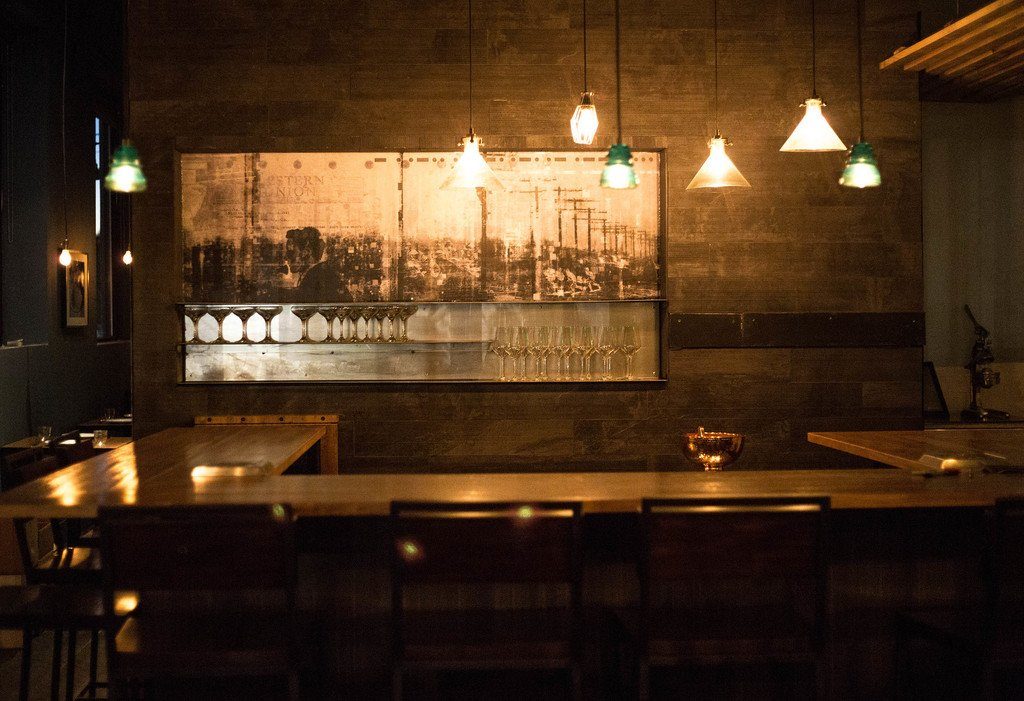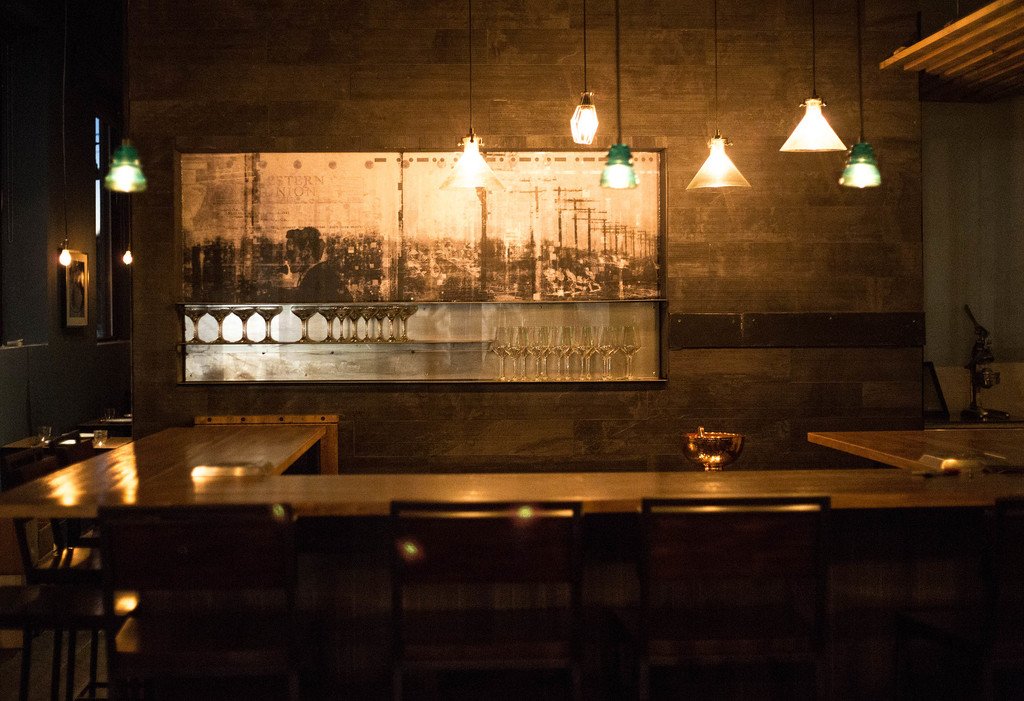 As he did with Brazen, Sargent paired with architect Steve Lubowicki to design the space. One of the main concerns was revamping a dining room that Sargent considered underutilized. In previous installments, a bar lined the southern wall, leaving the east-facing front room virtually barren. To combat this, Lubowicki designed an expansive, wraparound bar in the front room to greet guests and create a congruent feel between the space's two dining rooms.
Other than the bar's placement, much of the building's original integrity is intact. The redesign is equal parts cozy and chic. Dark blues and black woods are contrasted with an ample amount of natural light. Subtle wall hangings and muted light fixtures suggest stylish Brooklyn-inspired overtones. And an open kitchen compliments Telegraph's expansive patio, reiterating the transparent, unpretentious vibe of the restaurant.
The Food
As aforementioned, many of Telegraph's dishes will be recognizable—especially to diners who have visited Brazen within the past three months. Due to a 14-week delay (the restaurant was originally slated to open in July), Sargent had his team test menu items at Brazen. He encouraged creative freedom, and the results were overwhelmingly positive. Part of this is due to the kitchen's experience: both executive chef Brian Wilson and chef de cuisine Craig Field worked at Rioja; chef Jorge Cazares, who is leading the brunch and lunch teams, comes from Linger; and pastry chef Maggie Restive helped Sargent open Brazen.
In accordance with Telegraph's intentionally understated concept, many of the menu's dishes emphasize familiarity. However, it is the kitchen's execution that turns dishes into winners. This is clearly a menu designed with the masses in mind—but one where quality and creativity reign supreme.
Consider the beet salad, which features the root vegetable prepared two ways—roasted and raw—crunchy house-made granola, fresh strawberries and raspberries, and a bittersweet tarragon crème. The dish is colorful, thanks to the fresh fruit, but also complex, due to the surprisingly textured crème. Or take the squid ink vermicelli, a semolina-based pasta that achieves a magnificently black hue through the process of squidding. Combining the sweet intensity of bay scallops, acidity of an orange remoulade, and the nuanced spice of a tarragon salsa verde, the dish is topped with a simple egg yolk. Intended to be mixed and enjoyed like a carbonara, the dish is playful, creative, and surprisingly unpretentious. Finally, the half chicken entrée features a simply seasoned (salt and pepper) Boulder chicken served over Pommes Anna—think buttery, crispy scalloped potatoes—glazed maitake mushrooms, and Brussels sprouts leaves. The dish is simple in its preparation, intricate in its execution—and a perfect example of the kitchen's restraint.
Like Telegraph's operations, its beverage program will stay in the family, when possible. Sargent's brother, Daniel, will handle the beer list (building on his detailed suds program at Brazen), Sargent will deal with the wine, and Lauren Thompson and Joey Hoisescu will round out the cocktail program. Unsurprisingly, the beverage program will feature quality ingredients at fair prices. Cocktails such as the Pinche Guero, a white negroni featuring Salers—a bittersweet, botanic gentian liqueur—and the Cracked Rear Vieux, self-described as an old-old fashioned fused with the classic New Orleans Vieux Carré, are rooted in tradition, but are plenty creative. Punch bowls, intended to be shared on Telegraph's patio, add a nice informal touch.
—
If Brazen's success as a neighborhood addition is any indication, it can be assumed that the Wash Park area will welcome Telegraph with open arms. Above all, the restaurant aims to cater around the needs of the individual. Sargent says his ultimate goal is about impressing his guests. "I want you to have fun when you come out to dinner. I don't want to you to waste two hours of your life," he said. "Time's a commodity that none of us have enough of. So if you're going to do something, do it right."