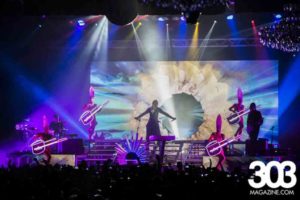 Theatrics and pulsing beats were the key ingredients to Empire of the Sun's performance last Saturday at the Fillmore. It's been two years since they last released an album, and I was eager to see their creative costumes and listen to their strange, other-worldly lyrics. Lead singer, Luke Steele, exclaimed, "Let's do some dancing!" and he was too late in the sentiment—all the bodies were already jiving and flowing free as the electronica band played out their hits.
Their opening set was fused with Technicolor graphics, integral dancers, and a flair for the dramatic. Steele was wearing his iconic crown, but soon took it off as he was bouncing around the stage. I caught myself thinking that if ballet punk rock had a home, it would live inside the art performance of Empire of the Sun. Most of the time backup dancers are just that—shadows behind the main star. But here it was as if the dancers were the visual counterpart to the tunes.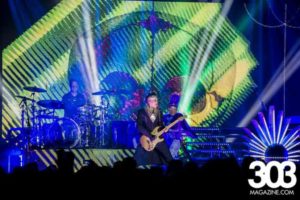 The band transitioned into a gritty set-up with darker undertones in the middle of the set—or at least as dark as this positive-vibe-only band could get. I enjoyed the graphics, however; they had a lot of psychology and space imagery, and the interactions between Steele and the dancers mirrored this cosmic set-up. Their song "Breakdown," rang out in between colorful strobe lights, drum banging, and guitar thrashing.
They quickly jumped back into their happy-go-lucky electronica after a brief intermission where Steele spoke to his video on the screen. The conversation between the man in the video and Steele would have been bizarre if they had not treated their concert as a performance art piece from the beginning. The crowd got a kick out of it and their song "We Are the People" was the perfect tune to re-enter the fantastical world the band acts out. I liked the balance they projected between adhering to an EDM audience and an artistic one.
Toward the end, Steele began to bash his guitar onto the drum set, and I wondered if it was for show or for the art performance. At the climax of the song "Tiger by My Side," he banged it onto the stage, successfully breaking it in two.
I could sense that a majority of the crowd were Empire of the Sun devotee's, and knew every song that the band played. After their encore of "Alive," I was left with just one unfulfilled request—when were they going to come out with a new album? I exited the Fillmore sweaty with leftover dance moves and stepped back into the Denver streets, saying goodbye to the art world that Empire of the Sun constructed inside the packed auditorium.