This week, the Denver music scene is hitting all facets of the music world. With performances from hip-hop chart-toppers and 90s rock legends to indie up-and-comers and jazz pros, there is a genre for every taste at every venue in the area. In short, you should not be binging on Netflix this week–get out and get some music in your life. Check back every week for 303 Magazine's picks of not-to-miss shows for the week with The Get Down. Here are our favorites for this week.
Monday, August 24
Incubus at Red Rocks
Your chance to take it way, way back to the days of sitting in your basement being all artsy and angsty and listening to Incubus is finally here. The 90s grunge rock band is hitting the stage at Red Rocks to deliver a sizeable dose of dirty rock and roll. So lace up your converse, "Drive" on down to your favorite outdoor amphitheater and be prepared for sentimentality and nostalgia overflow.
Tickets range from $49.50 to $99.50.
Tuesday, August 25
J.Cole, Jeremih and Big Sean at Red Rocks
Red Rocks is about to get real loud, sexy and sultry with this Tuesday lineup. Grammy-nominated and platinum-selling rapper J.Cole enlisted the help of guests Big Sean, YG and Jeremih on his "Forest Hills Drive" tour. Prepare for smooth jams, fiery lyrics and a whole lot of jumping around. Throw parties, not shade.
Tickets range from $40.75 to $70.75.
Wednesday, August 26
The Tallest Man on Earth at The Ogden Theatre
Indie-folk outfit Tallest Man on Earth will head to the Ogden Theatre to display their passionate vocals, poetic lyrics and melodies rooted in comfort. The band released their newest album, Dark Bird is Home, in May of this year. The album pulls inspiration from many of the band's first records, making many of the tracks instant favorites for longtime while opening their repertoire to a wider audience. The band will be accompanied by infectious singer-songwriter Lady Lamb. Her fusion of pop, folk and indie rock creates upbeat earworms without overdoing the sweetness of her vocals.
Tickets are $30.
The Cyrus Chesnut Trio (2-nights) at Dazzle
Pianist Cyrus Chesnut will play two nights at Dazzle Jazz club, accompanied by drums and bass. Chesnut is adept as creating a brand of timeless jazz that has its place is the archaic catalogs of blues and jazz, yet still holds true today. Chesnut has the ability to weave sizeable stories through his melodies, all the while holding true to a stylish air of confidence and dexterity in the genre.
Tickets are $30.
Thursday, August 27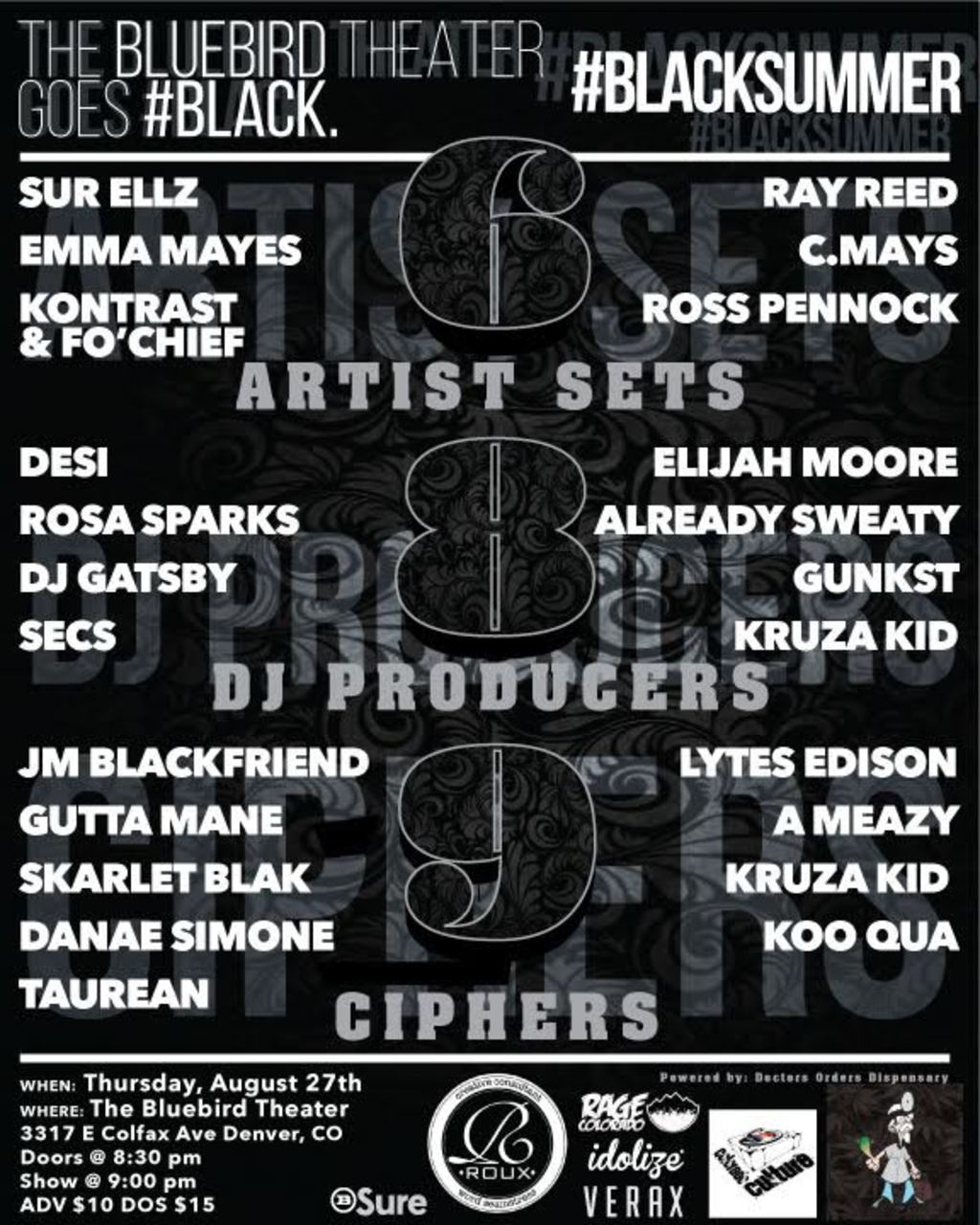 Black Summer at The Bluebird Theater
Thursday night the Bluebird Theater goes black. Presented by Roux Black, the event will host a slew of up-and-coming and established artists in the local music scene. This independent showcase is one of the biggest local events happening this summer. Fans can expect 6 artist sets, 8 DJ Producers and 9 ciphers all crammed into ONE black night!
Tickets are $10 ahead, $15 at the door.
Friday, August 28
Dave Matthews Band at Fiddler's Green Amphitheatre
Back again to serenade you with his gargled hits is Dave. Davenites will cram into the fields at Fiddler's Green for one weekend only, to dance barefoot in the grass to hits like "Space Between," "Crash into Me," "Tripping Billies" and more than I'd like to admit I know 90% of the words to. And who could forget the 'band' portion of the Dave Matthews Band? I mean, come on, that's honestly the best part. So get barefoot and dance like only Dave is watching.
Tickets start at $51.45.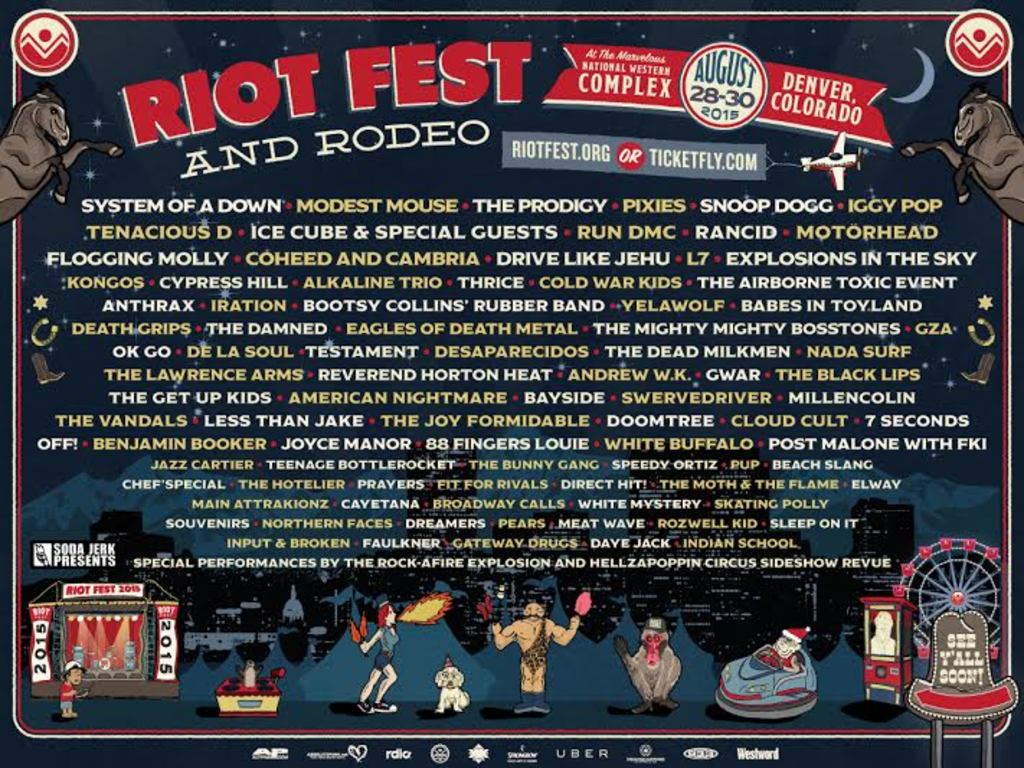 Riot Fest at The National Western Complex (3 days)
If you thought last year's lineup was good, the 2015 roster has probably got you speechless, because it is stacked. From rock favorites like Iggy Pop and System of a Down to hip-hop heroes like Snoop, ice Cube and Run DMC, there is truly something for everyone this year. Everyone from small indie bands to chart-topping powerhouses will be in attendance.
Tickets are $179.98 for a 3-day pass.
Saturday, August 29
Megan Burtt at The Oriental Theater
Denver-based singer-songwriter Megan Burtt will be celebrating the release of her upcoming album "The Bargain", with a release show at the Oriental Theater. Burtt's soft and passionate voice carries her lyric heavy brand of folk, which takes influence from contemporary pop-rock to country music and everything in between. "The Bargain", produced by Louis Cato (Mariah Carey, Snarky Puppy, Bobby McFerrin) will be released on August 25th and chronicles her battle and recovery from life threatening illness.
Show starts at 8:00, opened by Strange Americans and Julian Peterson. GA tix $12, VIP tix (including a copy of the CD) at $25
Sunday, August 30
Mad Decent Block Party at Red Rocks
This year's block party heads to Red Rocks for one night of bass-thumping, crowd-thrashing EDM jams. In attendance will be: Major Lazer, 2 Chainz, Keys N Krates, What So Not and more. Things are going to get real loud and neon on the rocks this Sunday. Don't rest—head to Mad Decent instead!
Tickets range from $49.50 to $85.00.