This week offers up another giant serving of metal, from European orchestral metal legends Nightwish making a special appearance, to local showcases featuring death and doom bands and delicious brews. Here are a few of the best metal events happening this weekend.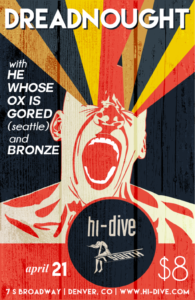 He Whose Ox is Gored @ The Hi-Dive – Tuesday, April 21st
A special show will take place this Tuesday at Hi-Dive, with Seattle doomy shoegazers He Whose Ox is Gored stopping in on their West Coast tour. Bronze and the awesome multi-gendered and multidimensional Dreadnaught will be making an appearance as well. The show is only eight dollars, so come check it out!
Who: Dreadnaught, Bronze, He Whose Ox is Gored
Doors: 9:00 PM
Cost: $8
Nightwish @ The Ogden – Tuesday, April 21st
Nightwish are one of the most appreciated and celebrated European symphonic metal bands of all time and this Tuesday, we are lucky enough to have them playing in Denver. They are one of the first groups to blend operatic female vocals and keyboards with harsh, abrasive metal instrumentation and still one of the best of their kind. The night will be opened by Sabaton and Delain and tickets are going quickly, so get them while you can.
Who: Nightwish, Sabaton, Delain
Doors: 6:00 PM, show starts at 6:45 PM
Cost: $10 in advance, $13 the day of
In the Company of Serpents @ The Bluebird – Friday, April 24th
This Friday, a special showcase of local awesome bands is going down at The Bluebird. The night will be headlined by doom duo In the Company of Serpents and the show will be opened by Lotus Gate, instrumental black metalers Ghosts of Glaciers and Khemmis. This is an affordable show at only $10 in advance and a great chance to check out some local talent.
Who: In the Company of Serpents, Lotus Gate, Ghosts of Glaciers, Khemmis
Doors: 8:00 PM, show starts at 9:00 PM
Cost: $10 in advance, $13 the day of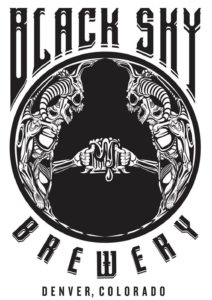 "Ale of Minerva" Release Party @ Black Sky Brewery – Sunday, April 26th
This
Sunday
afternoon, local death metal outfit Eye of Minerva are celebrating the release of "Ale of Minerva," a special collaboration with the metal-themed Black Sky Brewery and they want you to come celebrate with them! Go to this totally FREE show and indulge in their special brew while enjoying some quality music from Eye of Minerva themselves, fellow Denver sludge band Scepter of Eligos and Colorado Springs death metal act Hymns of Perversion. I can't think of a better way to spend Sunday afternoon than with good beer, good food and good metal and I'm sure you can't either, so you best be getting down there on Sunday!
Who: Eye of Minerva, Scepter of Eligos, Hymns of Perversion

Doors: 2:00 PM
Cost: FREE
By Aaron Lambert and Addison Herron-Wheeler
All photos courtesy of Facebook
Want to be featured in the Metal Meltdown? Send all inquiries to [email protected] or [email protected]