Spring has begun in Colorado, and so has something equally exciting and warming: Colorado Craft Beer Week. This annual event spans nine days with festivities featuring a trio of booze, food, and music. Join the brewers, pubs, and restaurants for a week of boozy fun and food. We've compiled a list of how you can celebrate craft beer week with events ranging from to a secret beer tasting, complimentary brews and a second chance to sample the speciality brews from this weekend's Collaboration Fest. 
Colorado Craft Beer Week
Fuss Off
Where: TBA
When: March 25, 6 p.m.
Cost: $50/person
Tickets: Tickets can be purchased here
The Low Down: In response to Budweiser's highly controversial Super Bowl ad — where the conglomerate denounces craft beer —  the Colorado Brewers Guild will host a "fuss off" event. The satirical secret beer tasting will feature several different beers that you won't know about until you arrive. Ticket buyers will be notified of the location the morning of and the dress code will call for a "hipster formal" attire. There will also be light snacks and palate cleansers involved in this fussy tasting.
Terminal Bar
Where: 1701 Wynkoop St., Denver
When: 2nd Chance Collaboration Fest March 22- 29 All week long 5 – 7 p.m. 
The Low Down: Head over to Union Station hotspot, Terminal Bar, this week for not one, but three different events. First, if you missed out on this weekend's Collaboration Fest you can stop by Terminal Bar and grab a pour of the speciality "collab brews" all week long. Similarly each night two Colorado craft breweries invite guests to a complimentary tasting that will feature some of its best seasonal and limited beers from beloved breweries like Left Hand, Epic Brewing, Tivoli, and much more. Also during "Pint Nights" get the chance to try out Union Station Kolsch –  brewed exclusively  by Denver Beer Company for Terminal. And to make it even better, when you buy a pint of the specialized beer, the glass is yours to keep, and for every pint sold, a quarter goes to the Colorado Brewers Guild.
Drizly Speciality Six Packs
When: March 21- 28
The Low Down: For this year's Colorado Craft Beer Week, Drizly — a popular booze delivery service– curated a speciality six pack showcasing the "diversity, creativity, and depth of Colorado's vibrant craft beer landscape." You can get one of two options of the six pack delivered to your door for free this week or head to Argonaut and Bonnie Brae Liquors in Denver and Boulder Liquor Mart in Boulder. 
Six Pack #1
Great Divide Brewing Company – Lasso IPA

Funkwerks Brewing Company – Saison

Renegade Brewing Company – Hiatus Cold Coffee-Infused Oatmeal Ale

Dry Dock Brewing Company – Apricot Blonde

Boulder Beer Company – Shake Chocolate Porter

Odell Brewing Company – IPA
Six Pack #2
New Belgium Brewing Company – Slow Ride Session IPA

Elevation Beer Company – 8 Second Kolsch

Upslope Brewing Company – Brown Ale

Left Hand Brewing Company – Milk Stout Nitro

The Fort Collins Brewing Company – Chocolate Stout

Oskar Blues Brewing Company – PINNER Throwback IPA
Nuggets Beer Dinner
Where: Pepsi Center, 1000 Chopper Cir.,  Denver
When: March 25, 5:15-9 p.m.
The Low Down: A good beer is best matched with a good game. Combine brews and basketball this Wednesday at the Pepsi Center for a beer dinner with Odell Brewing before the Nuggets take on the Philadelphia 76ers.
New Kids on the Block
Where: The Lobby, 2191 Arapahoe St., Denver
When: March 26, 7:30- 10:30 p.m.
Cost: $25-$45/person
Tickets: Tickets can be purchased here
The Low Down: Want to be on the in-the-know for all the new Colorado breweries? Check out  the third annual New Kids on the Block. This all-you-can-drink beer-centric party features Colorado breweries under two years old. The theme will be the '80s, so come dressed in your most retro attire.
 Odell Brewing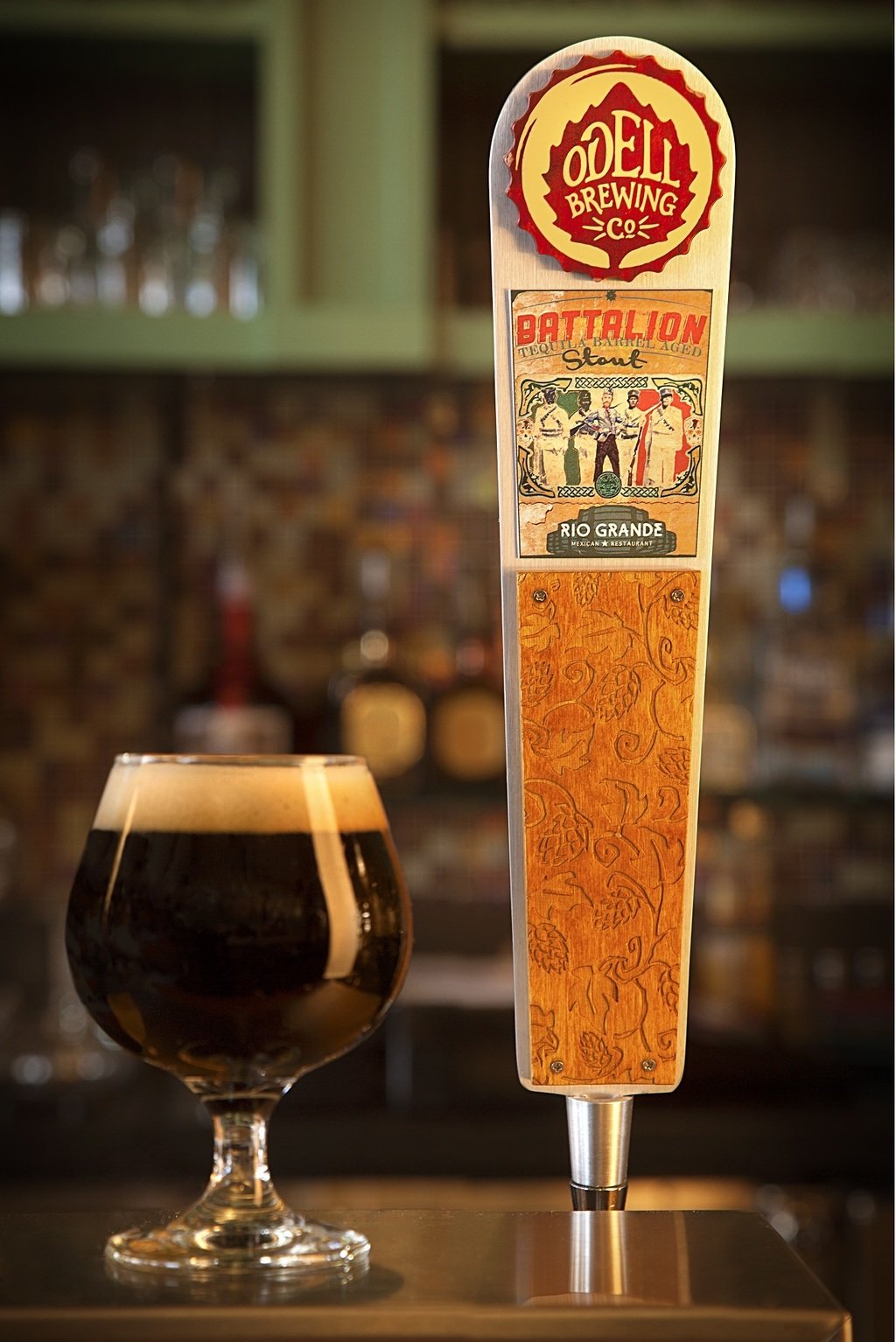 Where:  800 East Lincoln Ave.,  Fort Collins
When : All week
The Low Down: Colorado's popular Odell Brewing will host events in the taproom all week long. Today, at 11 a.m. it will tap a pilot special seller keg. On Tuesday, starting at 4:30 p.m. it will give a short tour followed by a cheese and beer pairing with The Welsh Rabbit. Tickets can be purchased in the tap room the day of. From 4-6 p.m. on Wednesday, Friday, and Saturday there will be live music. On Thursday, there will be live screen printing with Pine Brand. And on Sunday, the taproom will be filled with live music and food booths featuring Jax Fish House $1 Oysters, fish tacos from The Goodness, and more.
 South of the Border Beer Dinner at Sanitas Brewery
Where: 3550 Frontier Ave. Unit A,  Boulder
When: March 23, 6:30-8:30 p.m.
Cost: $25/person
Tickets: Tickets can be purchased here
The Low Down: Spice up your beer week adventures with a unique Southwestern-style beer dinner at Sanitas Brewery. The menu will feature courses ranging from Jalapeno Squash Soup to Chipotle Brownies that will be paired with multiple Sanitas beers, including a special pour of Coffee Cinnilla Stout.
Fruited Belgian Pale Ales atUpslope
Where: 501 Lee Hill Rd., No. 20,  Boulder
When: March 25, 5 – 9 p.m.
The Low Down: The popular Upslope Brewery will be releasing its brand new Belgian pale ale. And to welcome spring, Upslope will be also release its fruited versions of this pale ale, including raspberry and blackberry.
State of Craft Beer Dinner at World of Beer
Where: 7260 W Alaska Dr., Lakewood
When: March 26, 6 – 11 p.m.
Cost: $65/person
Tickets: Tickets can be purchased here
The Low Down:  The Belmar location of World of Beer will host an all-encompassing beer dinner in honor of this booze fueled week. This liquor store/ bar promises to perfectly pair cuisine with all the best Colorado breweries like Upslope, Left Hand, Epic, Breckenridge, and more.
New Belgium Mountain Adventure
Where: Loveland Ski Area 
When: March 28, registration begins at 9 a.m.
Cost: $10/person
Tickets: Register here
The Low Down: New Belgium and Loveland ski area are teaming up for an annual mountain side adventure. Grab a team of up to five or go solo to participate in a scavenger hunt on the slopes. Registration begins at 9 a.m. at the base of lift #2. Then starting at 3 p.m., there will be a post-hunt celebration featuring "beerlicious" surprises and a chance to win Rocky Mountain Underground skis and a New Belgium cruiser bike.
Pug Ryan's Brewery
Where: 104 Village Pl., Dillon
When: Until March 29
The Low Down: Take a break after skiing to try some great brews over at Pug Ryan's. Pug Ryan's Brewery is celebrating Colorado Craft Beer Week with the release of a few new craft beers. It will be introducing a spicy full bodied WassAle for $3, a spring Marzen Lager on tap, and one keg of its whiskey barrel aged ESB2 made with Colorado grown hops.
Hops + Handrails
Where: Roosevelt Park in Longmont 
When: March 28, 12-5 p.m.
Cost: $30/person for Beer fest & Rail Jam, $10/person for Rail Jam 
Tickets: Tickets can be purchased here
The Low Down: Left Hand Brewery presents the third annual, Hops + Handrails Beer Fest and Rail Jam. The mountains will come to Longmont in the form of a 40-foot high snowboard ramp and rail jam competition alongside 50 craft breweries. It'll be a day filled with unlimited tasting from some of the best breweries across the U.S. and a spectacular show as boarders compete with the best tricks and flips.
Western Co. Craft Beer Celebration
Where: Edgewater Brewery 905 Struthers Ave., Grand Junction 
When: March 28, 2 – 6 p.m.
Cost: $20/person
The Low Down: Join the brewers of Western Colorado for unlimited sampling  of the latest creations on the lawn at Kannah Creek Brewing Company's production facility in Edgewater. Grab your beers, your commemorative glass and hang out with family and friends while listening to live music all afternoon.