What: Cold pressed juices made every day from fresh, organic ingredients.
Where: Pressed Juice Daily: two Denver locations (1111 N. Broadway & 1219 E. 36th St.) plus it offers a wide delivery area.
When:  Check out each location's hours here.
Pro Tip: Don't be afraid to try new things. Think green juice will taste like lettuce in a bottle? Wrong. While health and nutrition were important factors in developing the selection at Pressed Juice Daily, so was taste – so close your eyes and take a sip before you decide juicing isn't for you.
Denver loves an excuse to party, so you probably spent the last week overindulging in the name of St. Patrick, right? Then it's time to bring on the juicing. This trend isn't new in the Mile High, but it's definitely becoming more popular as juice shops pop up all over town.
But if you haven't tried cold-pressed juice before, why should you give it a chance? That's the question we took to Christian Davis and Adam Cianciola, the guys behind Pressed Juice Daily.
Best friends since age nine, Davis and Cianciola has always dreamed of starting a business together. Pressed Juice Daily is the result of that childhood aspiration – and Davis and Cianciola have managed to maintain the enthusiasm and energy it takes to make a dream into a reality. So why do they believe Denver should be juicing?
1. Detoxification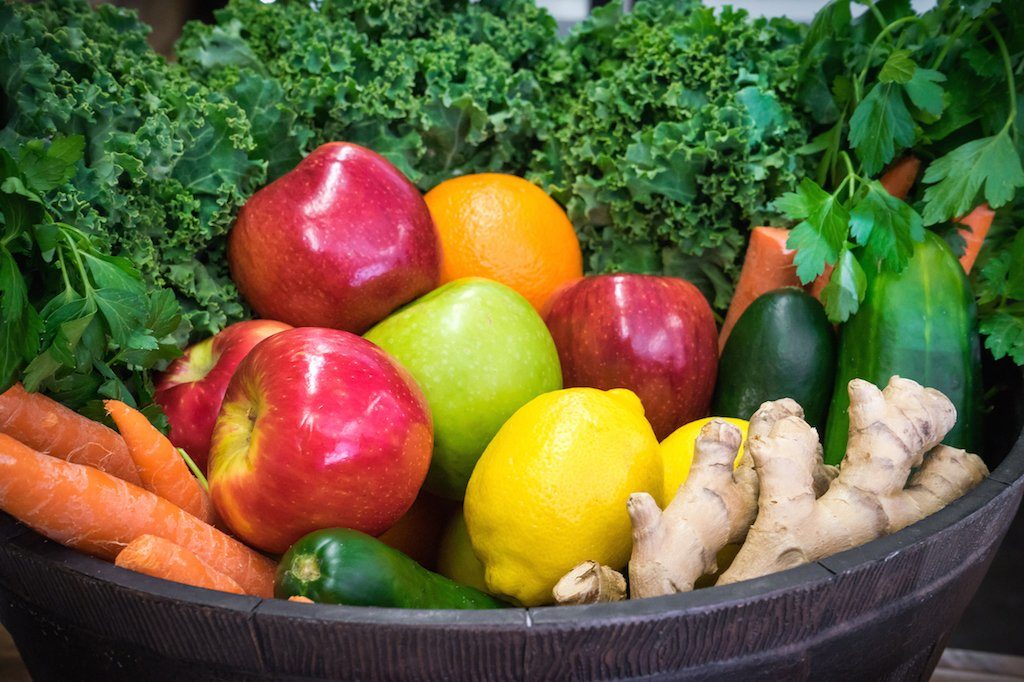 Davis and Cianciola are from Michigan, and Cianciola was living in L.A. when Pressed Juice Daily went from an idea to a real possibility. So why Denver? Besides the obvious reasons (gorgeous mountains, ideal weather and everything else that makes us all so lucky to live here), they also knew that Coloradans have a reputation for being health-conscious.  But along with all that hiking and biking, Denver also loves its beer, burgers, and burritos.
Enter the juice cleanse. The word "cleanse" might bring to mind starvation and irritable days spent daydreaming about solid foods. But Davis and Cianciola describe cleansing as anything but a fast. You're not starving your body, you're loading it full of nutrients as you "give your gut a break," as Davis described. It's basically like a reset button for your body. After a cleanse, cravings for things like sugars, fats and starches decrease because you've given yourself the chance to clear your system and readjust to pure, natural ingredients.
2. Energy
Worried about cleansing during the work week because you're afraid you'll be off your game? On the contrary, Davis and Cianciola said that typically you'll feel more energetic and centered while cleansing because the ingredients you're taking in are already broken down. This means your digestive system gets a break and you get direct energy from everything you're putting in your body. Plus, increased energy during the day means better sleep patterns at night. Instead of looking to sleep solutions like medication, juicing could help your body adjust naturally so you can sleep better and wake up ready for whatever adventure the day holds.
3. Weight Loss
To be clear, juicing regularly or doing a cleanse is not a weight loss system. Naturally, juices have less calories than most people's regular diet, so you may experience weight loss with a cleanse. But, what juicing will definitely do is help to break your body's addictions to ingredients like sugars and saturated fats.
Before trying a cleanse, a lot of people worry about when they'll be able to get back to eating "regularly." But with juicing, your idea of "regular" will change. Instead of craving ingredients that give you short bursts of satisfaction, your body will crave the nutrients and raw, pure energy it got from juicing. So if you need to kick off your preparation for a spring break-ready body, a juice cleanse is an ideal place to start.
4. Look Better on the Outside
So you're feeling good, full of energy and ready to make a change in your eating habits. Now you get a bonus: healthy hair, skin and nails. Ever look at someone who just seems to have that "glow?" Chances are, it's not just good genes. Everyone knows that what you put inside your body effects what others can see on the outside.  There are tons of articles online with lists of food to eat for shiny hair or clear skin.
Sure, you could start eating two pints of blueberries a day and hope for results. But with juicing, you're getting the entire rainbow of nutrients in a few gulps. Basically, juicing looks good on you. Having a "healthy glow" is not a myth, and jam-packing your diet with raw juices is a great way to clearly see how your diet should be part of your beauty routine.
5. Immunity
"Gut health" is a term you've probably not thought a lot about. But your stomach is where toxins are stored, and where many diseases and illnesses begin their assault on your body. If you're looking to do something to improve your overall health, the gut may be the most powerful place you can start. More than 2,000 years ago, Hippocrates (a Greek physician known as the founder of medicine as a science) said that "all disease begins in the gut." And, well, it turns out that Hippocrates had a point.
Our digestive systems are like the Grand Central Station of our bodies, and raw enzymes are essential in keeping everything running smoothly by directing where everything else is supposed to go. Though the digestive system is essentially a one-way route, it's also the only way outside nutrients find a way into our bodies. Juicing gives your digestive system a better chance of staying properly balanced and organized so you can be sure you're getting the most (and the correct) nutrients to keep the rest of your body healthy.
All photography by Roman Tafoya