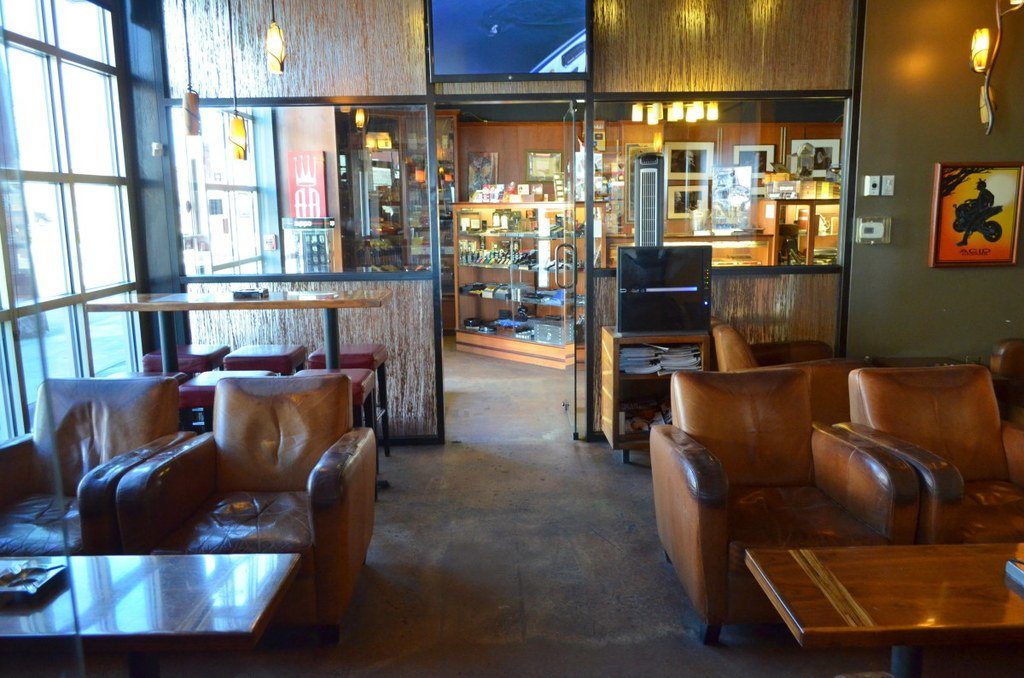 What: Craft cocktails, rare scotches and whiskeys, and a huge selection of cigars. 
Where: 9535 Park Meadows Dr., Lone Tree
Neighborhood: Lone Tree/Park Meadows
When: Open 11-2:00 a.m. Monday-Saturday, Sundays, 11-12:00 a.m.
Pros: Whether you're a cigar aficionado or a total newbie, you'll find a welcoming, laid back atmosphere here along with a revamped bar menu filled with craft cocktails.
Cons: The location is a long haul from downtown, but if you live or work in DTC, this could easily become your new favorite place to escape suburbia.
A cigar and a good drink are a classic combination for a reason. There's something almost romantic about slowly sipping a cocktail as wisps of smoke curl around you. If you're looking for a taste of that classic experience, the Robusto Room has you covered.
The Cigars
Slightly hidden amongst the sprawling area that is Park Meadows, this cigar bar originated from a small kiosk inside the mall started by Robusto Room owner Peter Roth in 2001. Four years later, Roth had transformed his love for cigars (and dislike of working for others) into a successful business. In 2005, the business moved into its current brick and mortar space where Roth expanded his vision to include not only a cigar shop (Stogies & Bogies) but also a complete cigar bar with lounge area.
Now, nine years after its move from the mall, Stogies & Bogies offers the largest selection of premium cigars in the region with over 700 boxes and is the only full cigar shop attached to a cigar bar in the state.
But recently, Roth felt that something was missing. Enjoying a cigar means more than just puffing away– it's an experience of craftsmanship. Roth wanted his bar menu to reflect the same level of quality you can expect from a good cigar, so he set out on a journey around Denver to research craft cocktail offerings all over town.
The Cocktails 
The result is a completely revamped bar menu featuring craft cocktails and fine spirits. The menu itself offers a quick guide on scotches and whiskeys, breaking down the types of these spirits and what you can expect flavor-wise from each one. Filled with classics like Macallan and George Dickel along with local favorite Leopold Brothers and a selection of Japanese Whiskys, there's plenty of options to sample.
If you prefer a cocktail, the Robusto Room offers several classics along with some new creations – and there are plenty of choices for non-whiskey drinkers. Take the traditional Mexican Firing Squad, a refreshing classic with tequila, lime juice, pomegranate reduction, bitters and ginger beer which offers a grown-up and more subtle, balanced spin on the common margarita.
Want to get a little creative with your drinking? Go for some of the Robusto Room's boozy inventions like the Fire & Rye, a combination of rye, pear liquor and Cardamaro (a rarely used cardamom-spiked liquor) that's mixed in a jar with Applewood smoke for an elevated experience and flavor.
So what drink should you be pairing with that stogie that called your name? "It's a completely personal experience," Roth explained. His take on it? There are no rules when it comes to cigars and booze. Play around, try a variety of options, and go with what you like – although the staff here is more than happy to answer all your burning questions (pun intended).  So sink into one of the plush leather chairs in the lounge area that connects Stogies & Bogies with the Robusto Room and start exploring.
 All photography by Lindsey Bartlett