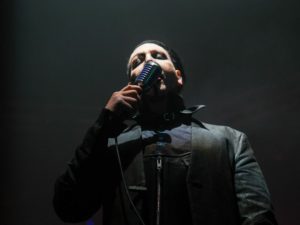 Marilyn Manson, the Antichrist Superstar, used to be utterly terrifying. His eery contacts and skin tight prosthetic suites of yesteryear burned their avant-garde imagery into my young retinas as I recall watching The Dope Show video play its earned slot each afternoon on MTV's Total Request Live with Carson Daly. Manson was a pale and wild absinthe drinking, drug binging, smut peddling gothic Prince of Darkness, fielding accusations of inspiring various school shootings and mass mind fucking the imaginations of his devoted and youthful fans.
Manson was adored (and loathed) for his outrageous stage performances, shaving his eyebrows, powdering his nose and simulating masturbation between his many costume changes and howling metal ballads. He captivated (and repulsed) audiences with his brash and unapologetic art. Manson never shied from an opportunity to share the gory details of his mind in media interviews, whether it was ranting about his self mutilation and cutting habits or daydreams about bashing in ex-girlfriend's heads with a sledgehammer. He used to boast about making his own version of Jackson Pollock art by slinging dirty condoms at the wall and splattering his juicy loads about.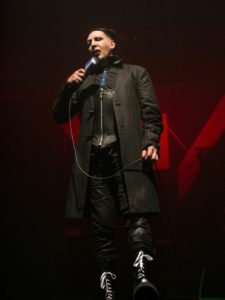 But these days, it seems, Manson has grown up a little. All those disturbing images of his grandfather's bestiality fetish and his Catholic upbringing that drove him to sin that he discusses in his autobiography A Long Hard Road Out of Hell seem to have faded a bit. His once grotesque and outlandish self expression have taken a turn for the… normal?
In a recent interview with the New York Times entitled "A Dark Prince Steps Into the Light," Manson maintains his typical persona as a black nail polished, liquor drinking, art collecting and endlessly rambling rockstar on the surface. But his good friend Shooter Jennings describes him in the article as having gone through a cathartic year. "I definitely think there's a phoenix-rising type scenario happening with him."
Manson even admits to shedding his nocturnal tendencies and adopting daytime hours as an appropriate time to work and create. He discusses how he's a homebody and likes to watch movies and paint and hangout with his 11-year old cat, Lily White. This interview depicts a softer Manson. A more mature version of the Pale Emperor.
When I got in line amongst the sea of black being gently ushered into the Fillmore last week for my Marilyn Manson live debut, I had soaring expectations. After all, Manson's music videos and stage performances are supposed to be unparalleled. Flashy and full of surprises. I anticipated a creepy and astonishing evening. As a short chick, I wanted to secure a spot where I could see Manson in all of his glory and make up and costumes.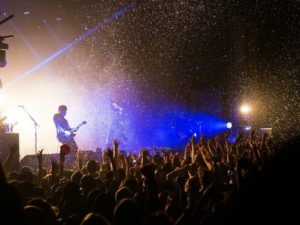 But in the end, Manson put on a pretty regular show. And while I found a lot of the songs to sound pretty similar to one another, I was blown away by the quality of the music. Each song was loud, aggressive and throbbing with rage and energy. Manson's voice shredded through the cool air of the packed Fillmore, enticing the crowd to thrash about with it. He tossed around the microphone a lot like a true diva. Manson spoke often between songs, appreciating the Denver crowd as always "standing behind him."
There was smoke and glitter and confetti. But that was mostly the extent of the theatrics.
Manson's set half consisted of new material from The Pale Emperor and half older stuff, including The Dope Show and The Beautiful People. He also covered Depeche Mode's Personal Jesus and the Eurythmic's Sweet Dreams. For the full setlist, scroll to the end.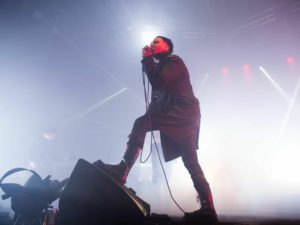 Manson's new album The Pale Emperor claims to have taken a bluesy turn, as compared to the industrial-rock sound of his past work. The Pale Emperor, released in January, is dedicated to Manson's recently deceased mother, who passed away during production after battling Alzheimer's disease. This album is the first of Manson's since 2008 that does not feature any contribution from bassist Twiggy Ramirez. The Pale Emperor was co-written and produced by Tyler Bates, who met Manson when he cameoed on Californication.
Manson's physical appearance was strikingly different than that of the heroin chic, androgynous Dope Show Manson. The buttons on his black overcoat pulled at the belly a bit, but his stage presence maintained that ferocious and infamous Holy King of Darkness feel. The crowd was entirely captivated by Marilyn Manson, none the less. And while his new music meshed with the old into one raging set of goth-metal fury, you could tell that Manson's still got it. He may be a little older and a little tamer, but he is still the one and only Antichrist Superstar… just a little less intimidating.
Full Setlist from Marilyn Manson 2/11 @ the Fillmore:
(Opens with Wolfgang Amadeus Mozart song)
Deep Six, 
Disposable Teens, 
mOBSCENE, No Reflection, Killing Strangers, Sweet Dreams (Are Made of This) (Eurythmics cover), Cupid Carries a Gun, Rock Is Dead, The Dope Show, Third Day of a Seven Day Binge, Personal Jesus (Depeche Mode cover), This Is the New Shit, The Mephistopheles of Los Angeles, The Beautiful People, Irresponsible Hate Anthem, Encore: Coma White
All photos by Camille Breslin.