If there's a week that defines fashion, it's Couture Week. Only twice a year, Couture Fashion Week allows designers to showcase their skill and creative work. Couture Week takes place in Paris, the birth place of couture. Only a few designers are awarded the prestigious label, which is decided by the Chambre de commerce et d'industrie de Paris.
The French take couture so seriously that the term is even protected by law and we can see why. This Spring/Summer 2015 fashion week made us want to break out those credit cards. Craftsmanship was extremely present at Schiaparelli while Donatella Versace showed us simple silhouettes can still cause that "wow" factor. It's hard to round up the couture shows but someone had to do it. Read below for our top 5 Couture shows.
Couture Fashion Week's top 5 shows
Maria Grazia Chiuri and Pierpaolo Piccioli created a very romantic collection with amazing prints and muted, yet strong colors. Staying true to the Valentino House, the designer duo took this collection and created a story. They also showed technique with leather, silk and so much more. Huge needle point embroidery let everyone know that the art of couture is still central to Valentino.
There was also a Russian influence very present in the folklore styling of each garment. Long flowing capes and dresses further enhanced this romantic idea being presented at the Valentino show.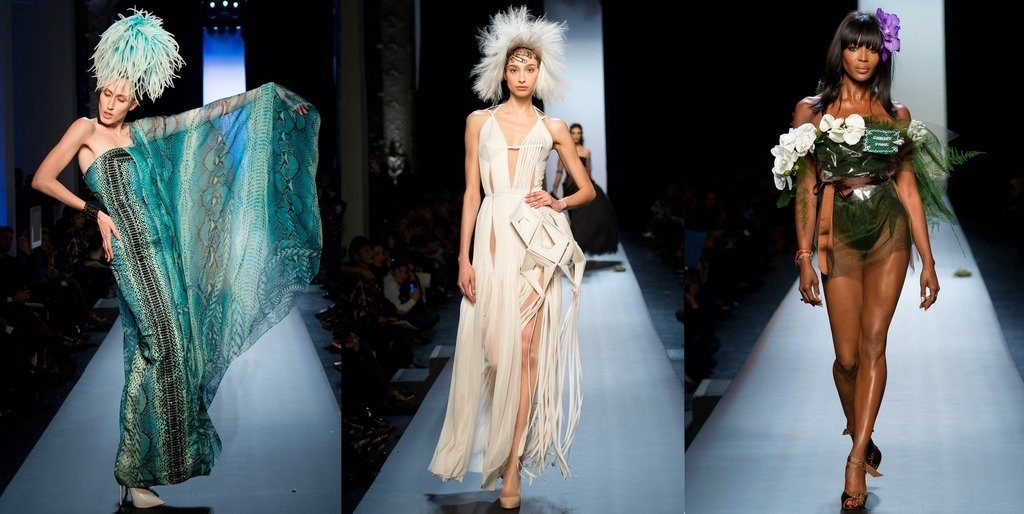 Jean Paul Gualtier did what he does best: drama. It was his first time on the couture runway since shutting down his ready-to-wear line. Gualtier decided to celebrate by making wedding dresses his central theme. He called the collection 61 Façons de Se Dire Oui, or 61 Ways to Say Yes. There was just about every type of wedding garment present.
We saw shorts, jackets and amazing headdresses. The bride wore black, green and gold. One of our favorite looks showcased Gualtier's amazingly creative mind with a blue feathered headdress and a sheer snakeskin dress. Naomi Campbell ended the show in a piece made of fresh flowers and leaves, really ending the show with a bang.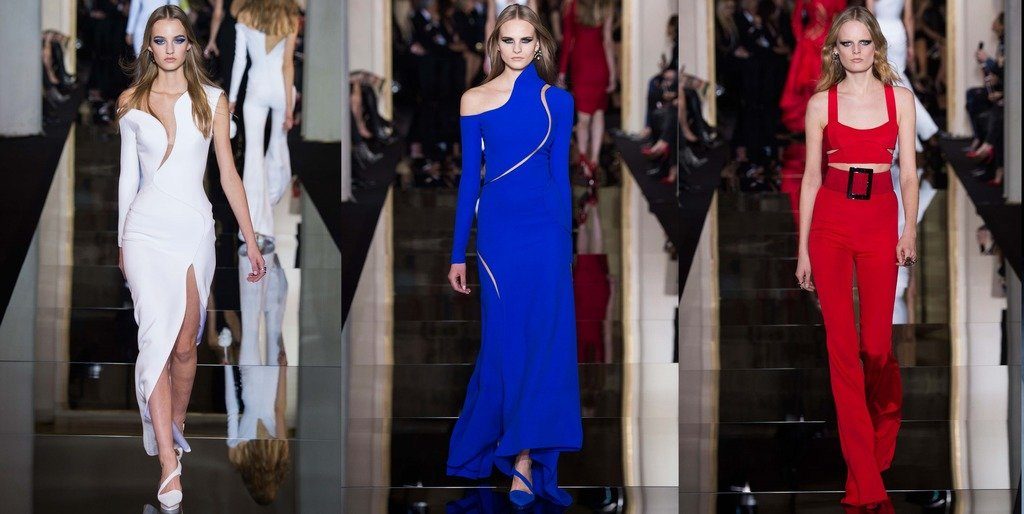 Donatella Versace is not known for doing simple, yet her couture show was as simple as they get. Donatella brought it back to basic geometry and focused solely on the shapes of a woman's body. She had twist and turns on every garment. Dresses had cuts and slits in unexpected places, while shirts and skirts created amazing waves. The color palette consisted of red, white, blue and black with every look being quite monochromatic. The collection showcased glamour and charm, just in time for award season.

Dior's Spring/Summer 2015 show can restore anyone's faith in fashion. Raf Simons always has a variety of inspirations for his collections. He creates a theme and sticks to that vision, creating a diverse world of his own. This show however, was inspired by one person: David Bowie.
The materials in this collection echoed rock star with a lady-like refined edge. This is Dior, after all. Graphic colors created even more graphic silhouettes. The collection was multilayered, colorful and groundbreaking. He showcased amazing full skirts alongside plastic vinyl coats. The collection was diverse yet still completely Dior. Each piece was clearly influenced by Bowie and his glamorous style. We can't wait to see what Raf Simons does next for his ready to wear shows, coming up very soon.

A name not known to many, Schiaparelli has been around for quite some time. But it's not until recently that this fashion house has risen from the ashes. The collection was diverse, all over the place, something many critics have dismissed. However, we saw fun and creativity in each garment presented at the Spring/Summer show.
There was a leather trench style dress, floor length capes and even a printed jumpsuit. The color palette was also diverse drawing inspiration from greens, blues and reds. The collection was a team effort, which brought about the chaos of themes. We loved the craziness that is Schiaparelli and can't wait for more.