303 Magazine is happy to announce that, in partnership with Illegal Pete's and Channel 93.3, it will officially sponsor 303 Day. This event, taking place on March 3, 2015 (3.03.15) , will be a statewide celebration of everything Colorado.
Want to participate?  Of course you do! If you don't, then we assume you hate beer, happiness, sunshine and burritos  – which basically means you can't live here anymore and a relocation team will be sent to your house immediately. So to all y'all non-psychos, read on carefully.  
How to Participate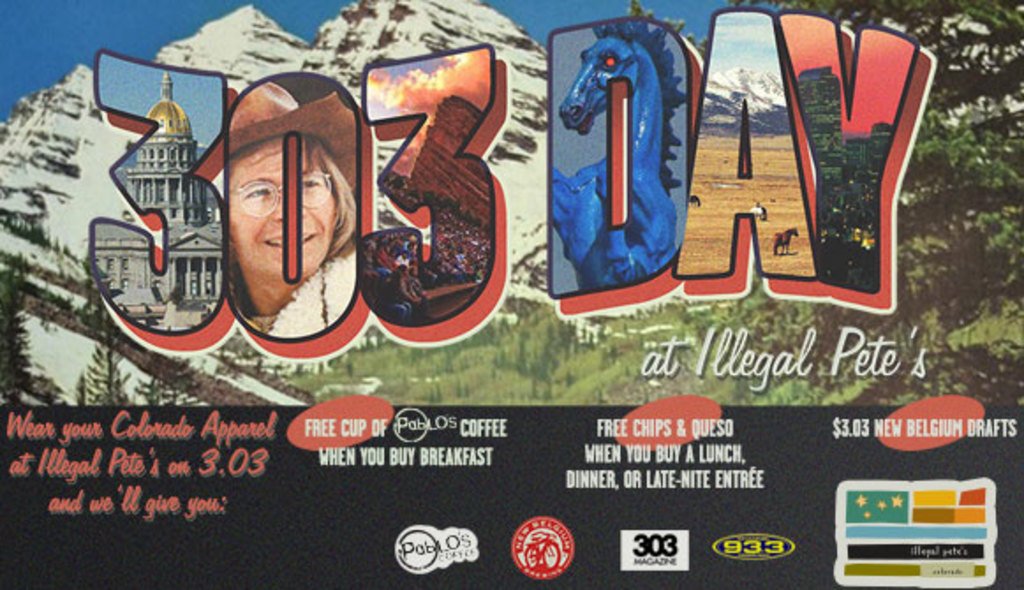 1. Show your Colorado pride by wearing any apparel on March 3rd that represents the 303, i.e. your favorite Broncos jersey, a Rockies Hat, a t-shirt representing your favorite Colorado band, a CU or CSU sweatshirt, etc.
2. Head to any Illegal Pete's location and get special deals like FREE CHIPS AND QUESO or a FREE PABLO'S COFFEE with purchase of an entree. Or grab a New Belgium beer for $3.03 all day long. Just make sure to show your Colorado-centric clothing to be eligible for the deal.
3. Stick around for performances from local artists and comedians. Check back into 303 for a full line-up, coming soon.
4. Get social and make sure to use the #303Day. Don't forget to tag @303Magazine and our sponsors in the post so we can see your CO pride.
See you all soon on March 3!