Cervantes' is a staple of the Denver music scene. You've seen all of your favorite bands play there (more than once) and probably a few you'd never heard before on the Other Side. Its signature giant disco ball looms, drizzling sparkles and hypnotizing you from above with its gentle rotations as you dance yourself into a frenzy.
And this week, they're having yet another party: a birthday party!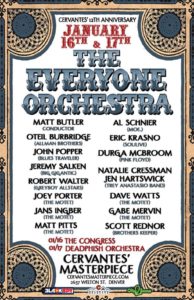 Matt Butler will be conducting the Everyone Orchestra on both Friday and Saturday this weekend, January 16 and 17. Oh, and it will be funky. The Everyone Orchestra is the ultimate collaboration group, combining members from a vast multitude of bands on one stage. This particular show will feature several members of the Motet (fresh off the boat, returning home from Jam Cruise), members of moe., the Allman Brothers, Blues Traveler, Soulive, Big Gigantic, and the lovely ladies (and their horns) of the Trey Band.
Did I mention there would be free beer before 9pm from the Breck Brewery? Doors open at 8pm, music starts at 9pm. Regular tickets are $25 and VIP tickets are available for $35, which include a free beer and some fun schwag.
Tickets to the Anniversary Party grant you access to both venues each night, featuring Fishbone (Friday) and Brothers Keeper (Saturday) at the Other Side. As if that weren't enough music for you, the Congress will be opening up Friday's show and the Dead Phish Orchestra will open on Saturday night.
Bring your friends and your dancing shoes and come celebrate and give thanks for Cervantes' Masterpiece Ballroom this weekend. Everyone will be there. Literally.