Where: 554 S. Broadway, Denver, CO 
When: Opens at 4 p.m. daily, happy hour 4 p.m.- 7 p.m. and 11 p.m. – close
Pros: Mysterious and extraordinary vibe with an equally curious cocktail selection. If you have a taste for the obscure, Physic Opera is a beautiful diversion from Denver's recycled sports bar scene.
Cons: Slightly off the beaten path, so not necessarily walkable from the bar district on South Broadway. Though, Physic Opera is definitely out of the ordinary, so this could be considered a pro to some. 
The red strip light lining the bar top illuminates the bartender's face as he caters to a gothic wedding party taking place in the cocktail lounge, instantly evoking a vampire den vibe that is dangerously inviting. The barkeep, dressed predominantly in cowboy attire, references a succession of house-made tinctures and elixirs as he concocts a number of libations. My potion of choice, entitled Pine Pop, consists of Dram Apothecary's  hand-foraged pine syrup, gin, bitters, lemon, and materia medica, a house-made "medicine" made of dandelion, pine, oak, and evening primrose. With acts such as burlesque dancing, jazz night, and the occasional freak show, apothecary themed Syntax Physic Opera is a portal to Denver's more unique and bizarre entertainment scene.
Creator Jonathan Bitz, former talent buyer of Meadowlark in the RiNo district, explains that the title is meant to spark curiosity, as Syntax Physic Opera is a place of dialogue and creative thinking. Physic Opera in Latin means "medicine show," which refers to traveling acts of the 19th century. The venue is considered an art bar, encouraging working artisans to come in for food, spirits, and collaborative expression.
"We wanted to create a multi-sensory experience for people by employing all five senses."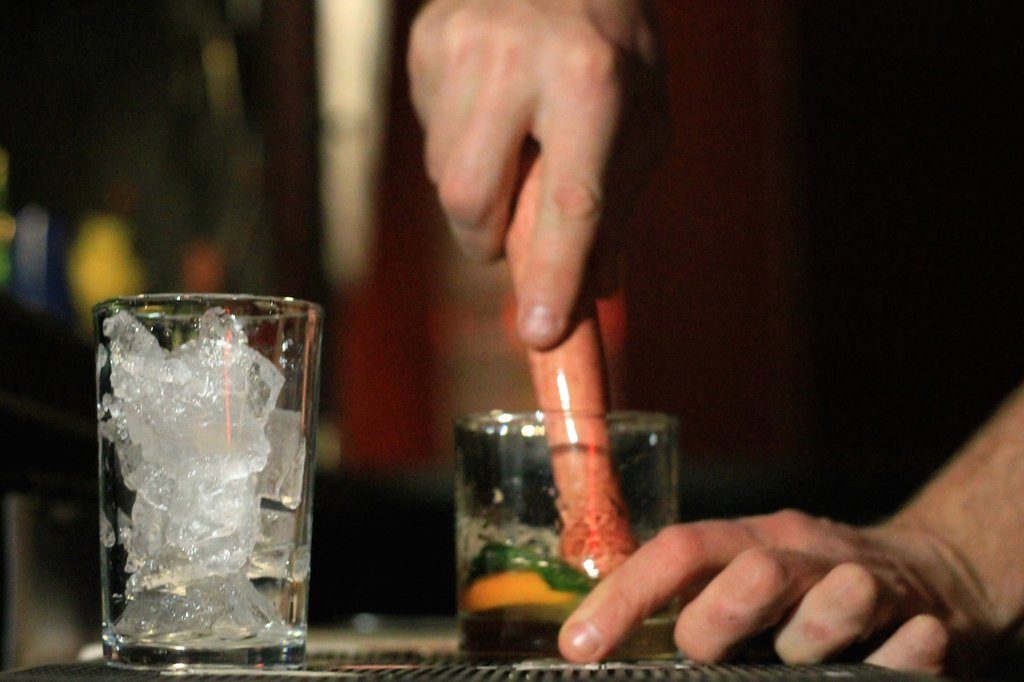 "We wanted to create a multi-sensory experience for people by employing all five senses," Bitz elaborates. By focusing on three different arenas, the entertainment, the bar, and the food, Syntax Physic Opera succeeds in awakening each sense by offering an engaging atmosphere.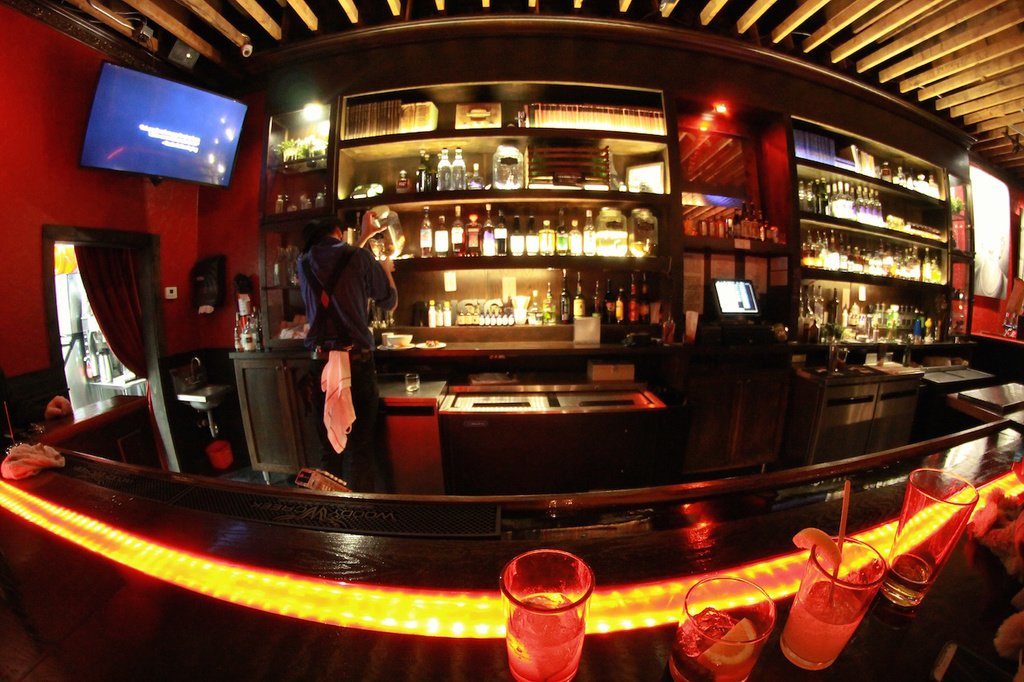 The music hall very much revolves around storytelling, and showcases mostly local musicians. With weekly nights such as "Songwriter's Open Mic" and "Jazz After Supper" on Thursdays, there are plenty of opportunities to come by for some musical stimuli. Syntax Physic Opera rang in 2015 with ongoing New Year's Eve performance and visual art event "Howl," and for the occasion released an enticing new cocktail titled Snake Oil. Robust with bacon bourbon, mushroom herb tincture, Averna, and a materia medica of cayenne, rosemary, and sunflower, this concoction is heaven for a refined palate.
The menu at Physic Opera, created by Chef David Beckwith, plays with 19th century farm finds that would have been available in the Colorado region a 150 years ago. Beckwith puts a fresh spin on the plates, serving them tapas style for sharing. The kitchen focuses on obtaining almost all organic and locally grown ingredients, aiming to serve up hearty fare that is meant to feed not only your gut but your mind. During happy hour, daily from 4 to 7 p.m., you can get $1 off small plates such as Rabbit Stuffed Dates with dried cherries and prosciutto bacon, and the Picked Veggie Crudites with house-made beets and kimchi brussel sprouts. Ask the bartender to pair a small plate with a cocktail and you will undoubtedly get a mouthful of herbaceous, earthy heaven on either end.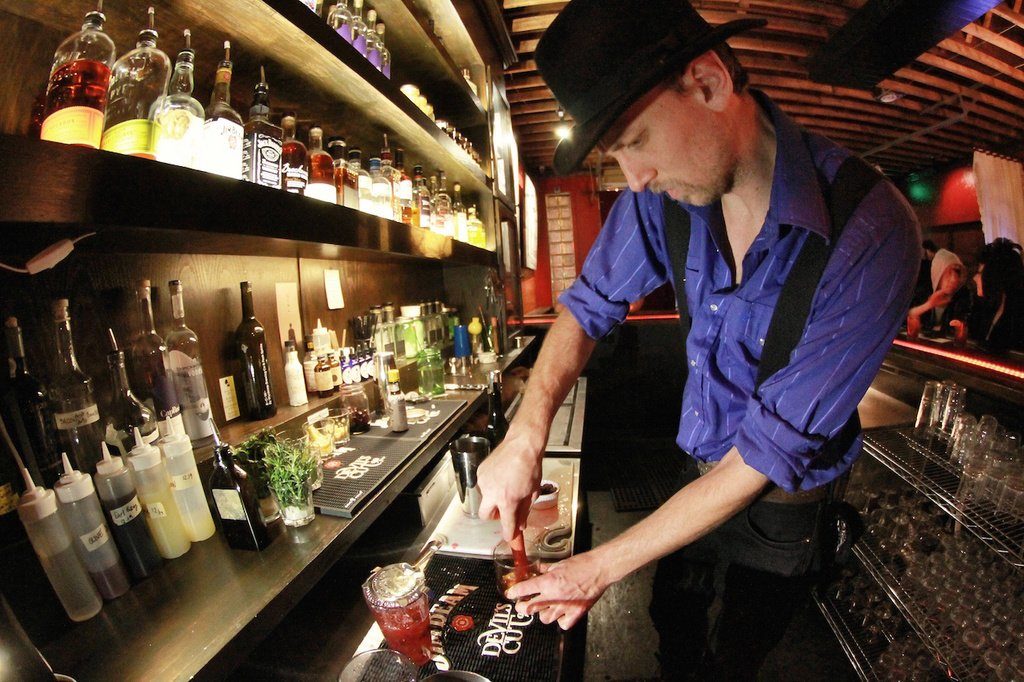 Unlike Denver's many dive bars and overplayed speakeasy's, Syntax Physic Opera is an audiovisual experience created for "blue collar creatives." The staff has been known to sling special deals to working artists, from time to time. So bring your appetite and your sketchbook, the spot welcomes drinkers and thinkers, alike.
All photography by Romeo Fernandez