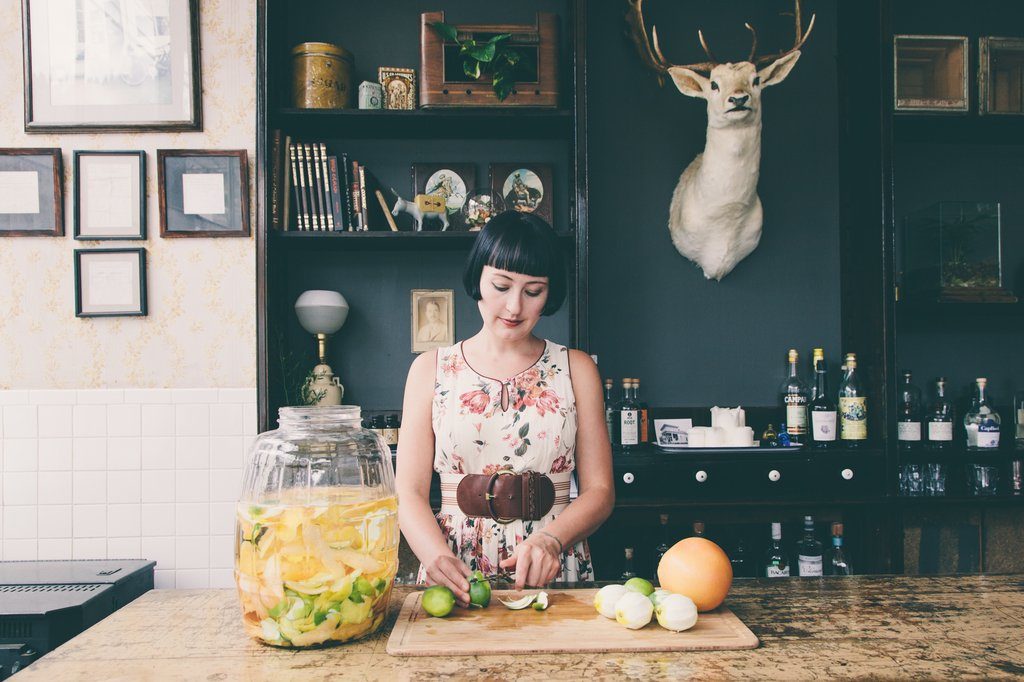 What: Handmade bitters, tonics, and teas.
Where: DRAM Apothecary , 1010 Main Street, Silverplume, CO
When: Fridays 4pm-9pm and Saturdays 1-9,  Sundays are available for private parties.
Why: If you are looking for quaint and cool, stop by here for a top shelf cocktail stirred up with handmade bitters.  I assure you, you won't be disappointed.
Recommendation: Do you make cocktails at home? Do you like to bake? Are you always looking for the latest health trend?  Stock up on your bitters to take home.  They are selling like hot cakes.
I have driven up and down I-70 a hundred or more times and have vaguely noticed the sign that reads "Silver Plume."  It is one of the last exits before you reach the tunnel when you are traveling west- bound from Denver. Silverplume is an old mining town that was the last stop for the railroad.  As you can imagine, it has a rich history and the town has even burned down twice!  Now, it will be a stop that I look forward to from here on out.  There is a gem tucked within the unpaved Main Street. It's a stand- alone building that has the word BREAD written in bold letters on the side.  It has been a lot of things over the last hundred years, and a bakery was one of them for  4o+ years.  Shae Whitney is keeping the bakery tradition alive by maintaining the "honor box," outside of the front door.  A baker comes in daily and bakes an assortment of items and leaves them in the honor box.  People drive up all day long and take what they want…and leave money behind.  Watching the cars stop by every few minutes makes you feel as if you've stepped back in time.  The baked goods are great, but the real magic is happening inside of the building in glass jugs.
Shae Whitney has been intrigued by plants, nature, and animals her whole life and is a Colorado native. Whitney gathers most of the ingredients responsibly around Colorado to make her own small batch bitters. What is a bitter?  An herb concentrated in alcohol. I most commonly have heard of bitters being used in cocktail recipes, but was surprised to learn that they can be used in countless ways.  They are great for meringues, sauces, baked goods, cake frostings, meat bastes, and many more.  What sets this company apart from other bitters companies, is the commitment that Whitney shows in responsibly harvesting herbs, plants, and botanicals, and the purity of product.  Many bitters companies are creating bitters with synthetic flavors, and dyes.  Not DRAM, these bitters are pure and potent.  No metal or plastic is used in the process at all.  And the batches she makes are small enough for her tiny frame to lift.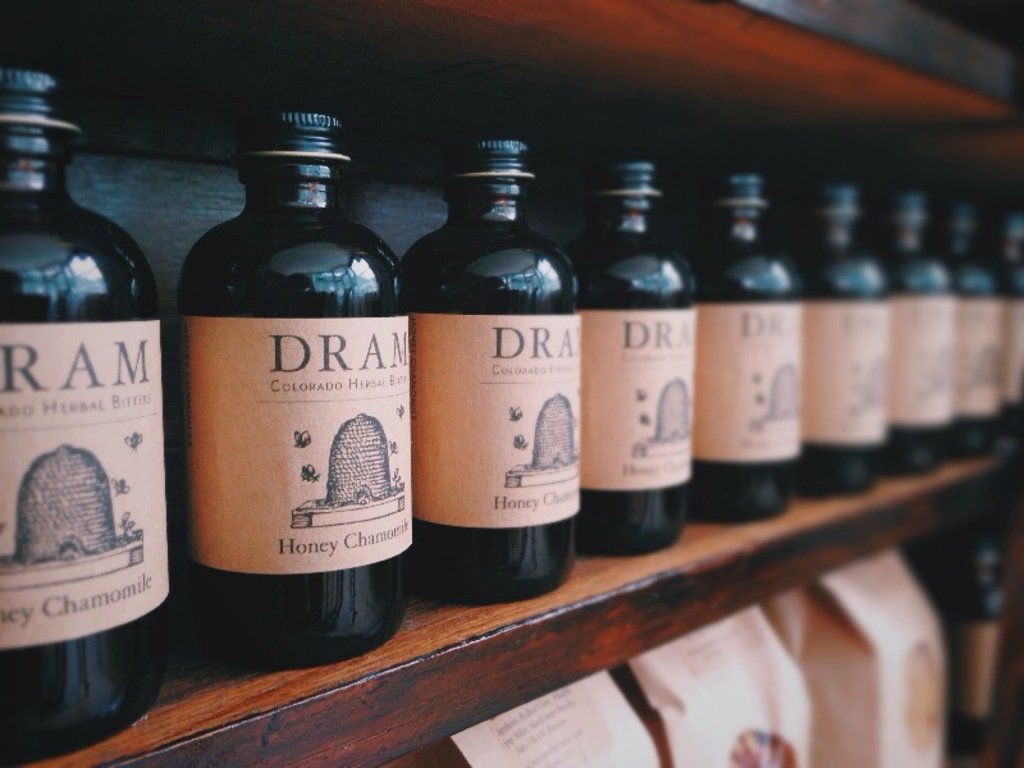 What does dram mean?  It is an apothecary measurement.  1/8 oz. dry or liquid measurement.
The Bitters:
DRAM Hair of the Dog*– most popular bitter at DRAM.  Made to mimic the flavors in angostura bitters.  Excellent for a hangover…hence the name.  On the jar, is says, "handcrafted using a unique blend of herbs known to ease the ailments caused by the overindulgence of a good time."  This is an herbaceous, licorice, gingery, earthy flavored bitter that can be enjoyed in juice, tea, soda, cocktails, or used as a tincture.  Hair of the dog can be useful for heart burn, stomach upset, and nausea.  
DRAM Honey Chammomile*– made with local honey.  A few drops of this in your tea, soda water, light juices, water, classic cocktails, cake frosting, or meat baste will douse your taste buds with delicious chamomile tea flavor.  This bitter is great for seasonal allergies. Pairs beautifully with gin, tequila, vodka, and whiskey!
DRAM Wild Mountain Sage*- Sage grows like a weed in this state.  It tastes like a mountain meadow.  It is delightfully earthy and robust.  It is great for colds, flues, virues, and for an after dinner drink.
DRAM Citrus Medica*- Popular in classic cocktails, meringues, Hollandaise sauce, and is a great detoxifying bitter.   Crafted using an exotic blend of organic citrus rinds and blossoms to create an layered flavor profile. It tastes bright and lively, add a few drops to tea, juice or soda water to aid sluggish digestion or freshen breath.
To say that I am obsessed with the quality and countless uses that DRAM bitters offers is an understatement.  I hope you can make this a stop en route to your favorite mountain pass time.  Stop in for a cocktail, or to buy a jar of bitters.You can find DRAM bitters in the Denver area at Forest Room 5, Steuben's, Ace, and Cafe Bar. They are available at Fresca Foods, and Divino Wine and Spirits.
Check out their gorgeous website: http://dramapothecary.com/ and like them on facebook: https://www.facebook.com/DramApothecary
*Disclaimer:
Dram Apothecary uses herbs that may not be suitable for consumption by pregnant and nursing women. They may not be suitable for children and pets either. Their products have not been evaluated by the FDA, they are to be used as natural therapies to aid digestion, allergies and other complaints of the body. They do not eliminate, neither replace the use of traditional medicine. They are not responsible for an unsuccessful cure. If symptoms persist consult a doctor.
Photos from top: Tremper Design, Brady Becker, and Casey Day