This edition of The Metal Meltdown offers up another batch of brutal and blistering metal shows to keep you going through the cold season. From legendary black metal appearances to awesome local shows, there are all kinds of things happening in the Denver metal world this week.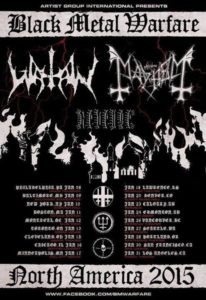 Mayhem & Watain @ Summit Music Hall – Tuesday Jan. 20th
This Tuesday, black metal legends Mayhem of initial Norwegian scandal and infamy are gracing the stage at Summit Music Hall in their newest incarnation, along with newer Swedish black metal greats Watain. The show will also be opened by abrasive locals Revenge. Don't miss out, but be sure not to wear your good clothes, as Watain tend to throw blood and other animal products at the crowd.
Who: Mayhem, Watain, Revenge
Doors: 7:00 PM
Cost: $25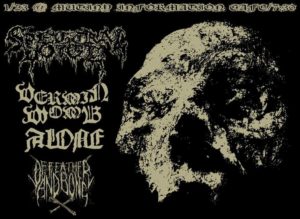 Spectral Voice Tape Release @ Mutiny Information Cafe – Friday Jan. 23rd
This Friday a very special show is taking place at Mutiny Information Cafe on South Broadway. Locals Spectral Voice will be releasing their tape at this event, and locals Vermin Womb, featuring members of Clinging to the Trees of a Forest Fire will be playing their first show. They will also be joined by a few other local grind acts.
Who: Spectral Voice, Vermin Womb, Alone, Of Feather and Bone
Doors: 8:00 PM
Cost: unannounced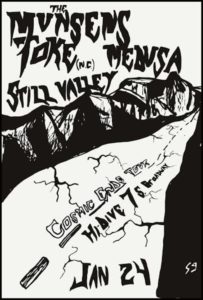 The Munsens @ The Hi-Dive – Saturday Jan. 24th
New Jersey-turned-Denver natives The Munsens will be flattening the Hi-Dive this Saturday with their totally crushing and down-tuned brand of doom. Joining them will be Colorado metal acts Still Valley and Medusa as well as Toke from North Carolina. The Munsens play some of the finest Sabbath/Electric Wizard worship we've heard in some time, complete with soul-sucking riffs and face-melting guitar solos, and they'll be promoting their superb new EP, "Weight of Night." If you enjoy giving yourself whiplash by way of furious headbanging, you're going to want to catch this show.
By Aaron Lambert
Who: The Munsens, Toke, Medusa, Still Valley
Cost: $8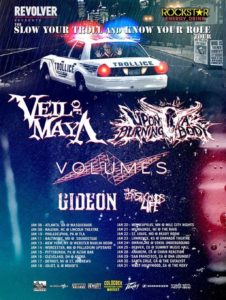 Veil of Maya @ Summit Music Hall – Sunday Jan. 25th
Proggy metalcore veterans Veil of Maya are playing this Sunday at Summit Music Hall, as part of Revolver Magazine's "Slow your troll and know your roll" tour. They will be joined by a few other high-profile metalcore acts, and this promises to be a good time for any genre fans.
Who: Veil of Maya, Upon a Burning Body, Volumes, Gideon, The Last Ten Seconds of Life
Doors: 7:00 PM
Cost: $15 in advance, $17 the day of
By Addison Herron-Wheeler
Want to be featured in the Metal Meltdown? Send all metal-related news and info to [email protected]