Pre-seasons in the fashion industry are usually ignored by the general public. Many say there is a lack of inspiration and history that comes alongside a pre-season show. But in all honesty, those people are wrong.
This Pre-Fall 2015 season showed a large range of diversity and fun in each designer collection. Altuzarra went for military greens along side horse back riding attire. Over at Chanel we saw a wide range of romantic silhouettes which emphasized true Chanel style. Carolina Herrera kept it classy, as usual, and presented florals, deep greens and fantastic evening wear.
Don't have time to catch up on all the Pre-Fall 2015 shows? Don't worry, 303 Magazine has the top five shows that you need to know.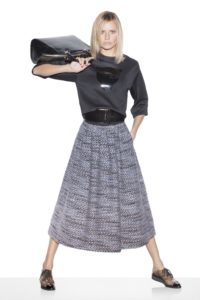 The Emporio Armani collection kept spirits alive with color and print. Giorgio Armani played off some street style cool looks but still kept everything very Italian. Looks were quite loose with little tailoring involved. Large cropped pants stopped at the ankle to reveal colored heels that kept looks fun. Super cool, clear oxfords brought us to a new world and were very unexpected, especially for Giogrio Armani. We are so ready for this collection to hit stores.
Joseph Altuzarra's collection was very British and made us yearn for foggy countrysides. Hunting and hiking gear were used as the main inspirations for his collection. Great hacking jackets were presented under cargo style skirts, shirts and dresses. A feminine silhouette was still presented – something Altuzarra is known for – but the color palette worked well as a contrast. He also showed animal prints alongside equestrian looks. We loved the large warm furs that came in the form of a vest and jacket. But the look that topped the collection was a cargo jumpsuit. Get ready because we think there will be a lot of these hitting the streets in the fall.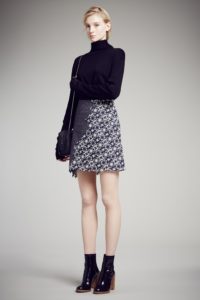 Known for his diverse aesthetic, Phillip Lim showed us that less is more. The collection was extremely pragmatic and sensible, utilitarian and fun, easy and girly. Essentially, it was everything we could have asked for and more. Smokey gray, beige and a splash of orange acted as the color palette for Lim's pre-fall 2015 collection. Easy laid back sweaters were paired with flowy silk skirts sending a message of ease.  Asymmetrical ruffles sat atop equally fluffy skirts for a feminine look. And sleek suit looks made for a very grown-up appearance. Overall Phillip Lim's pre-fall 2015 collection was as diverse as they come, a complement we're sure he never gets tired of hearing.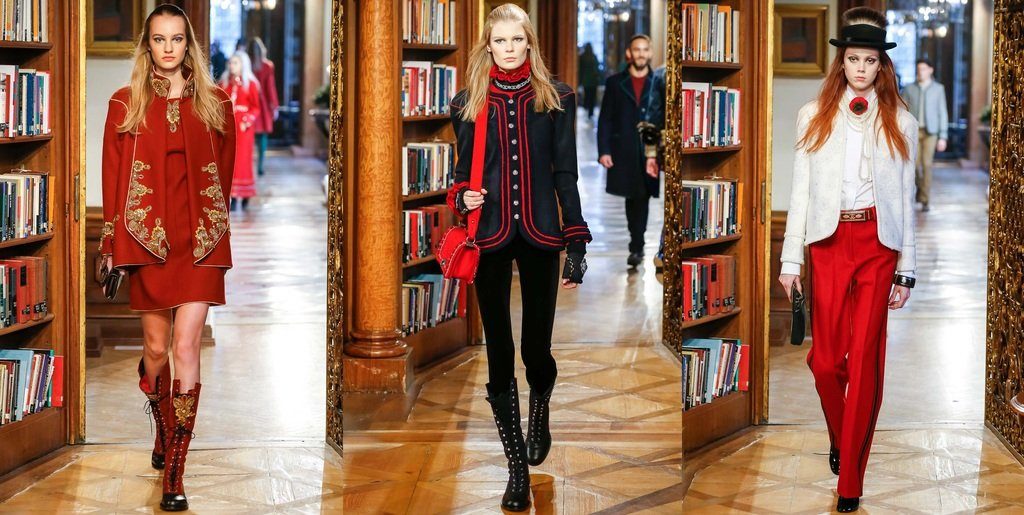 This list could never exist without the likes of Chanel. Beautiful embodiment was placed on blazers, dresses and even boots, making for a very polished collection. It reminded us of fairy tale princes (not princesses), complete with ruffles and jewels. There were frogged jackets and side stripped trousers that brought us to another day and age. We loved the constant use of red which fit well with the overall romantic theme. Some great blues and forest greens helped balence out an overall, to-die-for collection.
Known as the queen of fashion, Carolina Herrera did it again. Large, bold floral prints stood out alongside feminine lace and embroidery. While the collection was relatively small, counting only 16 looks, the work that went into it was extraordinary. Herrera focused on gowns fit for a princess, each full of volume. A beautiful navy gown made a bundle of roses pop while a silk green gown went art deco chic. Our favorite look was a sheer embroidered, floor-length dress that kept it classy. We can't wait for next award season cause we're sure some of the most stylish starlets will be wearing Herrera for sure.