Nothing says winter bleakness like a bunch of metal shows in December, and that is exactly what's happening this week. See below for some of the most skull-crushingly brutal events of the season, and don't forget the eggnog. Check out this week's Metal Meltdown for some holiday drear.

Opeth, In Flames and Red Fang @ The Ogden – Sat. Dec. 6th
There's a monster of a metal show this Saturday at The Ogden, featuring Swedish melodic death metal greats In Flames and Opeth, who will be joined by good time rockers from Portland, Red Fang. There are some high-profile names at this one and it looks like it's going to be a great time.
Who: Opeth, In Flames, Red Fang
Doors: 7:00 PM
Cost: $29.50 in advance, $35.00 the day of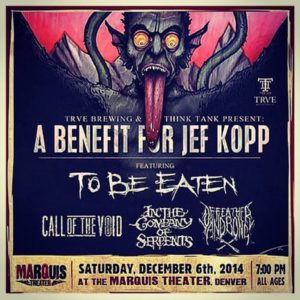 Trve Brewing Benefit @ The Marquis – Sat. Dec. 6th
For those looking for something a bit more D.I.Y., Trve Brewing company and Think Tank are putting on a benefit show for local metalhead Jef Kopp's medical expenses. There's not much info about who Jef is, but according to Trve's website he is a dear friend of theirs. The show will feature raffles of tattoo artist prints and gift certificates as well as music, and it will also be the C.D. release show for local doom band In the Company of Serpents. Worth checking out!
Who: To Be Eaten, Call of the Void, In the Company of Serpents, Of Feather and Bone
Doors: 7:00 PM
Cost: Donation's, give what ya can to help!
Krampus Fest @ The Hi-Dive – Sat. Dec. 6th
Krampust Fest is taking the town by storm this weekend at three bars, 3 Kings, Mutiny Information, and Hi-Dive. The High-Dive segment will be especially metal, featuring the C.D. release of local thrashers Iconoclast.
Who: Iconoclast, The Bronze, Engine Ear and Vermin Womb
Doors: 9:00 PM
Cost: $10.00