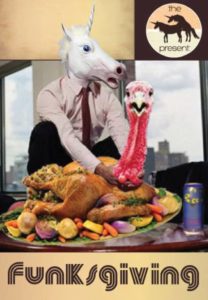 'Tis the season to dance off that stuffing, baby (stuffing baby?). And leave it to the Fucking Unicorns to show off their lithe acrobats and buff contortionists while you're feeling your fullest: Black Friday. So when you you're sick of parents, parades, football games and obnoxious shoppers, get on down to Cervantes' this Friday, November 28, for the FUNKSGIVING party.
This year, the All Good Funk Alliance will be providing the grooviest, booty bumpin' bouncy bass lines. Local legend Mikey Thunder will also be there to get you shakin' off the turkey sleepies with his signature jams. And DJs Milk and Ryel will be spinning some opening beats to kick off the party, which goes from 9pm-2am (doors open at 8:45pm).
You can anticipate an abundance of funky breaks, old school funk, hip hop and all around bad-assery from the Fucking Unicorns and Fractal Tribe, with their cast of wildly talented performers who will be tossing each other about and playing with fire. There will literally be scantily clad babes swinging from the ceiling. Be thankful.
All event proceeds go directly to the creation of community art projects and result in exponentially more rainbows and sparkles.
Check out the FUNKSGIVING Facebook invite for more details and information on how to purchase tickets. Tickets run from $15-25, depending on which tier you buy.