As much as we love the holidays, we are all fearing for our waistlines as we anticipate the parties piling up on the calendar. From ugly sweater kickbacks to meet-your-partner's-family dinners and elaborate work socials, there will be many opportunities to treat yourself. But knowing that the average American gains eight pounds or more each holiday season should make you think twice about double extra cool whip on your pumpkin pie.
Scott and Laura St. John, the power couple behind the stimulating Pearl Street Fitness, initiated a 30-day challenge to support their gym members in maintaining physique and not gaining weight called Battle the Bulge from Nov. 15 – Dec. 15 to motivate members in staying strong and confident throughout the holidays. This challenging initiative paired with community support at PSF has all together truly started a movement.
Located around the corner from Whole Foods and just beyond the Pub On Pearl (known for hosting the Wash Park's Pub Runs), Pearl Street Fitness is a product of the concentrated creativity and passion from the two who have been working out together since their college days, always trying to make it fun and exciting. It wasn't until they took off to Colorado and nationally expanded their educational business that they could then pursue this side passion of creating healthy, fit communities. Now known as the place where trainers come to train, Pearl Street Fitness has expanded to three Denver locations in 18 months to not only make you strong but make you feel strong.
What Makes PSF Different
the fresh full-body workout – Scott always changes it up by scouring different workouts for the best techniques. He comes up with unique workouts so you'll never do the same thing twice. It is fast paced and intense, kind of like having a personal training session but in a group environment. Always come ready for a challenge, always come hungry for surprises, and push yourself because others are there pushing you, too.
the people – It is people driven, people made and people inspired. It's about getting better through quality rather than quantity. All the movements are adjustable so that people who are on different levels can workout in one environment.
the experience – People come for the workout but stay for the experience. As soon as you walk through the door you can drop all your labels, expecting to feel the most welcome that you've ever felt. You'll leave sweaty and drenched but feeling so uplifted that you can't wait to come back. It brings belonging to a whole another level. There is a feeling that comes out of PSF that is starting a movement of strong confident living.
the community – It's always looking for ways to collaborate with other businesses or give back to the community. Every month PSF trainers choose an organization of their choice to which it donates 100% of proceeds from a class. PSF had the largest relay team in the Colfax Marathon this spring, beating out all the other company competitors so the proceeds went to Colorado Youth for a Change, of which Laura also serves as a board member.
The Battle of the Holiday Bulge
This challenge is to form healthier habits in 30 days and make it a lifestyle. The challenge has thanksgiving right in the middle of the challenge to show people that that's life. It encourages 85% mindful, healthy choices and 15% fun. It will help you maintain and not gain. It focuses on three components of the healthy living: community, nutrition and fitness – all of which stem from the umbrella lifestyle brand of Strong Confident Living. SCLiving hopes to infuse itself into other like-minded gyms who are striving to create the same feeling of empowerment.
Laura hosts kickoff events to explain everything to people.  It's a supportive atmosphere, sharing tips and best practices. Every week it will do a learning session with did-you-know facts or tips before thanksgiving. These are really just options. If you follow all of them, you'll see the best results.
Strong Confident People say…
"It's a dynamic exercise. It changed my body, gives me more energy, it has community support. I love working out here. the community aspect is my favorite. I love working out with other people and that there's all different levels of exercise here. So anybody can work out here and there's no competition. At some gyms there's that meat market feel and here it just feels like community." – Elena Davis, owner of Peace of Mind Massage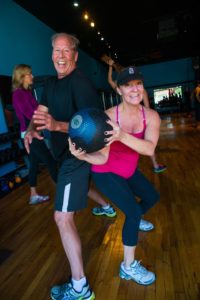 "Up until PSF I had never found the workout that motivated me and could keep me going as much as it does here.
It is a challenge but I'm always standing at the end.

I think my favorite thing is the excellent trainers. It's very much a family environment here. The trainers are here for us and they motivate us." – Debbie Scheer.
What You Can Expect At PSF
People first walk through the door a little scared but the trainers make you feel welcome. They introduce themselves, explain the workouts and get you excited to move. Just after trying out a few classes I knew there was something special going on between the family feeling and the feeling I had of wanting more. Come expecting to work hard, feel stronger and leave more confident in the steps your taking towards healthy living. There's no better time than this holiday season to put your fitness to the test and turn your life up. 
All photography by Delmy Gooch.