If you've never set foot in the original Savory Spice Shop, located in Lower Highland off of Platte Street, in all likelihood you have smelled the exotic scent of freshly ground spices from down the block. Avid home cooks looking to share their passion for spices with the world, founders Mike and Janet Johnston opened the first Savory Spice Shop in 2004. The company has grown by leaps and bounds in the last 10 years, with seven locations in Colorado (including partnerships with plenty of local businesses) and 31 total stores coast to coast. This month they are officially launching the first Savory Spice Shop Cookbook: "Spice to Plate." I sat down with founder Mike Johnston to chat with him about the company's success, how they're celebrating their ten-year anniversary, and the fruition of their first cookbook.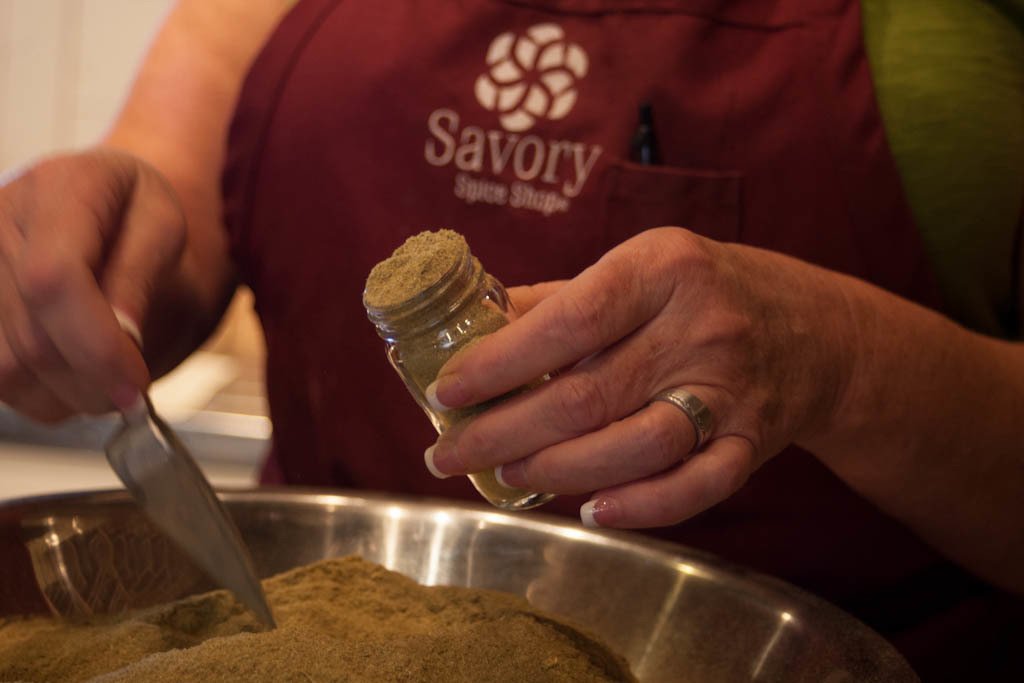 While Savory Spice Shop is now a chain, the company has stayed very true to its Colorado roots and small-shop feel. SSS is still firmly rooted in Denver, Johnston told me. Both their test kitchen and their warehouse are located right here, and many of their signature spice rubs are named after local spots, like the Pike's Peak butcher's rub, the Pearl St. plank rub, and the Red Rocks hickory smoke seasoning.
"We were so lucky because right from the beginning the city of Denver just really embraced us," Johnston explained. Word of mouth allowed the company to grow naturally from grinding and blending their spices in the basement of the Platte Street Shop to a national name in spices.
Part of the beauty of Savory Spice Shop's business model is that every location has a charming, old-world feel reminiscent of a cozy, hole-in-the-wall spice shop. While the company has certainly expanded in the past few years, SSS is still relatively small in the world of spices—especially when you consider that the majority of Americans still continue to buy their spices in stale, mass-produced quantities from the supermarket. Any cook worth their salt will tell you that truly fresh spices make all the difference in flavorful dishes.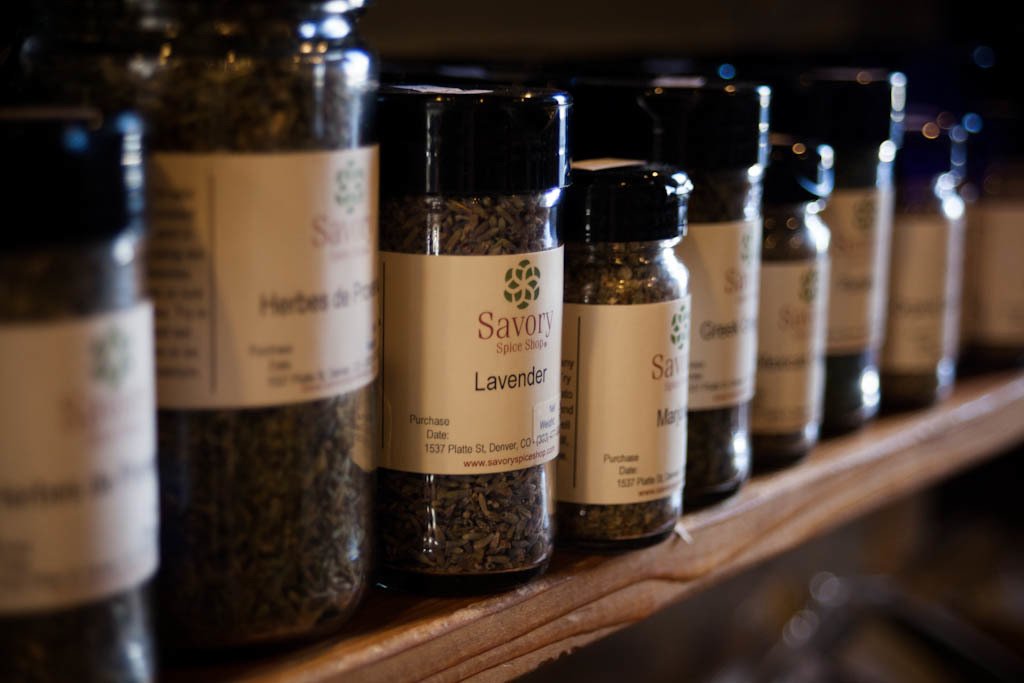 Savory Spice Shop was able to win the business of discerning shoppers by offering a commitment to freshness and quality. All of the spices are ground weekly, assuring that they will be far more flavorful than their supermarket counterparts. As an added benefit, customers are free to buy the exact amount they need of any spice, all the way down to a half-ounce. And in a world where people want to know exactly how food makes it to their plates, it's important to note that Savory Spice Shop pays spice farmers a better price for their products.
The Savory Spice Shop team will celebrate their ten-year anniversary with collaborations on limited edition products from two local companies. Over the years many of Denver's most notable chefs and culinary innovators have relied on the Savory to provide them with spices and inspiration. Savory even paired up with both Elevation Organic Ketchup and The Real Dill to release vindaloo-spiced versions of their artisan products in honor of the ten-year anniversary.
After ten years of helping cooks around the country make their food more flavorful, The Savory Spice Shop is ready to unleash its first cookbook: "Spice to Plate." This is one cookbook you will most definitely want in your kitchen. The book celebrates Savory Spice Shop's most unique offerings–their 10 signature spice blends–in a variety of sweet and savory recipes. For example, if you pick up a bottle of Baker's Brew Coffee Spice, you'll be able to make a portobello sandwich with coffee aioli, Chilean shepherd's pie, and salted caramel monkey bread.The spice blends the recipes rely on assure that even an inexperienced home cook will end up with flavorful results.  Th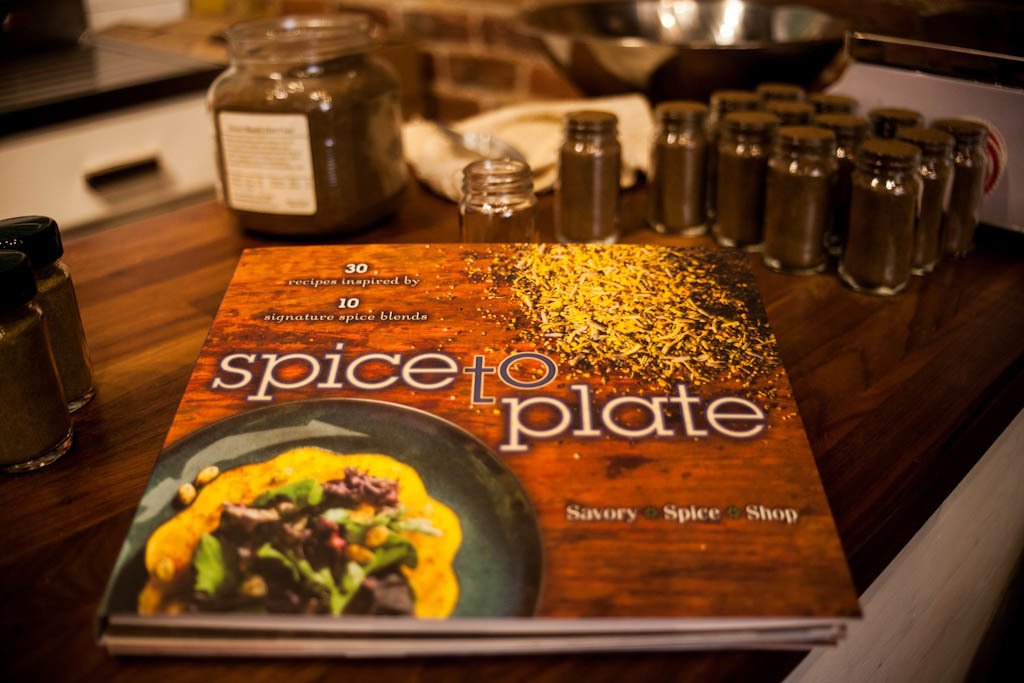 e book will be available for purchase either online or in-store on November 1st.
Savor the spice of life with Savory Spice Shop, and let their custom spice blends elevate your cooking to amazing new levels. Whether you invest in the new cookbook or not, now is the perfect time to stock up on some warming fall spices at a Savory Spice Shop near you.
All photos by Jackie Collins.