What: A diverse breakfast and lunch menu that builds on an established selection of baked goods.
Where: 217 S. Holly Street
When: Tue-Fri 6AM-2PM Sat & Sun 7AM-2PM Breakfast until 11AM
Pros: New building lends a cozy feel in an up-and-coming neighborhood. Meticulous presentation well above the standard for this price range.
Cons: The Italian Rustic Bread, while crunchy and flavorful, can err on the soggy side if overstuffed with toppings.
With almost 10 years in Park Hill under his belt, owner Mike Meirowsky brought his Adagio Bakery and Café to Hilltop in late May. After coaxing Head Chef Corey "Fuzz" Navin out of retirement, the two teamed up, and settled on moving into the brand new building off Holly St.—the space also houses a Park Burger and High Point Creamery. Since their grand opening, the duo has been working around the clock, expanding the older Adagio's offerings in order to muscle their way to the forefront of Denver's bustling brunch market.
With seating for about 30, the restaurant is on the smaller side. The storefront's large glass façade welcomes in Denver's plentiful sunshine, and a partition separates diners from the walk-in patrons buying baked goods. Meirowsky acknowledges that while most people don't necessarily move to the Crestmoor area for walkable dining and retail—and that may soon change as the city continues to grow—he hopes to attract loyal clientele from all over the city.
Navin's cooking is surely in the right wheelhouse. Six days a week he slings a slew of unique flavors like the port syrup and roasted garlic béchamel in the Mushroom Bruschetta ($9) and the rich Sunny Side Duck ($12)—savory dishes that may sound like a lot for your average brunch session but are nothing short of essential. The sandwiches are heavy, yet wieldy affairs, packed tight with all the fixings. Adagio's Chicken Parmesan Sandwich ($12) is one of the best iterations of the Italian classic you'll find here in Denver.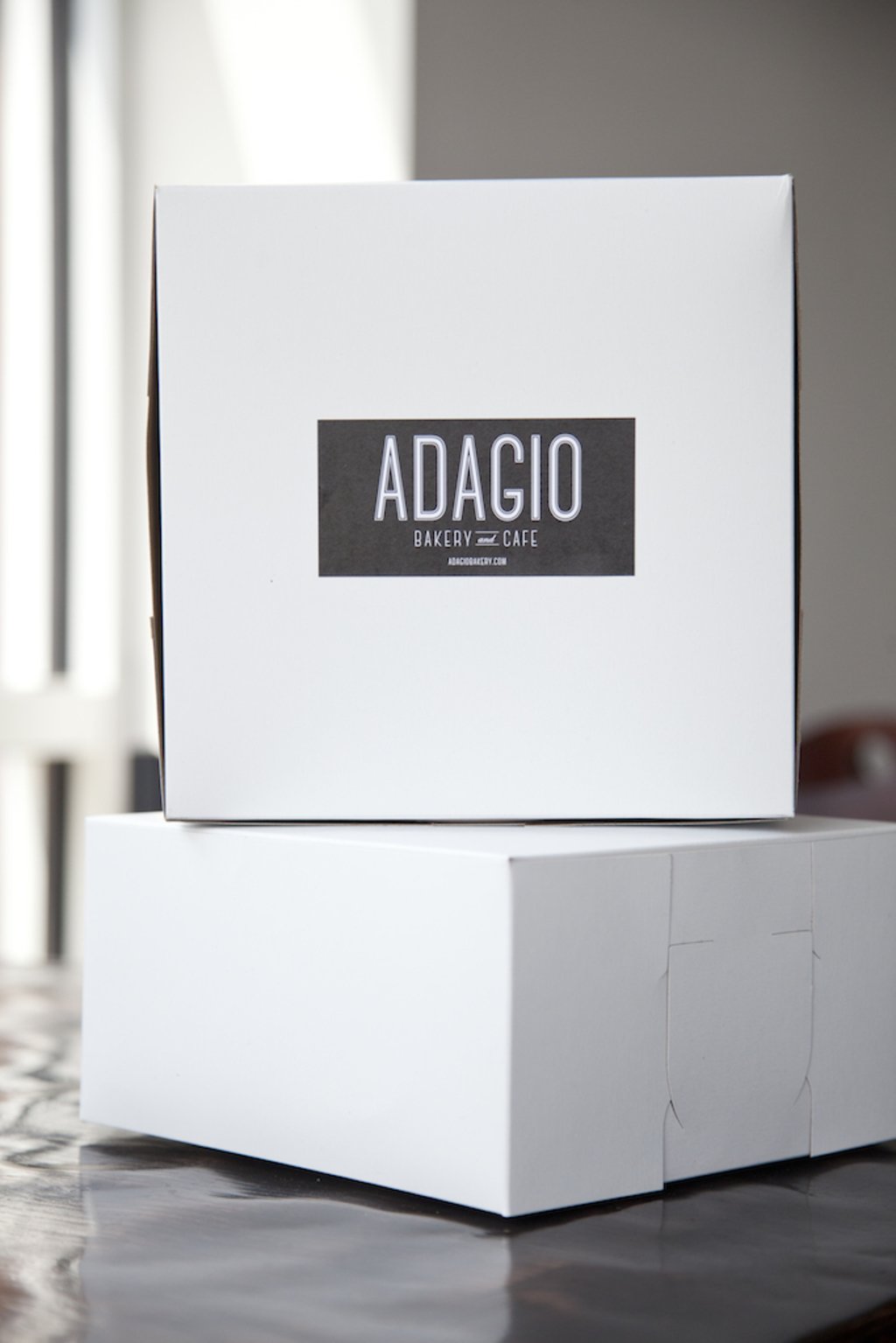 Lighter fare includes the tender Beet Salad ($8), and of course their pastry, like the Blueberry Scone ($3), fits in somewhere between the richer dishes and green options.
While Adagio has some way left to come in finding its footing at the new location—more menu lineup shifts, securing a liquor license and potentially offering dinner service—with persistence and a little luck, they'll become one of the early landmarks in Hilltop's emerging restaurant scene.
Navin, earlier on the day Adagio opened its doors to 303, had been playing around with a new concoction of chicken and wild mushrooms on a bed of tagliatelle, glazed in a robust Midori sauce. Again: not your typical brunch item, but one that may soon deserve recognition as a flagship dish.
One hopes that this playful experimentation continues, and that Adagio remains one of the many reasons to head toward Hilltop for an affordable dining experience.
All Photography provided by Tweeter Communications