What: High Point Creamery, a new ice cream shop in the Hilltop neighborhood.
Where: 215 S Holly Street
Pros: Upscale and unique flavors like basil blackberry swirl and Earl Grey with shortbread cookies share space with classic strawberry and vanilla options (all made with organic cream). Don't miss the ice cream flight, complete with the house-made toppings, or the cake-like molded ice cream and meringue bombes.
Cons: For those accustomed to ice cream made with flavor additives, the flavors at HPC may not taste as intense. Using simply organic fruits and herbs makes for a purer tasting product, but one that is very different from others out there.
Walking into the brand new High Point Creamery in Denver's Hilltop neighborhood, it's hard not to be won over by the vibrant and cheery space (not to mention the heavenly smell of fresh waffle cones). The sunny yellow stools and accents lend a whimsical touch to the gray marble counter tops. With matching yellow-gray garlands draped overhead and fresh flowers on the tables, the space feels both chic and kid-friendly at the same time.
And that's pretty much exactly what owner Erika Thomas was going for. She chose the spot, located adjacent to the new location of Park Burger, for the diversity of clientele the local neighborhood boasts. Nearby, there are elementary and high schools, Johnson and Wales, and a wealth of families that live within walking distance to the shop. While many ice cream shops cater exclusively to kids, High Point Creamery's elegant approach to the creamy treat is sure to appeal to more developed palates as well.
Thomas has taken a unique path to become the owner of an ice cream shop. After years working a stressful job as a car dealer, she realized that although she loved working with people, she wanted to do something that would put smiles on their faces. She always loved making ice cream at home, and her husband encouraged her to follow that passion.
High Point Creamery – Organic and Local Flavor
HPC's slogan, "lavishly crafting joy," is not just a catchphrase. All of the ice cream flavors are made with organic cream, mostly organic ingredients, and local partnerships whenever possible (like the Noosa yogurt used in the yogurt-lime). Take the basil blackberry swirl–"We cold-steep one and a half pounds of organic basil in the cream overnight, without cooking it, to keep the flavor fresh and vibrant." While herbs in desserts are nothing new, this is one of the more unique ice creams I've tried, with the herbaceous basil flavor taking center stage. In a similar vein, you have the cucumber, pear and gin sorbet. This cocktail-inspired dairy-free scoop screams summer, and is so light and refreshing I could probably eat a whole pint of it without feeling guilty.
"We sell a full fat, full flavor product."
As far as more conventional flavors go, HPC offers plenty of the standards, like vanilla bean, milk chocolate, and coffee. Yet the flavors might not be exactly what you're expecting. Take the strawberry , for example. Thomas explains—"we're not using strawberry extract or flavorings—just seven pounds of real, organic strawberries." So while this scoop might not taste as aggressively fruity as more artificially enhanced versions, you can really taste the quality of the cream and the fruit. My personal favorite was the chocolate orange marshmallow, inspired by those chocolate oranges we all ate as children.
One of the most innovative things at HPC is the ice cream flight, a selection of five different scoops and toppings, plus a bowl of the house-made fudge or caramel sauce, all gorgeously presented on a wooden tray. This is the perfect option for two or three indecisive people who want to try a few different flavors. And the toppings? Almost all of them are house-made (you won't find any Oreos or Butterfingers here). The staff candies the orange peel and dips espresso beans in chocolate to artfully place on top of the flight scoops.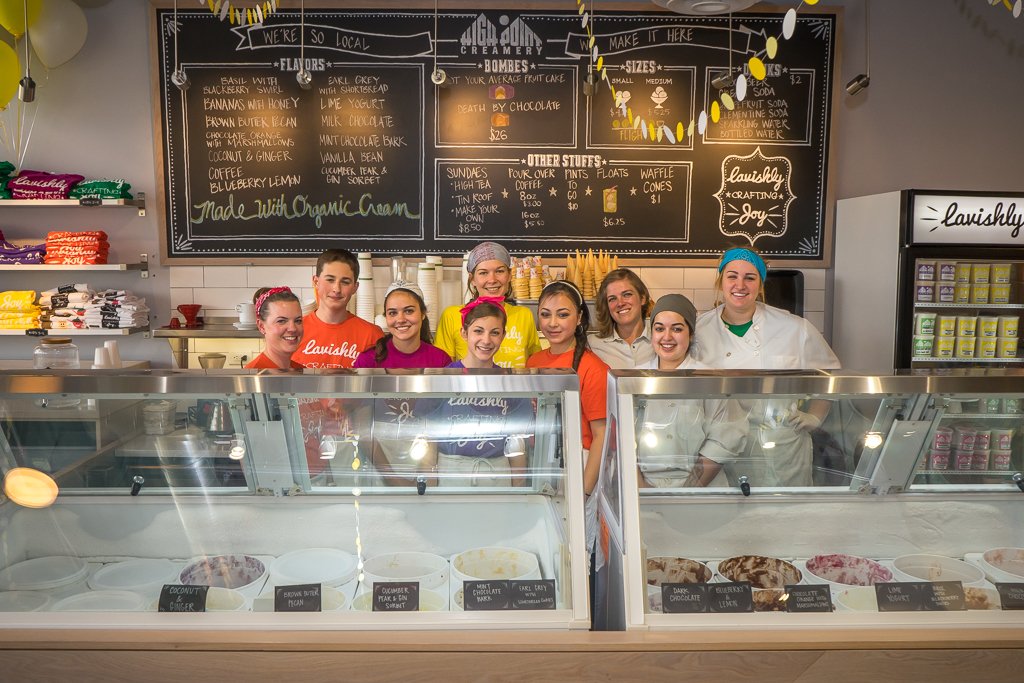 Another option unique to HPC are the molded ice cream bombes. If you've never had one, I would describe it as a sophisticated adult version of ice cream cake. While they don't contain cake, they are molded layers of ice cream and meringue set in antique Victorian copper molds. The "Not your Average Fruitcake" includes salted caramel and blueberry lemon ice cream, orange meringue and a garnish of Amarena cherry.
For an elevated ice cream experience, HPC definitely delivers. The concept has wide appeal for both foodies and families alike, with an unmatched sophistication. While there might be plenty of local ice cream shops, this one definitely fills a unique niche in the Denver dessert scene.