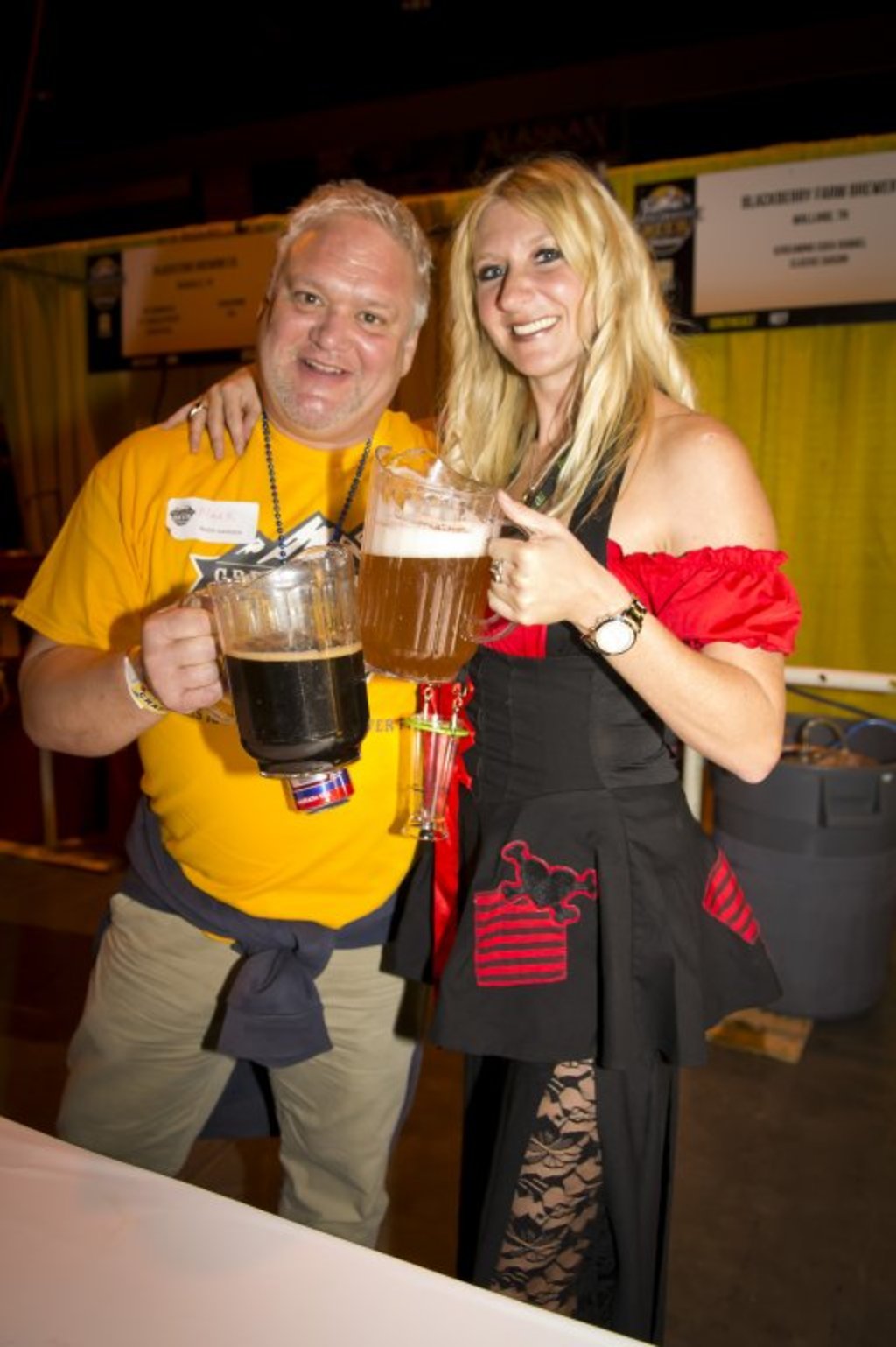 What: 2014 Great American Beer Festival (GABF)

Where:  700 14th Street, Hall F, 14th and Stout Streets, Denver, Colorado 80202.

When: October 2-4, 
For those lucky enough to have tickets,  The 2014 Great American Beer Festival (GABF) has an entire lineup of events.  It's impossible to list everything the event patrons will want to hit, but here are six can't miss events that provide an interesting take on the traditional event sample to expand the knowledge and palate of suds junkies in attendance.
Hot Dogs & Ales to the Next Level
Taking place on Thursday from 6:30 to 7:00 at the Beer and Food Pavilion, Pete Crowley and Christopher McCoy from the Haymarket Pub and Brewery in Chicago are giving a demonstration on how homecooks can make hot dogs from the comfort of their own kitchens. They're also going to discuss the competition between Chicago- and New York-style dogs, and you can decide for yourself as they give mini versions of both paired with a Haymarket beer.
Attack of the 50 ft Brunette
On Friday, make your way to the Brewer's studio from 7:30-8:00 to sample Nebraska Brewing Company's Imperial Nut Brown, which has been aged in spirit barrels from the New Holland Brewing Company. Barrel-aged brews are going to be a huge part of the craft brew scene in the coming years, and this is a great opportunity to try them at their best, as well as learning about the benefits by some of the experts.
Beer Got Your Tongue 
With your pairing experience from Thursday's hot dog presentation under your belt, you'll want to stick around the Brewers Studio from 8:30 – 9:30 to learn the rules of beer pairing from brewmaster Jared Rouben (Moody Tongue Brewing Company) and Michelin-starred chef Jared Wentworth (Longman & Eagle, Dusek's Board & Beer, The Promontory in Chicago). Beer Banter has discussed beer pairing in the past, but this will include pairing samples from experts on the cutting edge of a new facet of the restaurant scene.
Farm to Glass Brewing
By now, most people in Colorado have heard of the Farm to Table movement in dining, but from 7:00-7:30 on Saturday, Coachella Valley Brewing Company is giving what should be a fascinating discussion on Farm to Glass Brewing at the Brewers Studio. This will include discussions of their own Farm to Glass program and how they have used local and sustainable ingredients to make some superior brews, which you will of course get to sample.
Feel the Heat—Peppers and Beer
I've also talked about chili beers in the past, but from 6:00-6:30 at the Beer and Food Pavilion, expert James Floyd of the Ninkasi Brewing Company and Bradley Latham of the Brewers Association will be giving a presentation on pairing chilis with beers. Four Ninkasi beers will provided along with various chilis to create different flavors. If you're a fan of big heat and delicious beers, this is the perfect event to hit.
Beer fans will no doubt do their best to hit as many events as possible. Download the app if you haven't already to help you find your way around the event. I'll be live-tweeting the event starting at 6pm all three days of the event, so tune in for pictures and commentary. Have fun, be safe, and enjoy one of the greatest beer events in the world!
Photography by Adam Ripplinger