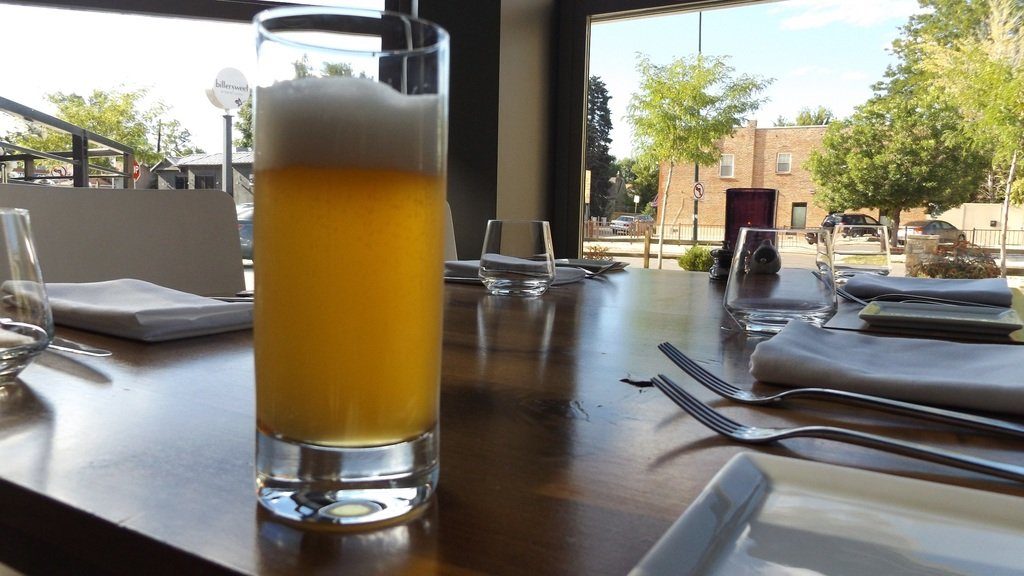 What:  Bittersweet Artisanal Cuisine
Where:  500 East Alameda Ave., Denver, CO 80209

When: Open  5 p.m. –  10 p.m., Tuesday through Saturday

Pros:  Bittersweet has an excellent beer pairing program and a mind blowing beer list. 
Cons:  Absolutely none.  Seriously, my experience there was close to flawless.

With a beer list that's enough to make any beer fan go mad, Bittersweet is the kind of place that easily merits a marker on any beer map.  The beer reviewer in me thinks that the story should end there and go straight to the review, but that would not do justice to a restaurant that single-handedly puts Denver in league with other great culinary cities.
When I sat down at the bar to sample their beer list, I didn't know what to expect.  Part of me was waiting for four or five beers and a rundown of the restaurant, which is par for the course in many of my interviews.  What I got instead is a culinary experience that set the standard for beer lists in Denver restaurants.  Suddenly it's not enough for a restaurant to have beers you can't find in your average liquor store–now they have to be paired with menu items in such a way that the beer and the food is pushed into realms you wouldn't believe.
A New Standard In Beer Pairing
With its own 600 sq. ft garden that fills a great deal of its need for fresh produce, Bittersweet's menu is simple yet well-rounded, with an attention to detail that would make Sherlock Holmes jealous.  The wait staff was attentive, yet allowed enough time to enjoy the meal without interruption, and Chef Olav Petersen only poked his head in to help me understand his creations.
Usually I limit my column to Colorado beers, but my inner beer geek was eager to try some beers that I've only read about in guides.
Viru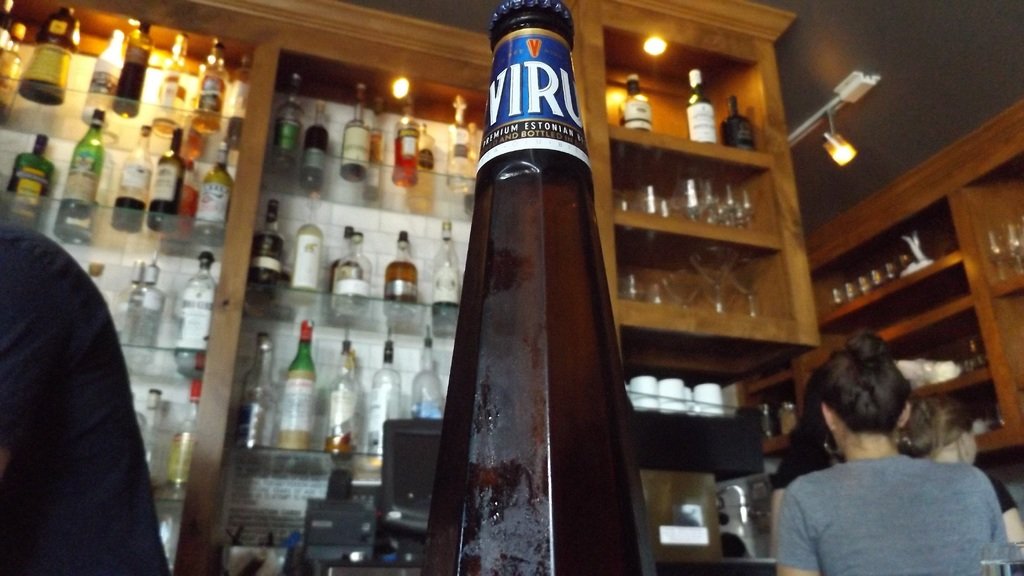 This evening opened with Viru, an Estonian beer brewed in Tartu.  At 5%, this pilsner is the perfect aperitif to wet your whistle while you wait for your first course to arrive.  Its dark lemon color and lightly sour, bitter aroma gives you a preview of the wonderfully smooth mouthfeel of this lager.  It's got great malt flavor with enough body to satisfy without being too bready.  There are hints of sour, though it is not a Belgian, and its crisp, short finish will remind many drinkers of a sparkling wine.  It's a great outdoor beer, but I highly recommend opening any meal with it.
Ayinger
I'll admit that hefeweizens are something of an acquired taste, but if they were all like Ayinger, they wouldn't be.  It has a yeasty aroma that brings to mind baking bread, and with a nice head and a remarkably clear (for a hefeweizen) yellow color, Ayinger brings amazingly clean, refreshing yeast flavor that doesn't coat your mouth the way a lot of hef's do.  It's good by itself, but great with Bittersweet's Morcilla appetizer.  It's a Spanish chorizo that doesn't overwhelm with spice, instead bringing an amazing pork/spice flavor.  It has an almond component that seems on first glance to only be for texture, but stealthily brings a delicately spicy flavor.  Combined with confit potatoes, it should feel like too much is going on in one plate, but everything marries so nicely that your palate doesn't get confused.  And if it does, a gulp of the Ayinger resets your palate and prepares it for more.
Castelain Blond Biere de Garde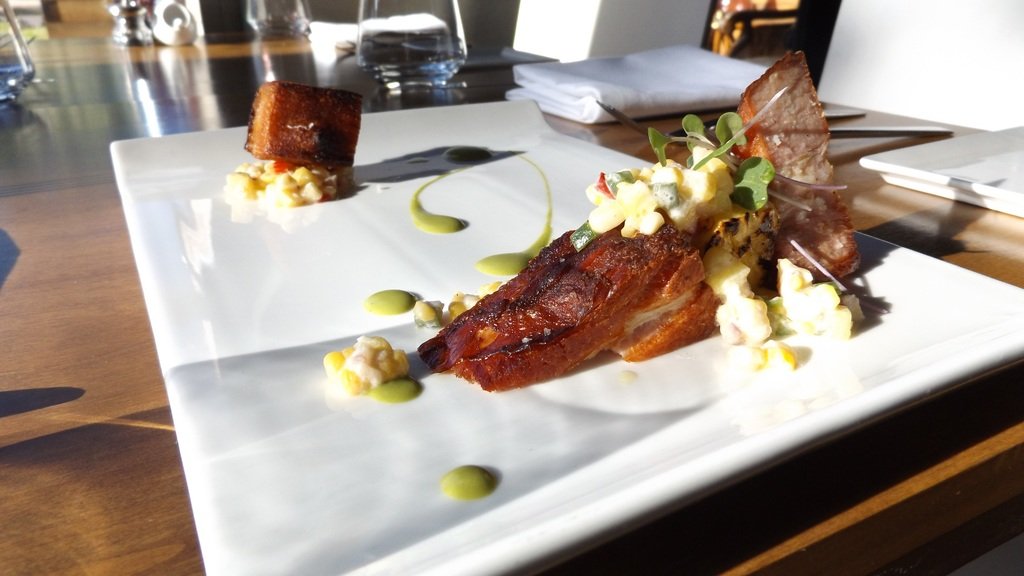 With a beautifully clear, golden color and light head, this beer looks almost like a dark Riesling.  But its subtly sour aroma alerts you to its pleasant balance between sour and sweet.  The acid it brings to your palate is perfect for the Pork Belly, which has huge savory flavor with its pork/fat/pork layering that varies in texture depending on where you decide to bite.  Between the  dish and the beer, you get a one-two punch of fatty/savory and sour/sweet that never lets your mouth get numb and doesn't overwhelm.  Pork belly and bacon may be something of a fad these days, but don't let that scare you away from trying this combination.
Kwak
This Belgian brings an orange/amber/brown color that deserves its own crayon, and its oaky aroma mixed with subtle sour notes deserves its own cologne.  It has a light earthiness, combined with a malty sweetness that is balanced with the sour you expect from a Belgian of this caliber.  There is a medium body, which causes a longer finish that would be troublesome in any beer without this kind of flavor.  You'll be tempted, but don't drink Kwak too quickly or you'll miss most of the show.
Pinkus
The first officially organic brewery in the world, this is the beer that would've been my palate cleanser had I not insisted on trying the Kwak.  It has a lightly cloudy straw color, and a mild dryness mixed with a sour/bitter flavor.  "It's clean, but not too clean," David Wiemecke, the mixologist working that night, told me.    It's clean and cold, with enough acid to wash the flavors out of your mouth without overwhelming you for the next course.  Highly recommended on a hot day, or before any rich meal.  In a weird way, it's really two beers in one–it's refreshing in big gulps, but complex and interesting in sips–definitely worth a try.
Duchesse de Bourgogne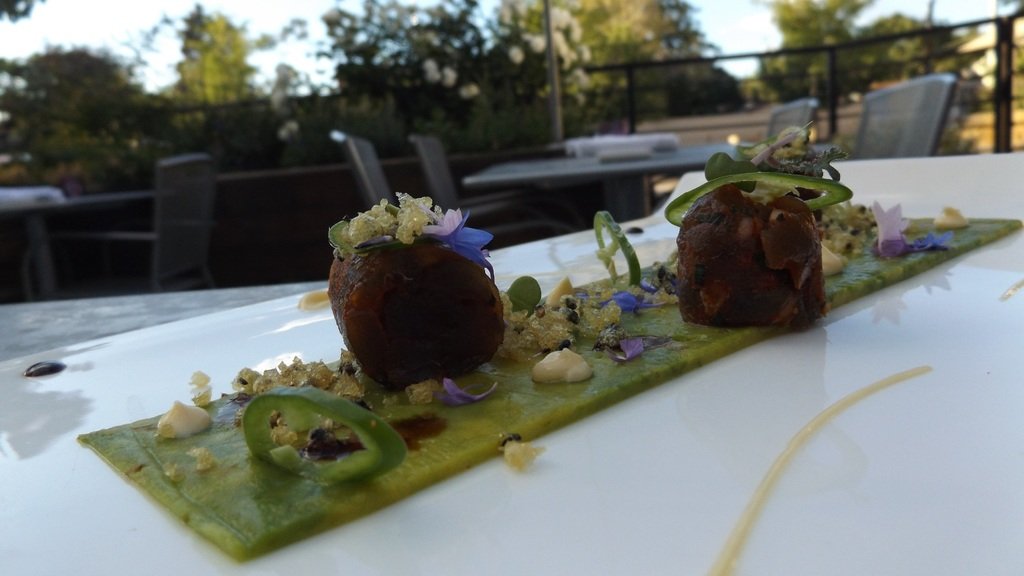 I used to think I knew what "delicious" meant until now.  This beer came paired with Chef Olav's take on a spicy tuna roll.  Having spent over four years in Hawaii, I had expectations for this plate that were exceeded in every possible way.  The tuna rolls sat on a bed of avocado marble, both of which coat the tongue in a remarkably decadent way without overwhelming you with fat or spice.  All of this is slashed apart by the Duchesse, which brings blades of non-astringent balsamic vinegar tones paired with hints of chocolate/amber.  The dish is fatty while the beer is sweet.  The dish has spice, while the beer has acid.  It's difficult to wrap your head around this, but I highly recommend making a trip to Bittersweet specifically for this pairing.  It's the kind of meal that will impress whomever accompanies.
Bestefar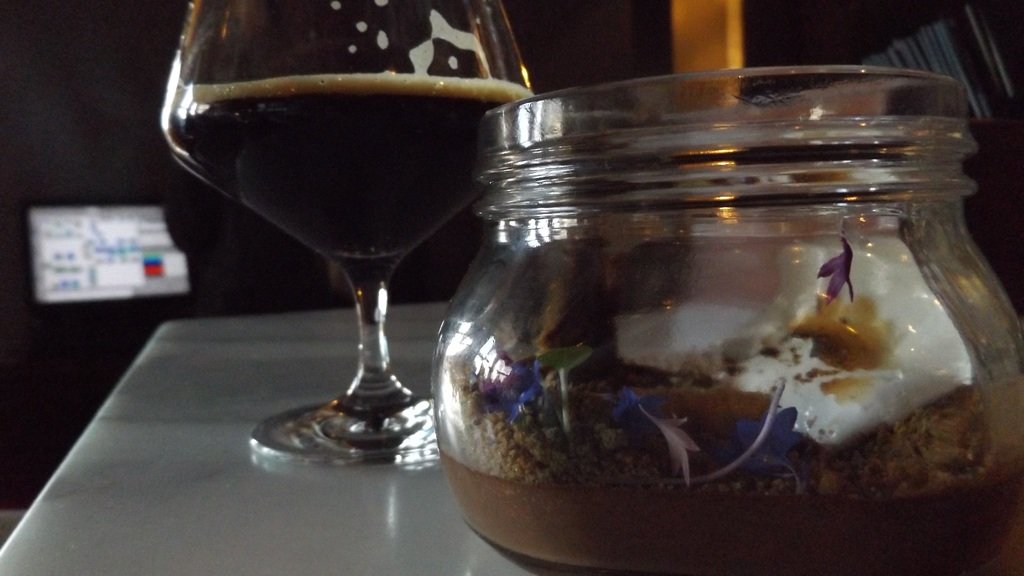 Dessert was the final dish (obviously) but can anything really measure up to that amazing entree?  The short answer is yes.  The dessert is a mason jar filled with a chocolate panna cotta, graham cracker crumbles, and toasted marshmallow fluff that builds a marshy landscape that is topped off by mesquite smoke "fog" that is only released when the top of the jar is removed.  Alone, this is amazing take on s'mores, but paired with a Bestefar that brings light bitterness with huge notes of dark chocolate and a very mild red wine aroma, this is dessert course is nearly flawless.  My only criticism is that the beer and the dessert are pretty rich, but with dessert, who's going to complain about that?
When I started writing this article, I considered "price" as a con for Bittersweet, as its menu can run a little steep.  But as I basked in the experience put on by Chef Olav Petersen and his staff, I reversed myself, as it would be an insult to charge less than they currently do.  The attention to detail put into every dish, as well as the beer list, is the kind of thing you rarely see.  Bittersweet really does justice to Colorado's status as the Napa Valley of beer, as well as to Denver's status as an up-and-coming restaurant city.  Get over there as soon as you can.
Photography by Tressa Hodros