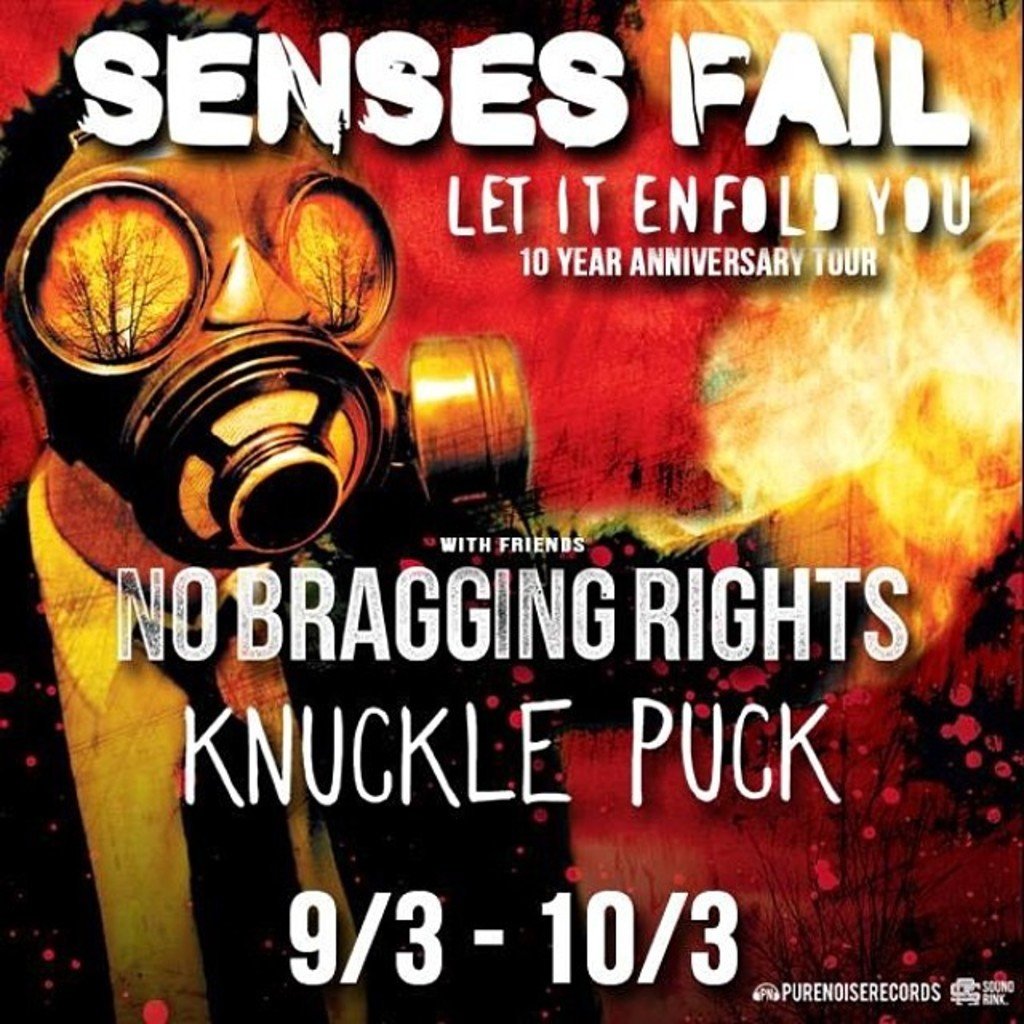 With their debut LP, Let It Enfold You, reaching a decade in age, New Jersey's Senses Fail hit the road for a much long-awaited ten year anniversary tour.
A versatile, time-tested record that helped define the post-hardcore/screamo genres in the mid-2000s, Let It Enfold You has become Senses Fail's most revered release since their inception. This from a band that has constantly pushed the envelope with each release, forever altering genre trends, progressing in instrumentation, and changing over band members on every new record.
Let It Enfold You is not your average band's debut release, and certainly won't be forgotten, as songs like "Bite To Break Skin," "Buried A Lie," and "Rum Is For Drinking, Not For Burning" have become cornerstone songs in a genre (and music scene) that remain ever-changing with the newest trends and the latest musical modernity.
The lifespan of a band, these days, seems to be at its lowest point ever. That being said, Senses Fail are now passing their 12th year in existence. As they continue to constantly release new music, re-defining their sound and style with each album release to keep up with the times, Senses Fail still aren't getting any younger — meaning that this may be the only (and last time) to see an album like Let It Enfold You performed in full, front to back.
Take advantage of this rare opportunity and breathe in that crisp, nostalgic air as we flash back to the peak of the mid-2000s dubbed "emo" movement that paved the way for bands like Senses Fail, My Chemical Romance, Underoath and Taking Back Sunday. It'll be well worth it.
Senses Fail's Let It Enfold You Ten Year Anniversary Tour hits Summit Music Hall September 10th. Opening acts include Knuckle Puck and No Bragging Rights.
Tickets: $15 Advance / $18
Doors: 7pm
*And make sure to check out what lead vocalist (and last remaining founding member) Buddy Nielsen had to say about the band's 10th Anniversary Tour for Let It Enfold You, the evolution of the band and more.
303 Magazine with Senses Fail's Buddy Nielsen:
303: It's been over ten years now since Let It Enfold You released. How does it feel looking back on the journey that Senses Fail has gone through since 2004?
Well, I would say it pretty much mirrors my personal life. The band for me is an extension of my personal journey, and that personal journey has been pretty intense and filled with ups, downs and everything in-between.
303: What are some of the things that you're most proud of that you've accomplished since its release?
I think I'm most proud of just continuing to put one foot in front of the other, moving forward. There is no one album, tour or goal that filled any major need. The longer I do it, the more I truly come to respect making music and playing music as a gift.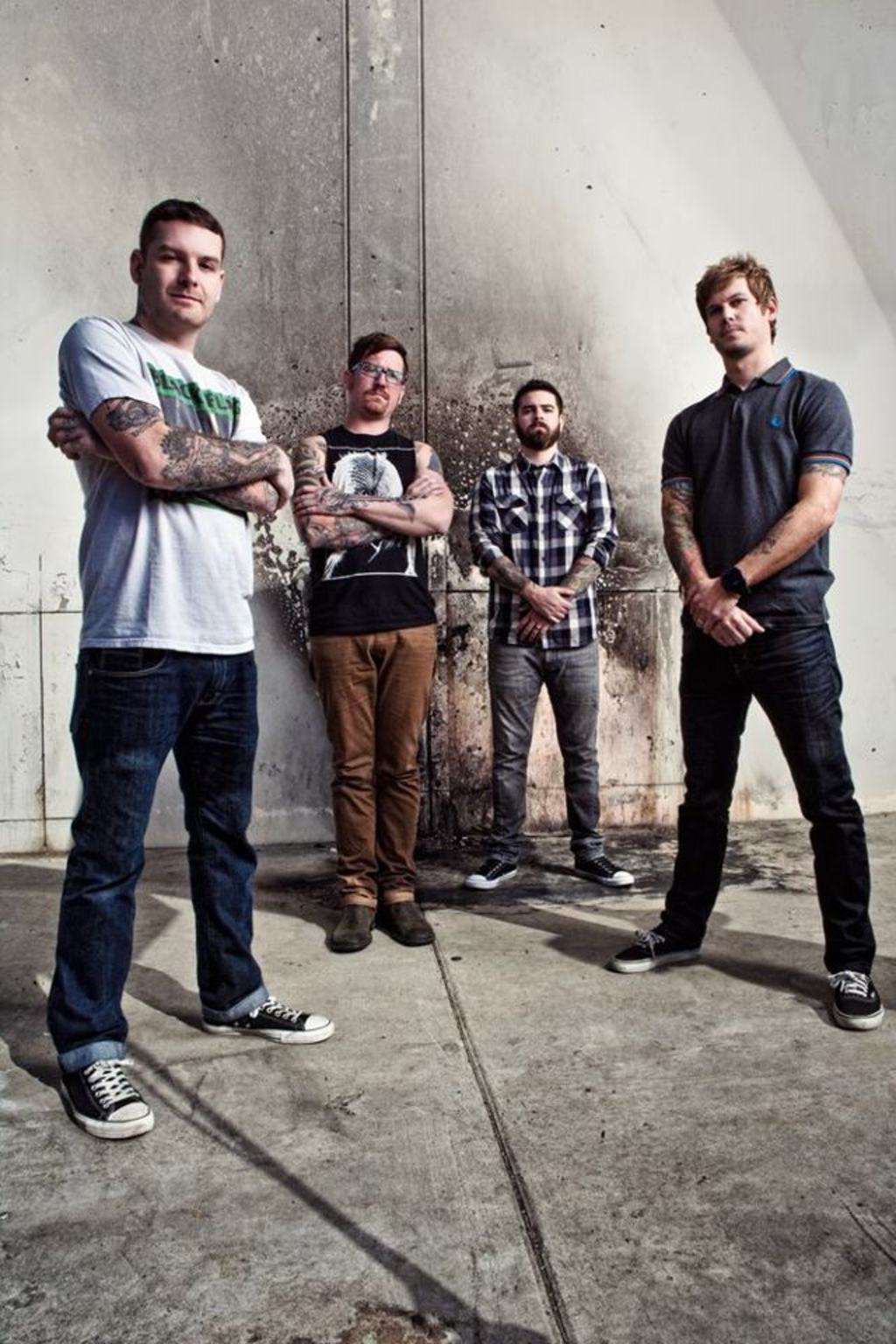 303: Has it been a steady progression musically as a band these past ten years, especially since songs like "You're Cute When You Scream" differ greatly in sound and approach from songs like "Saint Anthony" and "Family Tradition?"
Yeah, the music is always evolving, members are leaving — I am the only original member. I almost feel the band should be looked at as a livening, breathing thing that changes and grows and is elastic. I think referring to it as a collective might actually make sense. It's a place for people to come and make music together and depart from when they feel the need to.
303: What inspired the change of the rigid, almost chaotic vocal technique used for screaming on Let It Enfold You to that on any of the following records that sounds more punk/hardcore influenced?
I was heavily influenced by a lot of original screams during the time of Let It Enfold you, bands like Orchid, Pg 99, Sateia. Their style was very chaotic and spastic and much higher in register. As I grew up, I started to like more of the traditional hardcore approach, so my voice changed to try and mimic that.
303: If you had to choose one song that is most meaningful and one that is most fun to perform live from Let It Enfold You, what would they be?
Probably "Slow Dance" or "Let It Enfold You."
303: Let It Enfold You helped pave the way for entirely new genres of music and has influenced a countless number of artists since its release. What does it feel like knowing that you created an album that not only launched your career, but transformed the lives of others listening?
I'm not sure. I have a difficult time truly understanding what, if any, impact something I have done has had on others. I am very proud that we were able to make something that still is enjoyed today and that has hopefully done more good than harm.
303: Was there a point in time that you felt was the pinnacle of the bands career or have you yet to notice any sort of peak like that?
There was a peak with record sales and touring numbers — that time has long passed. I think my personal peak has yet to be reached.
303: What can fans expect on this Ten Year Anniversary Tour that might be different than any other tour you've been on?
I think there will be a ton of songs people have never ever heard live.
303: After this tour, can we expect new songs or a new record?
Yes, we're almost done writing. We will be in the studio, late 2014, and [should] have a new record out Spring 2015.
Photos and video courtesy of Senses Fail.
Written by Samuel Lang of 303 Magazine.