Wondering what is this Paleo diet all about?  Read my article here.
Colorado generally ranks as one of the fittest States in America.  We have beautiful weather that allows our residents to before athletes in all types of sports.  Due to the athletic nature of Colorado, many healthy food companies have laid their roots here.  Of these healthy companies, many of them have product lines that are focused on the Paleo Diet.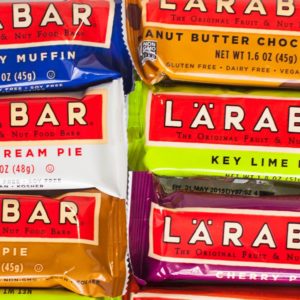 #1 LÄRABAR
From the website, "LÄRABAR is a delicious, gluten free blend of unsweetened fruits, nuts, and spices. Made from whole food, each flavor contains no more than nine ingredients – pure and simple, just as nature intended."  I have been a fan of these bars for almost a decade.  My favorites are actually two of the original flavors that were made in 2003; apple pie and cherry pie.  This Denver-based company now has many unique bar lines that you can pick up at all the local Sprouts Farmers Markets.
#2 Tender Belly
There is one thing that people on the Paleo Diet love and that is bacon.  Tender Belly started in 2010 and have quickly grown into the "go to" pork provider for some of the finest restaurants in Denver.  They use 100% vegetarian fed pigs that are processed at only the cleanest facilities.  I personally love the Dry-Rub Uncured Maple Bacon.  You can pick some up at various markets around town or search the website for all the restaurants in Colorado that feature their product on the menu.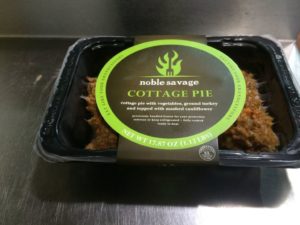 #3 Noble Savage Foods
Need a full Paleo meal in a snap?  Noble Savage Foods has you covered with fresh packed meals that are blocked out for the Zone Diet.  They usually cost between $9-$12 but are usually well over a pound of the most quality ingredients.  Meals can be delivered to your door each week or you can pick them up at various CrossFit boxes in Colorado and at local Natural Grocers locations.
#4 Caveman Cafeteria
Caveman Cafeteria is a brand of food service that creates gourmet meals which are all 100% compliant with the paleo Diet.  Read my full review here.
#5 Evolution Snax
Who said you can't snack while you are on the Paleo Diet?  E volution Snax provides beef jerky and nut clusters that adhere to the Paleo Diet.  All of the beef jerky is grass-fed so it won't be the sugar cured stuff you are used to getting from the convenient store.  My favorite though was the CHOCONUT CLUSTER that adds unsweetened toasted coconut flakes and 60% dark chocolate chips their original nut mix.