It's Dead time in the Mile High. Grateful Dead guitarist Bobby Weir and his band RatDog are coming to town with famed guitarist Steve Kimock. Bob Weir & RatDog will be playing a 90 minute set at Red Rocks on Friday July 11 to open for (the first of three back-to-back shows) the Avett Brothers. Then on Saturday July 12 at 9pm, RatDog will play at the Ogden for ages 16+. Tickets cost about $50, alas the show is sold out.
But if you haven't gotten tickets- fear not! Kimock will be back in Colorado to perform at the ARISE Festival with the always rotating cast of the Everyone Orchestra, taking place August 8-10.
303 Magazine caught up with Steve Kimock while he was enjoying a "day off" in Salt Lake City to ask him some questions. Kimock is a well-seasoned guitarist (an extreme understatement) who has played with lots of different bands, artists, and styles over the past several decades. Read on to learn more about his Pennsylvania roots, learning to play guitar in Marin during the dawn of the Dead, hitchhiking with Phil Lesh, getting compliments from Garcia, and becoming Bobby Weir's go-to guitar guy. But most importantly, read the interview to find out-  not how the Grateful Dead shaped his career- but how Kimock paved his own path amongst the blossoming Bay Area improvisational jam band scene and how he has established his own unique sound as a solo artist.
303: You've played with a million different bands over the last (nearly) forty years, ranging from psychedelic jazz to salsa to gospel to blues to practically every version of the Grateful Dead with each of its members. Which type of music do you like to play the most and why?
Kimock: Oh man, this is going to have to be one of those split decision type things. I have this public persona as a soloist kinda thing, ya know. So in that ensemble, the rock band, in front of people, my favorite music to play is rock n' roll. Like that bluesy kind of rock stuff. I do a bunch of the San Francisco Bay Area improvisational stuff, which isn't always rock n' roll specifically. I really enjoy doing that. But I think at the end of the day, I get a kick out of the rock n' roll. It just feels good. But that's with the band- any band.
But at home I play my acoustic guitar, which is mostly unfretted. I play the Hawaiian guitar and fretless guitar, and that stuff is a whole lot more modal and old school. Northern India and Afghanistan influenced stuff, which is absolutely nothing like what I do on stage.
303: Have you ever played the sitar?
Kimock: Yeah! (laughs) I tried, but I was horrible. I could barely figure out how to hold it. I mean, you could hand me almost anything with strings on it, and I'm in my element… with the exception of the sitar, and unfortunately, the banjo. If I was led into a room and expected to make music and there was a trumpet, a piano, a sitar, and a banjo, I'd have better luck with the trumpet or the piano. But there are a bunch of other stringed instruments- non-Western string instruments- I'd be fine with.
We get such a narrow slice, here in the English speaking Western world, of string instruments. We're kind of force fed our entertainment by the media. It's such a business, the selling of music. It's kind of narrow, you know. We don't hear about a lot of what's good in music.
I'll make a suggestion to you, for whoever's reading this: there's a website called Atlas of Plucked Instruments. The variety is just astounding. The further you get from the United States, the more interesting instruments you find. I've been really keen on this Vietnamese folk music lately. Music in the air of any kind, that's healing for me.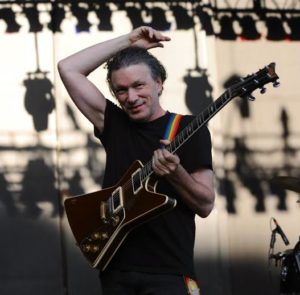 303: Let's hear about your involvement with the Grateful Dead and how it has influenced your personal music style.
Kimock: It all happened pretty accidentally. I was growing up in Pennsylvania and trying to learn to play the guitar. I felt like if I applied myself to it, I'd actually get good at it. My natural fascination with the Beatles got me to first pick up the guitar. But I wasn't, like, a Deadhead or anything. It wasn't really what I was listening to or involved in that social scene. I was real into the Allman Brothers and Johnny Winter, but not so much the Grateful Dead.
But I was with a band The Goodman Brothers and we were writing and playing stuff together, and they were big fans of the Dead. They were the guys who were trying to sneak into the bathroom windows at the concerts and stuff. By that time I guess we were like nineteen or twenty and we met a guy who suggested that we move out to California. Okay. So we loaded up the van with everything we had and a couple of guys and drove out there. This guy set us up in Marin County. So we were right around where all those guys were.
And that was in the 1970s, so it wasn't that far fetched, you know? We were local; we ran into each other. We were influenced by the whole Bay Area thing.
So I just wound up playing with that buncha guys. Because, well, they were there. Eventually one of the principle guys in the Grateful Dead production world, Howard Danchik, lived right down the street from our tiny house- where we were living with, like, twenty people with water rationed for two. We had moved in during this crazy drought.
One day, I was hitchhiking in the rain and Phil Lesh picked me up.
Eventually I started playing with Weir when he started doing the Kingfish thing. That was kind of the beginning of it. I still hadn't really listened to much Grateful Dead at that point. But I was a big fan of clean, melodic guitar stuff, so there were some parallels between my style and their approach.
As that happened, I moved away consciously when I could. Even though I was being exposed to more and more of that music and I adored Garcia's playing, I wasn't comfortable making that my bread and butter. That was somebody else's thing and I had to make my own thing. So I mostly shied away from it, while also recognizing the importance of it.
They (the Grateful Dead) were an incredible force musically, and in people's lives and everything. And as time went on, I had an opportunity to play with those guys under the circumstances and I would do my best to cover the space and still be myself. I always considered myself sort of on the fence with Bob. If he ever needed me, he could call.
And here we are again however many decades down the road and I get a chance to represent that San Francisco thing with Weir, which I love to do. Playing with him and for him and for the fans. To play those tunes and try to keep it a bit fresh and still be idiomatic with it. I would not pretend to Garcia's legacy. He was a giant. A real once-in-a-century kind of guy.
Kimock & Weir playing "Not Fade Away" at the Tribeca Film Festival from April 2014:
[youtube:https://www.youtube.com/watch?v=7dz68_UV0Uc&list=PLB5EB5F1CA32CDA87]
303: Jerry Garcia once referred to you as his "favorite unknown guitar player." What a great backhanded compliment. 
Kimock: I remember that, that was sweet (laughs). I actually got a call from a friend in Nashville when that quote was first published someplace and he was like, "Holy shit, he actually said that?" Yeah, that was real sweet.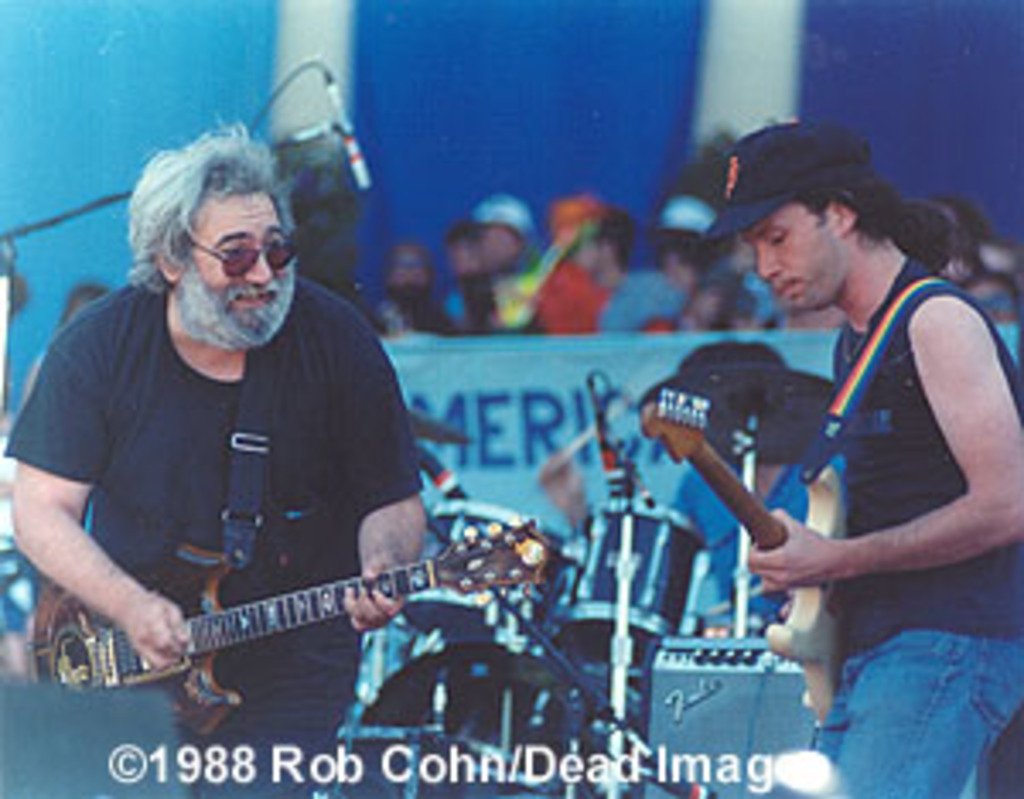 303: You'll be in Denver this weekend playing with RatDog and Bobby Weir. How does playing with RatDog compare to playing with the Dead? What are the similarities and the differences?
Kimock: It's a completely different thing. You know, I did a couple of those- whatever the fuck it was- Further or the Other Ones- the most recent incarnation of the Bobby and Phil show … what was it even called? And I did a few festivals after Garcia passed away, whatever they were called at the time. And that was a completely different thing. Maybe I shouldn't have been doing that. I think that was… you know, maybe it was supposed to be something else. I enjoyed doing it, I learned a lot.
But my thing, ensemble-wise, is… it's not about playing a part so much as it's having the chemistry with the guys. The trust, you know. Let some spaces go, take a turn here, be able to react to things, and work in an improvisational listening environment that was not part of those big stage, in-ear-monitor, twenty five guys trying to recreate… Yeah, this is completely different with RatDog.
I'm so much more able to relate to the people and the material, you know. And I think that, under these circumstances, I do a better job of doing that part that needs to be there that is sort of Garcia-proper, but also being enough of myself that there's something authentic to the music here. It's not an "incredible recreation."
The musical development they had in the band, the space that those guys allowed me, it's really kinda neat. And I'm taking my time with it, on a certain level. Because I don't want to just push the thing off in a completely different direction, but I've been able to create a whole lot more of what's mine. The chemistry is lined up in my favor, and previously this wasn't the case. So I'm a whole lot more comfortable here.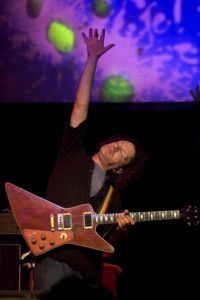 303: You've had the honor of sharing the stage with members of Phish, the Allman Brothers, Warren Haynes, Keller Williams, Peter Frampton, Steve Winwood, Bruce Hornsby, Little Feat, Bonnie Raitt, Merl Saunders… the list goes on and on. Who have been some of your favorite musicians to play with and why?
Kimock: Ha! Any one of those examples, I could spin you a fun story and lots of anecdotes. In terms of just feeling rewarded and fulfilled and just being so happy in the moment, my happiest moments have been playing with my son John, who is just a fantastic drummer. He's really been my favorite guy to play with. My first born is just such an amazing musician. When we get to play together, it's just a completely unexpected blessing.
Beyond that, let's take Eric Clapton for example: he kicked my ass. But none of those guys- it doesn't matter how famous they are or how much I fucking dig them- it's not the same, with that chemistry and trust and stuff like that. What I mean is, I'm on my way to Germany shortly to hang out with Billy Goodman, who is an amazing slide guitar player and a great song writer and a dear old friend. I cannot have a better time playing with anybody else. I have so much trust and respect for him.
I love to play with my cousin Kenny, who got me into guitar when I was a kid. I play at his party each year, so it's like that. The stuff that's closer to home for me, the family stuff, guys I've been playing with for such a long time… that's the connection for me.
Playing with Stephen Jay Hawkins and Bruce Hornsby was also so much fun. All of those guys, it's all good. It's all great. You can't pick a favorite. And it's all super appreciated by me, when you have that kind of professional interaction. But at the end of the day, it's the people that I'm closest with anyway that makes the music most special for me.