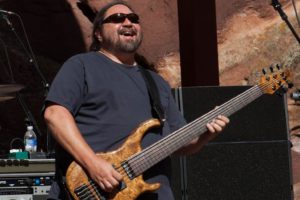 Alright, so I didn't make it to all three sold out nights of Widespread Panic last weekend. But lots and lots of other people did. And my Sunday "afternoon delight" Panic helping was enough to satisfy my weekend desire for rock and roll and sunshine.
Upon exiting the highway at Morrison on Sunday afternoon around 3:30pm after some last minute rushing and logistics, I found that it wasn't Panic that was so much Widespread as was traffic. Cars were backed up all the way from the second entrance of Red Rocks to I70. Apparently my naivety regarding the lazy Sunday afternoon show was laughable to the seasoned and die-hard Panic fans: "never miss a Sunday show." Eventually I made it to the very "under-construction" Will Call entrance, only to be parked in a grassy field immediately to the right. We schlepped all the way up to the venue under the blazing sun and soaring afternoon temperatures. Alas, this was the last I saw of my ticketless friends, as extras and "miracles" were few and far between (and severely overpriced).
But in the end, our timing was perfect and Widespread Panic took the stage shortly after we found our tie dyed buddies, who were perched just a few rows above legendary Red Rocks artist Scramble Campbell, whom we watched paint the signature slanted rocks, fluffy clouds and colorful crowd in its entirety throughout the duration of the show.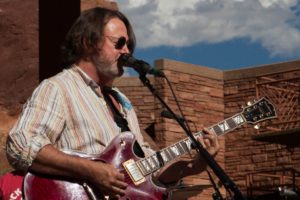 The show started off sweet and slow, easing the sweaty and smiling crowd into the groove that swelled and then broke with a medley of songs by The Band: Ophelia > The Shape I'm In > Chest Fever. The first set, which lasted about an hour, kicked off with Flicker, C Brown, Better Off, Genesis, All Time Low, Crazy, and It Ain't No Use.
The second set, which lasted about eighty minutes, boasted lots of singalong jams, including a vibrant Tall Boy > Bust It Big > Big Wooly Mammoth. A jaunty Ballad of John and Yoko cover was also warmly received. The second set came to a close with You Should Be Glad- and we were. Panic encored with a beautiful rendition of May Your Glass Be Filled into a rockin' rendition of Jerry Joseph's Climb to Safety.
I can't conclude my recap of the Widespread Panic weekend without giving honorable mention to Edie Jackson, their righteous sign language babe. She grooved in that glaring sun all afternoon, dancing along and signing the lyrics to the audience from the stage alongside the band. We couldn't take our eyes off of her all throughout the show. How does one go about applying for such a fabulous job? Did she know all the lyrics to Panic songs and happen to also know sign language, or the other way around? Chicken or the egg? Either way, I'm sure she did a fantastic job of keeping the hearing impaired up to speed with the lyrics while simultaneously providing some eye candy for everyone else.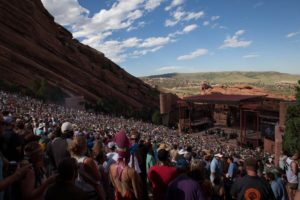 But not only did you miss a bluesy, boozy, and badass rock show (with a three song Talking Heads encore from Friday night's show, plus some Van Morrison covers to boot) – you missed an overjoyed crowd of devoted Panic fans sippin' on their tall boys in the hot summer sun. And Sunday is, by nature, "family day" so there were kiddos aplenty. Puff painted sunglasses, sparkly and bedazzled faces, sunburned foreheads and bellies, fancy hats and capes, practical sandals and visors, the old, the young, standing or sitting or dancing- we were all there. Sunday was the grand finale. And grand it was.

Every walk of life flocked to Red Rocks this weekend to provide Widespread Panic with their "home away from home," and to enjoy the show, the music, the scene, the sun, and the fun. There is a reason this band sells out three straight shows every single summer.

Make sure to check out 303 Magazine's complete photo gallery from the Widespread Panic Red Rocks shows.

All Photos Courtesy of Jackie Collins

See Edie Jackson sign "Dirty Side Down" at Red Rocks from 2011:

[youtube:https://www.youtube.com/watch?v=a1z9H6nTVw0]