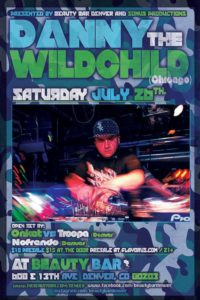 Another week, another incredible lineup of local and national shows stopping through the Mile High City. Denver has been brimming with innovative live shows at a variety venues this summer and this week is no different. Whether you're into hip-hop like Jurassic 5, a little bit of electronic love from our friends Grum, or live music with an artistic flair like the Final Friday art walk, we've got the round-up of things to do in Denver to give you what you need.
Tuesday:
The Black Actors Guild is continuing it's weekly at The Atlas Theater with "Show Ya Teef Tuesdays." This week's show of comedy and music welcomes Molina Speaks and Randy Runyan's release for "Everyday Denver." Join this progressive team of music and hilarity tonight. Show starts at 8pm and it's $5 at the door. Laughs are free. More information here.
The Photo Atlas is kicking off a week of shows in advance of The Underground Music Showcase. The band will perform a rocking show with Social Club at Triple Nickel Tavern tonight in Colorado Springs. You get to enjoy massive tunes and two entertaining bands for free. Show starts at 8pm and more information is available here.
If you're needing a little hip-hop in your life (let's be honest, who doesn't?) Jurassic 5 is performing a second show tonight at The Ogden Theatre. The crew will be capping off two nights of rap mayhem in Denver and you won't want to miss it. J5 will be joined by Dilated People's, Beat Junkies and MC Supernatural. Doors open at 8pm. More information is available here.
Nine Inch Nails will be performing a legendary set tonight with an opening by Soundgarden at Red Rocks. Seriously, what more needs to be said here? The Rocks will never be the same. Information available here.
Wednesday:
1Up Colfax is the place to be each and every Wednesday and this week is no different. Re:Up Wednesdays will host Freddy Toddy, Muzzy (of GRiZ/Liberated Music) for a night of fun and games. Show is free before 9pm. More information here.
Little Tybee is playing live at Lost Lake Wednesday night and the vibrations will no doubt, be high. Little Tybee will be rocking with Lucinda Tela for a dance party to remember. Doors open at 8pm. You can find out more information here.
Thursday:
303 Magazine hosts the hottest fashions at its Poolside Fashion Series. Join a variety of beautiful people as we showcase creative designs for as sunset fashion show. Swim N' Sport will be celebrating 60 years of dynamic fashion and you won't want to miss this event. Show starts at 6pm. More information is available here.
Lost Lake is representing the hip-hop heads well this summer. This Thursday night, F.L. Ill Se7en and more will be rocking the stage and performing live. The two will be joined by Gyp Da Hip and Mikey Fresh who will be providing additional music to nod your head to. More information is available here.

Friday:
Friday night's couldn't be hotter. Home Denver and the Denver Disco family is welcoming Grum to Bar Standard for bass pounding rhythms. Get live on the dance floor and sweat it all to get your weekend started right. Grum will be joined by Fun Factory, Jon Arnold and more. More information is available here.
If you're looking for a more leisurely live music festival, check out the Final Friday Art Walk Bazaar. There will be tons of musicians playing music all through the RHINO Arts District. DJ Uplifter will be playing, there's Youth on Record specific stage, Deep Eddy Vodka sponsored stages and more. Check out all the information here.
Mutiny Information Café is holding it down for the radical constituency of live music fans. Join the Mile High Parlay folks who are working to bring a philanthropic edge to the music scene. Including non-profits, artists, musicians, farmers, you name it, it's going to be a great weekend of music. Show starts at 7pm and it's a free show. More information is available here.
Saturday:
For a more family friendly event, CoLab Marketing is bringing you the Chalk'd Art Festival at Taunaz Tavern in Arvada. Featuring live music, chalk artists and an adult playground patio, spend your Saturday in the sun. The event kicks is from 1-7pm and you can find more information on ticketing here.
Party people looking to rock your faces off with some drum and bass should meet at Beauty Bar this Saturday for Danny the WildChild. The D&B legend has worked with The Jungle Brothers, Eminem and more. If you're looking for a little dance floor action and are itching to work up a sweat, Sonus Productions and Andramada want you to meet them where the bass lives. More information is available here. Doors at 8pm.