What: P17, formerly known as Parallel Seventeen, a popular asian-fusion restaurant turned bistro.
Where: 1600 E 17th Ave, Denver, CO 80218
Pro: Like  Chef Mary Nguyen's other concepts, P17 delivers incredibly high quality food at a low price point. The menu is very well crafted and shows off the amazing talents of Mrs. Nguyen.
Con: Although P17 is proclaimed to be an entirely different restaurant, too many of the familiar aspects of the former Parallel Seventeen remain behind. The name, external appearance and some parts of the menu stay the same, which can make the transformation confusing for those who held Parallel Seventeen near and dear to their hearts.
Ten years ago Parallel Seventeen opened its doors to uptown as a swanky asian-fusion restaurant that often doubled as a bar and dance club. It was a place where people came to hang out, grab a drink and meet up with neighbors. It was a social spot where many people knew each others name. Over the years though, Parallel Seventeen slowly transformed. Many regulars stuck around but fewer and fewer people came to hang out with friends and it quickly became a go-to for date night. The menu became more complex and the price point rose a bit higher. Its owner and head chef, Mary Nguyen, soon realized that Parallel Seventeen had lost its flare. Blending into the background of Denver's many eateries, Nguyen decided to make a change.
" It evolved to something that was so unfamiliar. Parallel 17 became upscale to me, too fussy."
With the recent success of her chef-driven fast-casual, Olive & Finch, Nyugen knew Denver needed more casual neighborhood spots and less high-end eateries. " I really wanted to bring a neighborhood bistro to Denver with quality food,  no pretension at great regional prices. I needed a place I can eat at on a Tuesday night."
Usually food this fine, made with this much talent and care costs an arm and a leg in Denver, but Nguyen offers you her heart on a platter for under $15
With this sentiment Parallel 17 officially became to be known by its locally known and loved name, P17. Not much seems to have changed on the outside; the bright red awnings remain and the signage is eerily familiar. Once you walk in, the place still has a chic feel, but smaller alterations give it a slightly euro-bistro vibe. To the naked eye you might not think much has changed, but the way the space feels has shifted.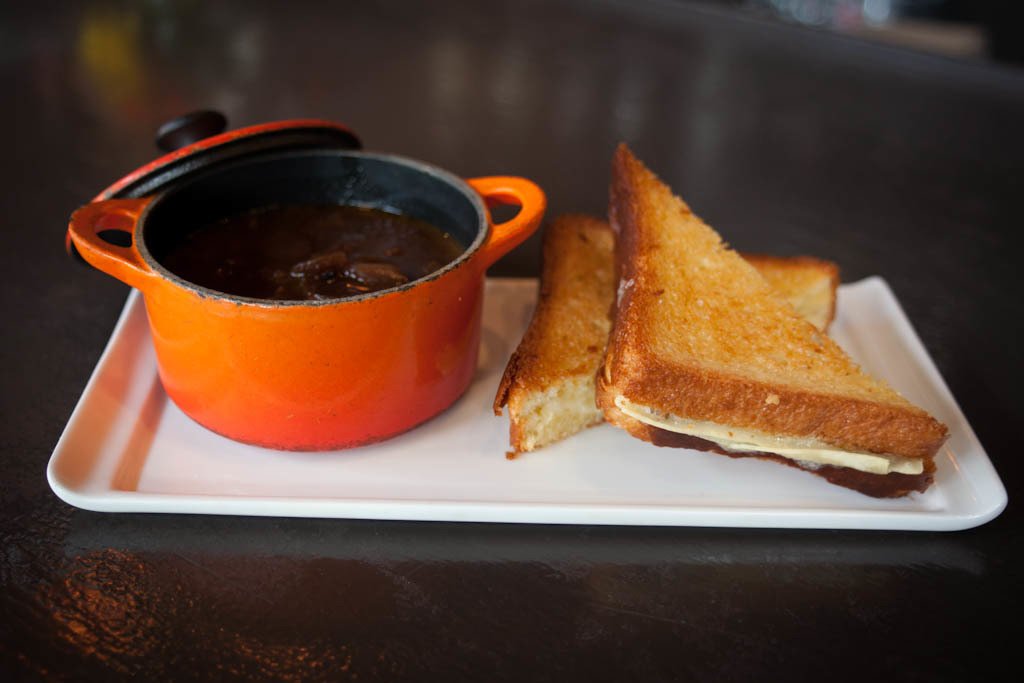 The menu, on the other hand, has completely changed. Before, the Asian-fusion inspired menu was dense and ingredient heavy. Not much was recognizable in writing and often you felt like you were taking a plunge into unknown territory when ordering. P17 is much more simple and straight forward, with offerings like mussels and frites and roasted chicken. But despite the fact that the menu might seem ordinary on the surface, nothing on this menu is bland. Instead every plate is exploding with richness and flavor, a trait that is still very recognizable from the old P17. Almost every dish is a complete knock-out and executed incredibly well with expertise and precision. Take the Papardelle pasta with classic Bolognese and lemon ricotta. The richness of the sauce paired with the freshness of the lemon ricotta instantly returned me to Italy. Nguyen even admitted she spent an entire week learning how to make her Bolognese in Italy from local chefs. The best part though? It's only $14. Usually food this fine, made with this much talent and care, costs an arm and a leg in Denver, but Nguyen offers you her heart on a platter for under $15. 
This type of cooking and restaurant building is exactly what Denver needs. The city might have a rapidly expanding food scene, but so many Coloradans still prefer their fast-casual cookie cutter eateries over local restaurants. Why? Because ultimately they seek comfort and familiarity, which is something that so many local, chef-driven restaurants do not offer. If more restauranteurs follow Nguyen's suit, Denver really might become the next big thing in food. 
All photography by Jackie Collins