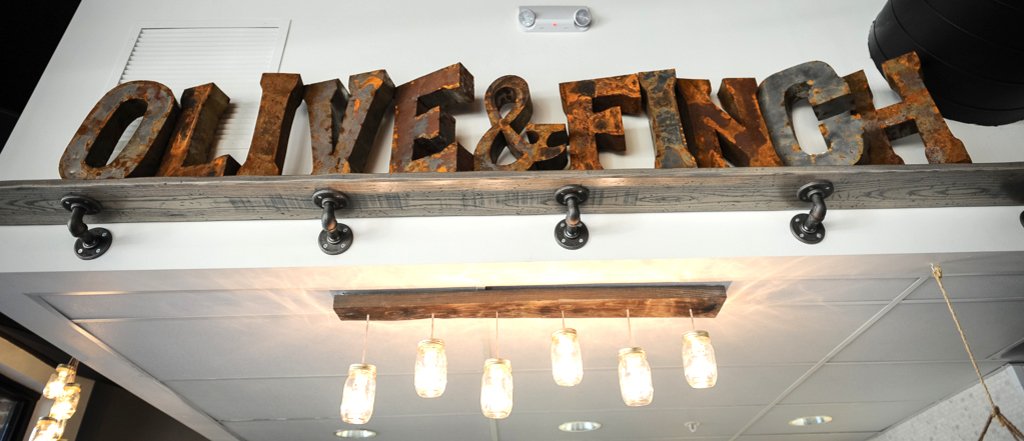 What: Olive & Finch Eatery, Bakery and Market
Where: 1552 E. 17th Avenue, Denver, CO 80218
Open 7AM-10PM Daily
Phone: 303.832.8663
Pro: Olive & Finch is the perfect place to catch an early morning/mid-day bite. Quick, casual but with a focus on high quality food, O&F is the solution for all your on-the-go eating needs. Everything is priced under $13, which is a steal for a fresh, all organic and sustainable menu.
Con: O&F can be a little noisy and crowded on busy days. Come early to enjoy the beautiful space and wonderful food for the best experience. Also their menu is a little limited but they are adding in new items weekly.
Chef Mary Nguyen always had a dilemma when it came to dining out. With a busy schedule and a strong commitment to living healthy, she knew that constantly eating out wasn't a maintainable lifestyle. "Denver has so many amazing restaurants but I am really busy…and it is not just a time commitment but also a financial commitment…[and] a dietary commitment too". With her own predicament at hand, Nguyen realized that there weren't many places to get a "quick, casual and healthy" meal. But she didn't see this as a problem. Rather she saw it as an opportunity to feed the hungry masses that felt similar to her. As a result, Olive & Finch was born.
Typically focusing on Asian concepts, O&F is a different venture for Chef Nguyen. With a strong emphasis on a "European market style" she wanted her new fast-casual restaurant to feel more like a French Salón de té rather than a 'build your own burrito' place. Nguyen accomplishes that by creating a fresh, organic menu that feels farm to table but is much quicker. Plus having your own pastry chef that churns out fresh goodies every day doesn't hurt.
Olive & Finch is a place that you'll want to frequent often. At anytime of day you can stop in and try out their fantastic menu that caters to a variety of needs. Here is a break down of what they offer:
Breakfast
Everything is organic, sustainable and under $13
Any early bird knows that trying to find a healthy and quick breakfast in the early morning hours is almost impossible. We often find ourselves sitting in drive thru's squinting to see which has less calories, a breakfast sandwich made with pancakes or cheesy biscuits? Fortunately there is now Olive & Finch, which offers a variety of delectable breakfast selections with to-go options. The amazing breakfast hashes are made with organic eggs, veggies and home-style potatoes. It can be served to you either on a carved wooden platter (this ain't no Mickey D's) or neatly wrapped up for those of us on the go. They also highlight different local coffee shops every week accompanied by their house made syrups and milks. Oh and their pastries are seriously mind blowing because they make them fresh every morning. Their Alfajores or dulce de leche cookies are magic. They look like little powder sugar macaroons but second you take a bite it dissolves in your mouth like a fluffy cloud of sugar and Carmel. Do I really need to say anything else?
Lunch
O&F's lunch might not be in a league of its own as it is with its breakfast, but that doesn't make it any less outstanding. Once again focusing on fresh and organic ingredients, Olive & Finch's lunch aims to please anyone who requires a fast-casual experience but doesn't necessarily want one. With fresh sandwiches like the Nico, their rendition of a Philly Cheesesteak, or their selection of freshly made salads like the Quinoa Salad, you can have a quick but satisfying lunch . Add in any of their house made juices for a little extra boost. My favorite was the Beet It. Typically I am not a big fan of the 'juicing' trend, but this one was well balanced and not too sweet.
Dinner
Currently Nguyen is still working on a full hot entrée menu. It was not completely developed by the time I stopped by but she let us in on her first offerings. How does homemade mac n' cheese, ziti and meatloaf with mash potatoes sound? After trying out their menu, it sounds pretty pleasing to me. It might not be as health conscious as some of the menu but there are definitely many more things less healthy than home-style organic cooking.
Overall Olive &Finch is my official go-to restaurant when I am on the go. Whether it is for their amazing breakfast hashes, killer pastries or their delectable sandwiches I can find myself checking into O&F at anytime of day. Stop by the next time you have a lunch date or need to grab a quick bite on your way to work and maybe you'll see me, chowing down or running out the door, to-go bag in hand.