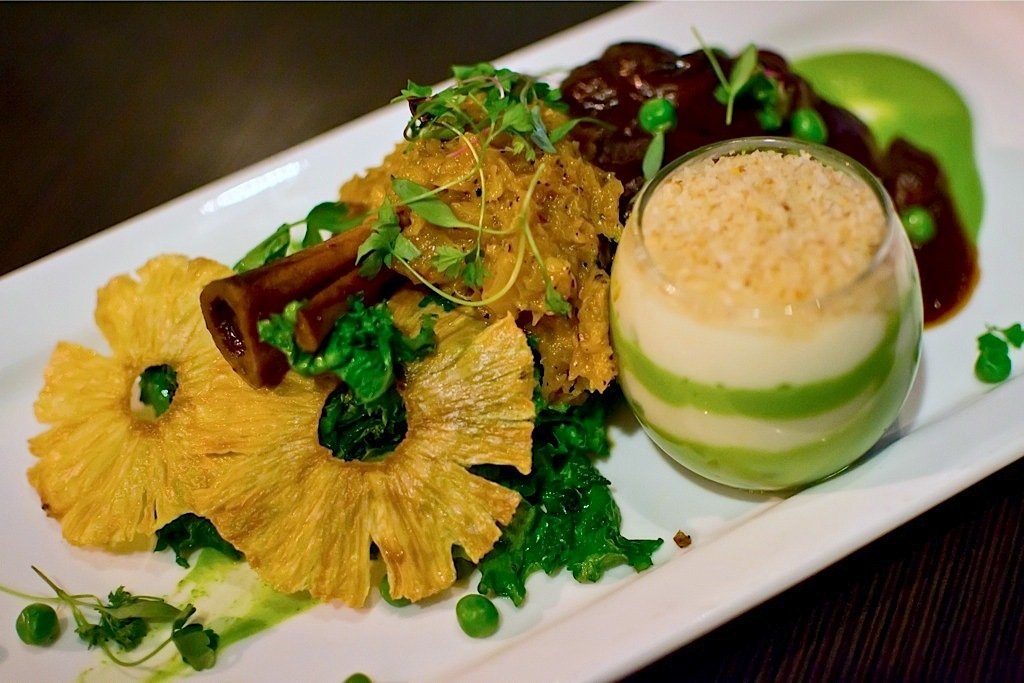 What: Parallel Seventeen, a Vietnamese Bistro
Where: 1600 E 17th Ave, Denver, CO 80218
Pro: P17 has wonderful ambiance and a creatively delicious menu.
Con: All the food is very rich and heavy, so be prepared to share an entree is you're thinking of having an appetizer.
Parallel Seventeen, with its chic, modern decor to its location in a quite but hip neighborhood, feels like it was taken straight out of a rom-com. I easily imagine Rachel McAdams giggling away in one of their corner tables, while one of the predictably cheesy plots of a Nicolas Sparks adaptation unfolds. P17 is definitely date worthy and if you're looking to impress someone it's a good place to start. However be prepared to take your ordinary dinner date to a whole new level because the asian-fusion menu by Chef Mary Nguyen is meant to surprise. The complexity of sweet and spicy flavors of Vietnam collide with french cooking techniques at P17 and the result is stunningly beautiful. Each plate is gorgeously prepared. Filled with bright colors of asian ingredients like ginger, basil and lemongrass topped on rich demi glace proteins, dishes at P17 are almost too pretty to eat. However all the opulence  in color and texture is doubly rich  on your palate and you can quickly find yourself in sensory overload. My recommendation is to take it slow at P17. Don't let your eyes dictate your order because everything looks delicious. Rather skip the appetizer and keep the cocktails light (my favorite was the Sake Cavitini, made with fresh basil and cucumber water). This will leave you enough room to fully enjoy an entree. Be ready to splurge.
One of my favorite entrees was the Goat Agnolotti made with chrysanthemum greens, ricotta salata, tomato demi glace, lemon and basil oil. It is absolutely decadent but delicious. It was  featured on Bizarre Foods America, which makes no sense to me because nothing is bizarre about this. Goat is not all that unfamiliar tasting if done right and I can guarantee you it's done very well at P17. If you can't get past the idea of goat, there are a couple of really fantastic options. The scallops are excellent as always but the Lamb Shank with a Tamarind Glaze is really tasty, but probably best when shared. And if you can even manage the idea of dessert there are definitely several ones to try. The cotton candy is once again incredibly beautiful. Every one of your Instagram friends will be drooling on the other end as you snap a billion photos to get the perfect angle (I even have a photo of me pretending to sleep on the sugary cloud). As for taste, it is great as far as cotton candy goes but not much more. If you're looking for more flavor and a little less flare the Strawberry + goat cheese panna cotta, balsamic reduction, crushed pistachio is much lighter and tastier than your other options. It's a little sweet and a bit tangy and will serve as the closest thing to a palate cleanser.
Overall P17 is a wonderful bistro that churns our imaginative and tasty plates. But be warned it's easy to go overboard here. Take it slow and come back a couple times to try out their full menu. If you get a little greedy and try everything at once you'll definitely have a food hangover. So take some time and relax at P17. Bring someone you actually like and have a little fun and experience what asian fusion is all about.