Chris Carlson is the most famous Denver artist you've never heard of. Until now. Denver Artist Chris Carlson creates chalk art masterpieces with stunning, 3-dimensional shapes that appear to pop off the ground itself. Fresh, unexpected, imaginative, and creative are a few words that come to mind. Carlson's work takes the passerby into another dimension entirely.
Chalk is a medium that has recently come into it's own in the Denver, as well as national, scene. It's celebration gains speed each year with the Denver Chalk Art Festival on Larimer Street. While the talent at the chalk festival is undeniable for all local artists, Carlson may be the chalk master.
Chris Carlson's wildly popular take on chalk pops off the ground. He creates images with amazing, 3-Dimensional characters that may make you question your view of reality. Carlson's claim to fame is through YouTube, where he compiles funny, interactive time lapses of his 3-D Art. Unbelievable opportunity came knocking after his videos of 3-D chalk art caught notice of some major hitter companies like Pringles, Hershey and Disney. And for good reason.
Peruse his website for a personal catalog of all the amazing, 3D pieces he's completed over the past few years. I especially enjoyed his promotional pieces for Futurama, featuring a badass, off the wall Zoidberg. When it comes to his work, I can guarantee, you have never seen anything like it!
Carlson lives and works in Denver. Despite his international schedule, I was able to witness the final stages of his Mega Man 3-D mural. Carlson paints 3-D murals with oil paint on canvas as well. Seeing this chalk piece in person explains all the hype. More than just simple chalk murals, Carlson's interactive pieces have evolved into a phenomenon.

Beginning in acrylics and oil paint, his move to chalk was progressive yet intelligent. This is uncharted territory. The art plays with the passer by's perception of space, subjective to their unique point of view. Pieces are much larger than you think, anywhere from 15-30 feet long. As you move back, the dimensions come together to seem to come off the ground. And when Carlson is finished, he washes it away and creates another. The fleeting nature of chalk art and it's impermanence only add to it's meaning.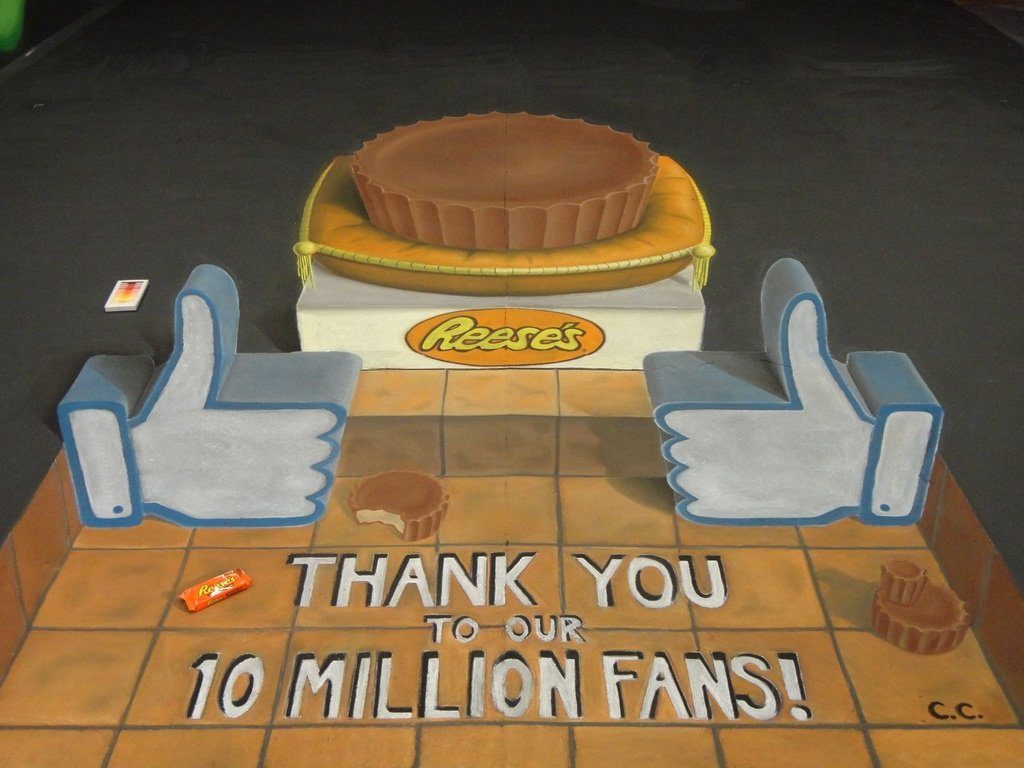 Chris Carlson's studio is an artist's creative playground, complete with piles of chalk, acrylics, 3-D mural stages, paint on the walls, and old school arcade antiques lining the back of the room. When you enter the space, the chalk piece on the floor looks like a gigantic, stretched out version of Mega Man. To move around the piece and interact with it's dimensions is half the fun.
I could hardly believe my eyes. There is a perfect vantage point for viewing the art, messing with perception with every step you take. Carlson set up a camera and recorded an amazing, time lapse of this new Mega Man 3D character (being released soon) with a surprise ending. Above is a sneak peak of the video that will probably break Youtube.
Carlson has done major work for international brands, plus tons of amazing gaming conventions including in France, where Carlson was surprised by how much people walking by really enjoy watching the artist create. The artist's process is held on a pedestal in Europe, an idea that is growing in the United States and in Denver more each year.
Follow Chris Carlson on YouTube and join the 3D sensation. Be sure to look for Chris at the Denver Chalk Fest on Larimer Square May 31- June 1st! Follow 303 Magazine on Instagram for the best, local street-art all year long!