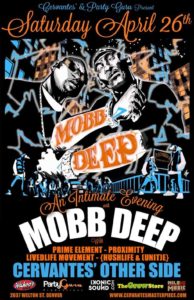 Mobb Deep will take the stage at The Other Side at Cervantes Masterpiece Ballroom on April 26th at the height of the legendary group's existence. After an eight year hiatus, the release of The Infamous…Mobb Deep finds the duo from Queens on top of the Billboard charts for their eight top 10. Havoc and Prodigy have remained central to the discussion of hip-hop as the genre is celebrating reunions and milestones galore of late. OutKast united at Coachella for a history performance and Nas is celebrating the 20th year anniversary of Illmatic this week. Mobb Deep will continue the trend of keeping "ski-mask rap" alive at Cervantes Other Side joined by Prime Element, Proximity and LivedLife movement.
While it's been quite some time since Mobb Deep has released new music, the two have remained in the news. Most recently Prodigy attacked Pitchfork writer Jayson Green on Twitter for what he deemed an inaccurate portrayal of the culture in a review featured in the magazine. Despite rumors of break-ups and public meltdowns, the music has remained even more timeless. "Quiet Storm," is still one of the finest displays of rap we get from Lil Kim's verse. If you're really a hip-hop head, "Shook Ones" (both parts) will forever keep you money motivated.
Catch The Infamous Mobb Deep in an intimate evening and performance on April 26th and mark this one down in your hip-hop history book.