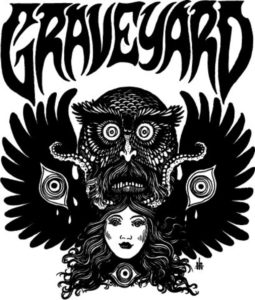 Those who are unfamiliar with Swedish rockers Graveyard are certainly missing out. These guys play some of the catchiest and heaviest rock 'n' roll of all time, and they are playing here in Denver at Summit Music Hall on Wednesday, April 23rd. The band has been around since 2006, and they've released three studio albums, Graveyard, Hisingin Blues, and most recently, Lights Out , in 2012. Their music is straightforward rock, although they have a distinctive bluesy, doom metal influence in their sound, and are currently signed to big-time metal label Nuclear Blast. This is the perfect show to drag your non-metal-loving friends to, because everyone can appreciate the soulful-yet-catchy sounds of Graveyard. If you still can't imagine what they sound like, check out the music video at the bottom of this article.
Graveyard will be joined on the 23rd by their tour-mates Bombus, another heavy rock 'n' roll band from Sweden, who formed in 2010. They are already signed to big time label Century Media, and they draw influence from The Melvins, WASP, Mastodon, Entombed, and Poison Idea. They are in the same musical vein as Graveyard, but with a slightly heavier, more punk-inspired flavor.
The show starts at 7:00pm, and tickets are $18 in advance, $20 the day of. Come out to hear some good, old fashioned metal-inspired rock.
Written by Addison Herron-Wheeler of 303 Magazine.
Photos courtesy of Graveyard.