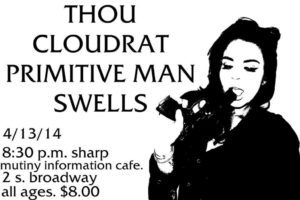 This Sunday, Baton Rouge doom greats Thou play a free show at Mutiny Information Cafe on South Broadway! Thou are known for playing  depressive and politically-fueled doom without the Southern twinges one would expect from a NOLA-based band, and they just released a new album, Heathen, which will be available for sale at the show.
Thou will be joined by Cloud Rat, a female-fronted, three-piece grindcore band from Michigan who sing about veganism, feminism, and paganism, according to their Facebook. They have put out several releases and EPs, and are known for their abrasive music and poetic lyrics. Primitive Man, a local heavy doom band from here signed to big metal label Relapse Records, will also be playing. Opening the show is Swells, a post-hardcore and screamo
band from here.
The cost is only $8.00, so come on down! The show starts at 8:30am, and delicious drinks and coffee will be served. Come check out some great local and international nihilistic metal.
Written by Addison Herron-Wheeler of 303 Magazine.
Photos courtesy of Thou and Cloud Rat.