I
n the world of music, musicians and artists have to know as much about the business as they do the acumen of the artistry. In many cases this is highlighted through ventures that widen the arena of exposure for their art. Steve Stout speaks about this in his book turned mini-series "The Tanning of America." Zachary "Status" Young is a creative force as a musician and an even more astute businessman. He has a serious demeanor, even on stage, and an appealing style. BaRed is located just shy of Colfax and Glenarm and attracts a variety of music lovers and folks looking for a stiff drink in an intimate environment. Cadava Recordz, the crew and brand Status has helped to cultivate over the years creates an impressive standard of music and, as evidenced by BaRed's quaint atmosphere, the perfect place for live music. BaRed is launching a weekend music series on Friday and Saturday nights that will feature unique bands and live performances that coincide with the lounge's classic atmosphere. This Friday Mike Mauer of the Mike Mauer band is the featured performer. We caught up with Status to talk music influence, creativity and why BaRed is sure to be your new favorite place.
How did your being a musician influence the desire to open a bar like BaRed?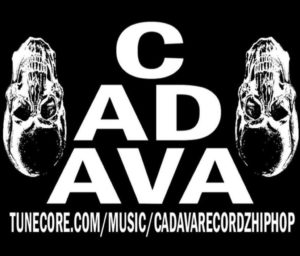 That question is hard to answer. My being a musician took a back seat to the concept of BaRed, though I knew I wanted the place to be different and out of the ordinary – much like the music our crew has made over the years. My music was always influenced by various parts of my life and surroundings. It is fair to say that the bar was influenced by some of those same influences. For example – my Mother's Italian North Denver Roots and My Father's background in Denver restaurants and his drive as an entrepreneur fueled both the style and drive in my music and business ventures alike. The environment at BaRed is a kind of "old school cool" in my opinion, something I can attribute to both my Italian Grandfather and my business minded dad. The same can be said for the style of HipHop I have written and produced over the years. Songs like "Redlions", "Grandpa Joe" and "Things to do in Denver When You're Def" reflect this same feel. Also, being that I am so comfortable promoting and hosting live bands, BaRed has proven to be a great sounding hideout for live underground sounds and performances. 
Who is the ideal consumer at BaRed?
Well, I made the great mistake of opening a place for everyone. The well is cheap and of very choice spirits, though the top shelf rivals anyone in the city. Our main floor is a big city blend of Urban Loft Meets Americana, while our lower level has the tavern/hide out appeal. We play a light blend of reggae and ambient electronic music early in the day, then as the night progresses our speakers turn to a great mix of true 90s HipHop. We have the uncanny ability to service our lawyer neighbors to great wine and craft cocktails as well as our fellow Hip-Hop alumni and peers.

With music at its core, what kind of atmosphere do you aim to create with events and gatherings?
I want to give patrons a big city/urban experience. I want to set the stage for grown ups, drinking grown up drinks, listening to grow up tunes, all the while being able to let loose and party like they did when they had their first legal cocktail.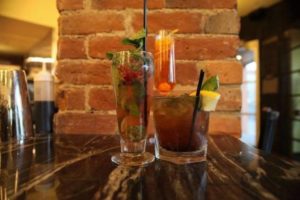 Tell me about your music background.
I started out playing bass guitar in a couple punk/garage bands. Being a bass player, I had become familiar with various forms of metronomes, one being a cheap Alesis Drum Machine. I was very intrigued with the device and quickly moved into producing my own music, writing and recording my bass over looped drums and keyboards. This lead me into the tricky art of sample cutting and HipHop production. I grew up in North Denver, Colorado where the youth's choice of music laid heavily in gangster rap and old school HipHop. It didn't take long for my friends and I to start writing and performing our own HipHop tracks. We released our first professional cd in 1999 when I was a senior at North High School. We started playing parties, eventually moving into local venues and clubs. By 2013 we had released over 15 records, with 200+ songs on iTunes, 7 professional videos and a now defunct HipHop night that we headlined, hosted and booked for over 6 years. Our metal and punk rock roots can be heard through out our catalog, along with our love and respect for true hardcore hip hop. Here's to another 15 years! CADAVA!
Who is all in the Cadava Recordz crew?
A few have come and left but the core of the crew has and always will be:
Status (MC/Producer)
Manic (MC)
Krookid Hooks (MC/Art Designer)
Rotten AKA N8H8 (MC) 
Hip-hop is about the culture but the entrepreneurship of it's occupants have evolved (in this case to restaurant ownership). How has this latest endeavor helped you evolve as an MC?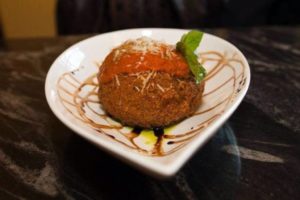 That question literally made me laugh out loud! I would have to say that this latest venture has made me more tired, stressed and strained for time than any of the places I opened in the past. That said, it has given me a whole new set of woes and emotions to write about. It has also put me back in touch with some of the people I knew making music over the years. Finally, it's safe to say that it helped prove that no matter how busy you are, if you truly love making music – you will absolutely find time to do it. 
What is the story behind the name "BaRed?"
There are three main reasons for the name:
1) The building's exterior and interior are entirely made of the original red brick and stone from its original 1891 build. 2) The building was a brothel in the early 1900s which screams the color red in my opinion. 3) I released an album in 2009 called RedLions. The title came from the North Denver Italian Car Club of the same name. The red lion logo became a staple for any and all Italians in North Denver, whether it appeared on a business door or a car bumper. Naming the bar BaRed was a way to pay homage to my roots while keeping the name classy and intriguing.
Musically, what are you working on?
I recently released a punk rock record that I wrote and produced titled ZAPRUDER SOUNDTRACK. N8H8 has a project called ALIENS ARE FROM HELL dropping soon. Manic and newcomer Klever are currently recording an album together. I am currently finishing an album I produced titled SUPERNHILISTICADAVACULTICMUSIC featuring all four members of Cadava, plus features from Goretex (formerly of Nonphixion) and Boston MC Termanology. The latter will be available for free download this summer.