What: Inventive cocktails and eats for a bar-side break
Where: The Squeaky Bean, 1500 Wynkoop St #101
When: 4pm-10pm Tuesday-Saturday, 10am-3pm Sunday, Closed Mondays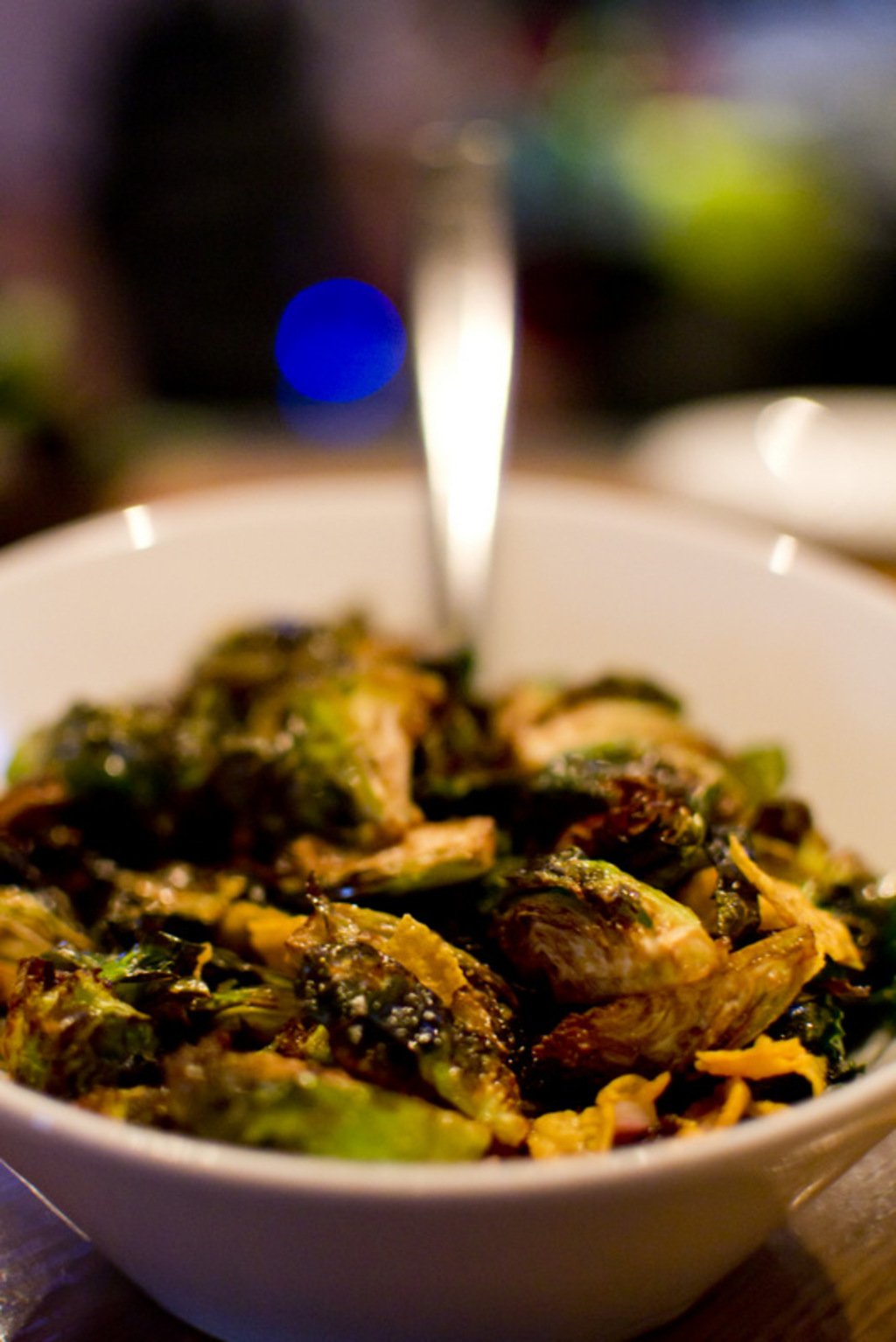 Pros: Bar snacks that are far more elevated than your typical battered and fried offerings and cocktails that taking crafting drinks to a whole new level with a scientific spin. Beyond the food and drink, though, recent staff changes here have added some energy to the space as everyone on board is now on a mission to "bring back the Bean" with a new commitment to highlighting fresh, sustainable ingredients straight from their nearby farm.
Cons: The bar seats fill up quickly, so get there early to get a prime spot for bartender banter.
Have you ever eaten a green bean fresh from the garden and felt the satisfying squeak on your teeth?
That's the feeling that originally inspired idea behind The Squeaky Bean. There may be a few new faces at the Bean today after the departure of Chef Max MacKissock and man behind the bar Sean Kenyon, but the newbies to this restaurant are ready to get back to those original ideas as they revamp the Squeaky Bean with a renewed focus on showing off nature's bounty in an accessible way.
The bar menu of small plates at the Bean offers the ideal way to get a feel for what's coming out the kitchen now. The Chicken Pate ($8) is a popular choice, and the Crispy Brussels Sprouts ($5) with Thai vinaigrette, peanuts and Old Bay spiced cornflakes (yes, cornflakes!) are the best take I've tried yet on this veggie that is having a major moment on menus all over town. If you're looking to make a meal of your time at the bar, go for the Mussels and Moules ($12), a generous portion of mussels served with tender new potatoes over an insanely flavorful uni mayo.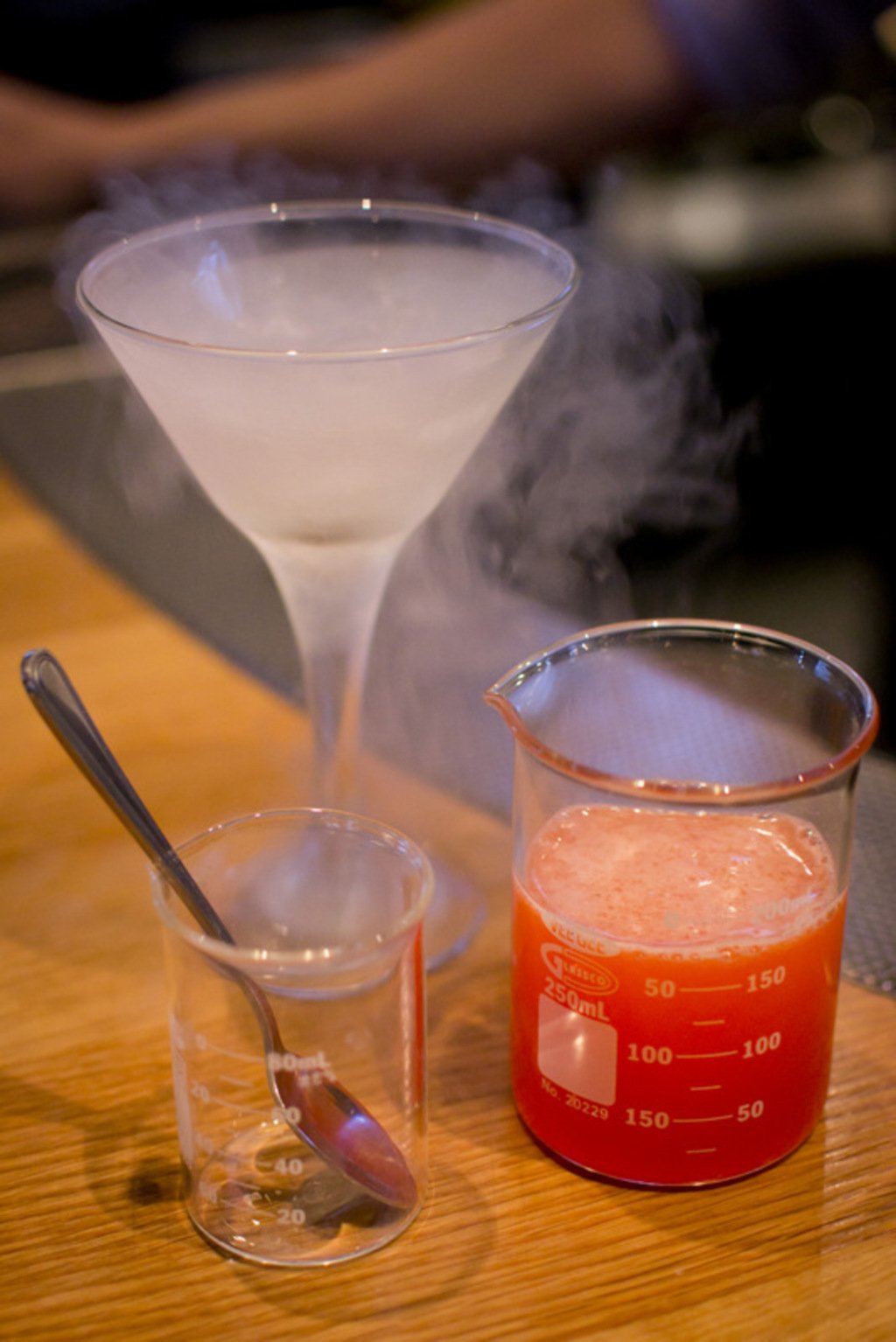 Of course food is only half of the bar-side experience. Part of the Bean's new team includes Brian Smith (who formerly mixed up margaritas for Pinche Tacos among other ventures) heading up the bar program. Smith brings with him an energetic enthusiasm for his craft and a passion for "off the deep end" creativity.
Though Kenyon is no longer manning the bar at the Bean, his skills are undeniable as he continues to gain accolades for his work at Williams & Graham and beyond, and some of his creations remain on the Bean's quirky, retro cocktail menu. The Uncle Jesse ($10) is one of the lingering Kenyon creations and remains one of the most popular. This "expanded Manhattan," as Smith described it includes some unique flavors thanks to the Rothman & Winter Cherry that is balanced by Cynar, bitter, vegetal Italian liqueur.
Part of the appeal of sitting barside at the Bean is that you are often treated to a show with dinner.
Especially when cocktails off the Mystery Science Theatre 3000 list are being prepared. These drinks are made with a unique liquid nitrogen preparation that transform classics into futuristic beverages in front of your eyes. The Gypsy ($10) is perfect for the warm days we've been enjoying. A daiquiri-esque blend of rum, lime juice and macerated strawberries that is poured into a liquid nitrogen-cooled glass. As the drink sits, it slowly freezes from the outside in, becoming a smooth granita-like adult-treat that you eat with a spoon.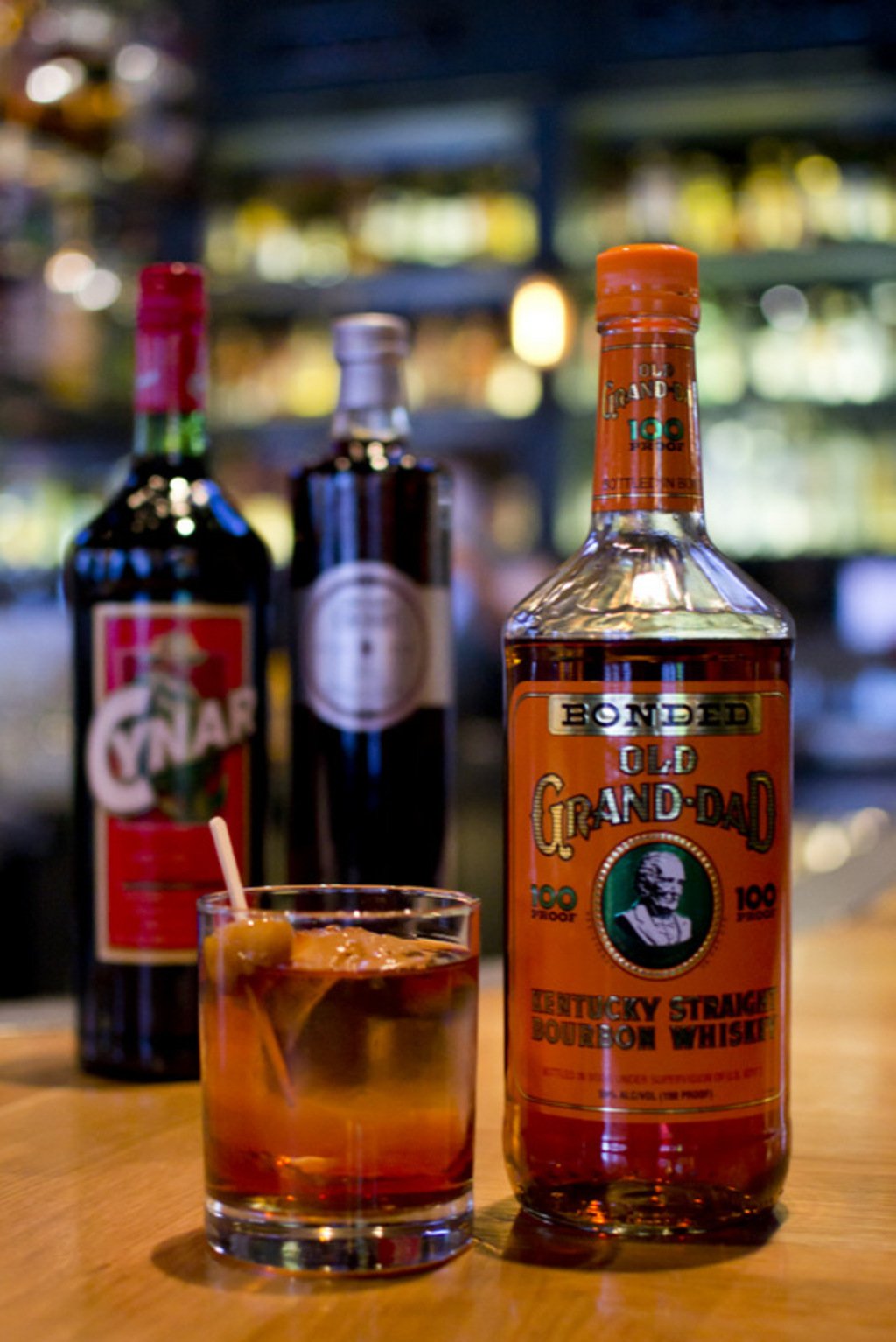 For spring, a new group of drinks was added this week featuring "Drinks About Nothing" in the new Seinfeld section of the menu. These citrus-spiked options include the Cosmo Kramer ($10) with vodka, house lemon liquor and cranberry and the J. Peterman ($9), a drink that comes complete with a lengthy backstory which alone is worth a trip to try out these new choices.
From their Shrine Cocktails (a rotating boozy tribute to recently departed celebs) to the spoons that dangle from the dining rooms lighting fixtures, The Squeaky Bean is full of eccentric touches. But with its newly rediscovered heart, it's also filled with a revived atmosphere that engages diners and encourages you to stay a while, swap some stories at the bar, and remember that dining out is about having fun as much as it's about the food and drinks.
All photos by Adam Ripplinger