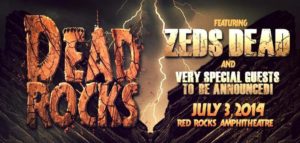 The dynamic electronic duo known as Zeds Dead have just announced their return to the glorious temple of music known simply as Red Rocks!
This pair has been trampling the EDM scene for years, impressing everyone with their unique blends of grimy Dubstep drops, ambient electro beats, and soft vocal samples, all imbued with a heavy bass that can rattle your bones. And lets not forget the rich hip-hop added into the mix by the couples friend and collaborator, Omar LinX. Combine all of these elements into original Dubstep bangers and add an impressive repertoire of remixes that include some of the biggest names in music, and you've got a creative and innovative team of musicians who evoke so much passion and emotion from their fans. Who are they? Zeds Dead, baby.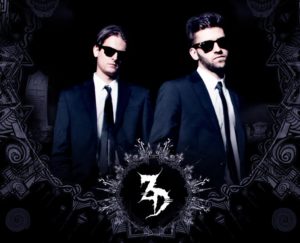 Returning to Colorado for the first time since they crushed their sold out show at First Bank Center this past October, Zeds Dead has more than earned this headlining spot at Red Rocks Amphitheatre in the eyes of Colorado EDM fans. As their first time headlining at Red Rocks, Zeds Dead will surely have some special surprises and tricks up their talented sleeves. This show is certainly going to be a huge highlight of Red Rocks season and should not be missed under any circumstance.
Tickets go on sale at AXS.com today, February 14th, at 10 AM.
Be sure to grab your tickets to see Zeds Dead and their special guests on July 3rd at 7:30 PM!
While you wait for summer, listen to Zeds Dead latest mix below. This holiday mix was released for (you guessed it!) the holidays this past December. Zeds Dead's Holiday Mix, along with a huge assortment of their music, is available for free download from SoundCloud.
Gabriel is a music junkie from San Francisco, California, and recently graduated from the University of Colorado, Boulder with a BA in Creative Writing. Gabriel is a writer for the music department of 303 Magazine, and aspires to write professionally. Outside of work Gabriel loves to party with friends at music festivals, snowboard in the beautiful Rocky Mountains, travel the globe experiencing new cultures and lounge with some quality TV on a lazy Sunday. Contact Gabriel by email at [email protected]