The news is here so start spreading it! But I'm not leaving until Friday,sorry Frankie. Nevertheless I want to be a part of it; you know the rest.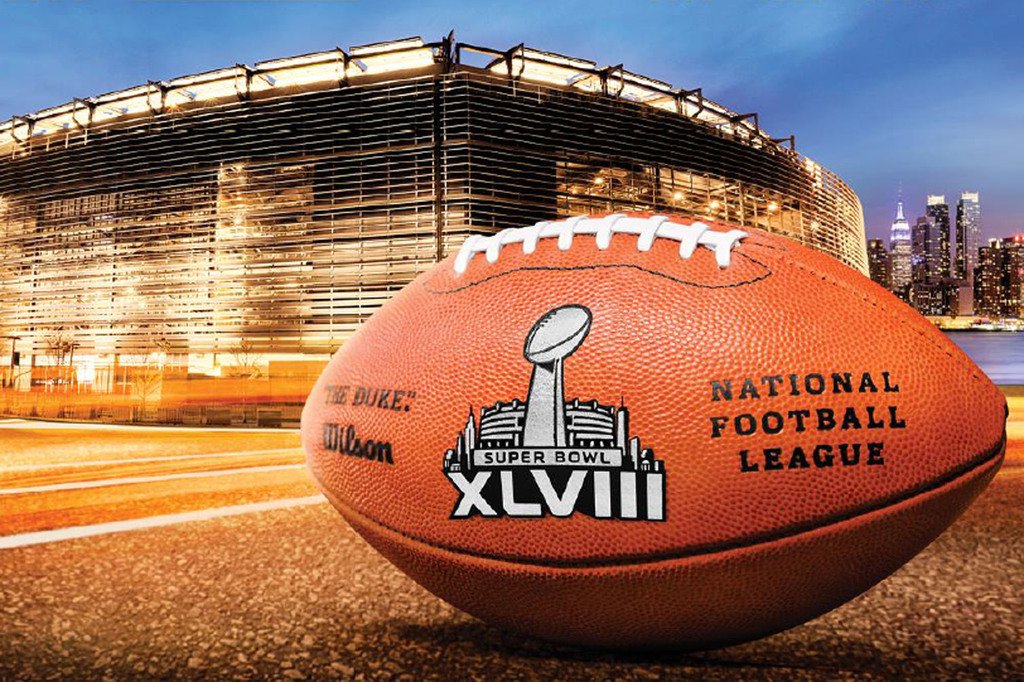 Ah yes, The Big Apple, the City That Never Sleeps, the Melting Pot, Gotham, the Empire City- The Center of the Universe; which it will certainly be on Sunday when our beloved Broncos square off against those stupefied Seahawks in the Media Capital of the World and apparently the city with endless nicknames. But before this "granddaddy" game has his moment in the sun (snow is more likely) at MetLife Stadium in East Rutherford, N.J., New York City wants all of you Super Bowl travelers to party, hard. Like anything else, NYC plans to do it bigger, better and sexier. So if you're heading to the Big Apple for the big game, first off you're a lucky bastard (sneak me in!), but more importantly make sure you check out at least one of these star-studded Super Bowl parties leading up to Sunday's main event.
1. Leather and Laces (Friday & Saturday)
This party has pretty much been THE event to be at leading up to the Super Bowl since it began in Houston in 2004. I mean, Adriana Lima, the world's collective dream girl and Victoria's Secret Angel, will be hosting the party on Saturday night with her compatriot and "PINK" spokesmodel Allesandra Ambrosio at the Liberty Theater in Times Square. This two-night event attracts a hefty Hollywood crowd and some high rollers from around the world. General admission on either night is $950 for full party access, a chance to strut down the red carpet, an open bar, sushi, champagne and an array of gourmet desserts. If you find yourself here on Saturday night come find yours truly so we can snap your photo for 303's gallery!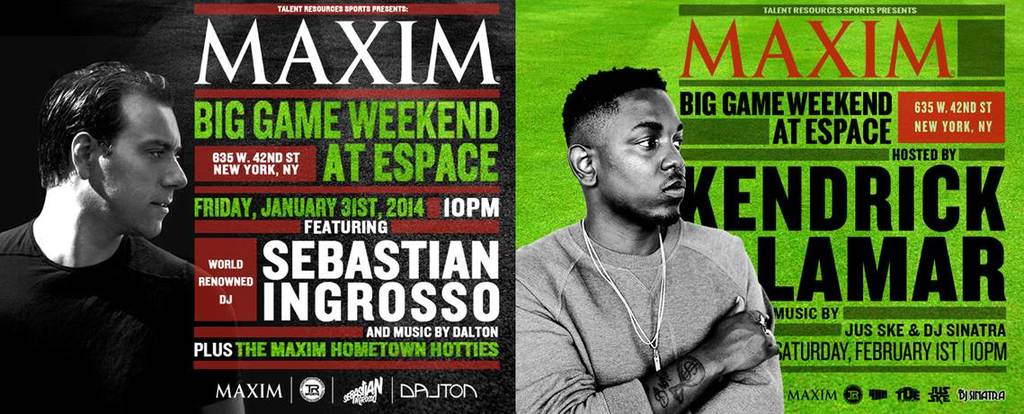 2. MAXIM Magazine's "Big Game Weekend" presented by Talent Resources Sports (Friday & Saturday)
Kendrick Lamar will headline this year's Big Game Weekend at ESPACE nightclub on Manhattan's west side Saturday night.  $1200 gets you through the doors on either night where you'll find yourself among an abundance of celebrities, athletes and beautiful women. If you know anything about MAXIM then you know they throw a hell of a party- the inclusion of this one would probably make your weekend legendary, just sayin'. And if you happen to be here Friday night 303 would love to take your picture!
3. DIRECTV Super Saturday Night
JayZ. That's all I really need to say, but I'll continue anyway. Peyton Manning hosted last year's event with Mark Cuban. The fanatical billionaire will be hosting the affair again, but since PFM is playing in the big game this year he's passed hosting duties to kid brother Eli. For $916 you get a performance from HOV himself with a few thousand of your closest friends at New York's Hudson River Park Pier 40, booze of your choosing, five star cuisine and a night that can only be topped by the Super Bowl.
4.  ESPN Next Party (Friday)
If you've ever had dreams of schmoozing with your favorite athlete then get your ass to this party. Ok, YOUR favorite may not be there, but someone who has caused your eyes to bulge and jaw to drop in awe surely will be. No other name in sports is so synonymous with athletic greatness as ESPN, this massive party at Basketball City near South Street Seaport promises to display the allure of the sporting network giants.  With performances from Robin Thicke and Kendrick Lamar you won't know where to look- be a part of it for $1500.
5. The Low Budget Baller's Ball…Super Bowl Party….list…of suggestions…for Denverites.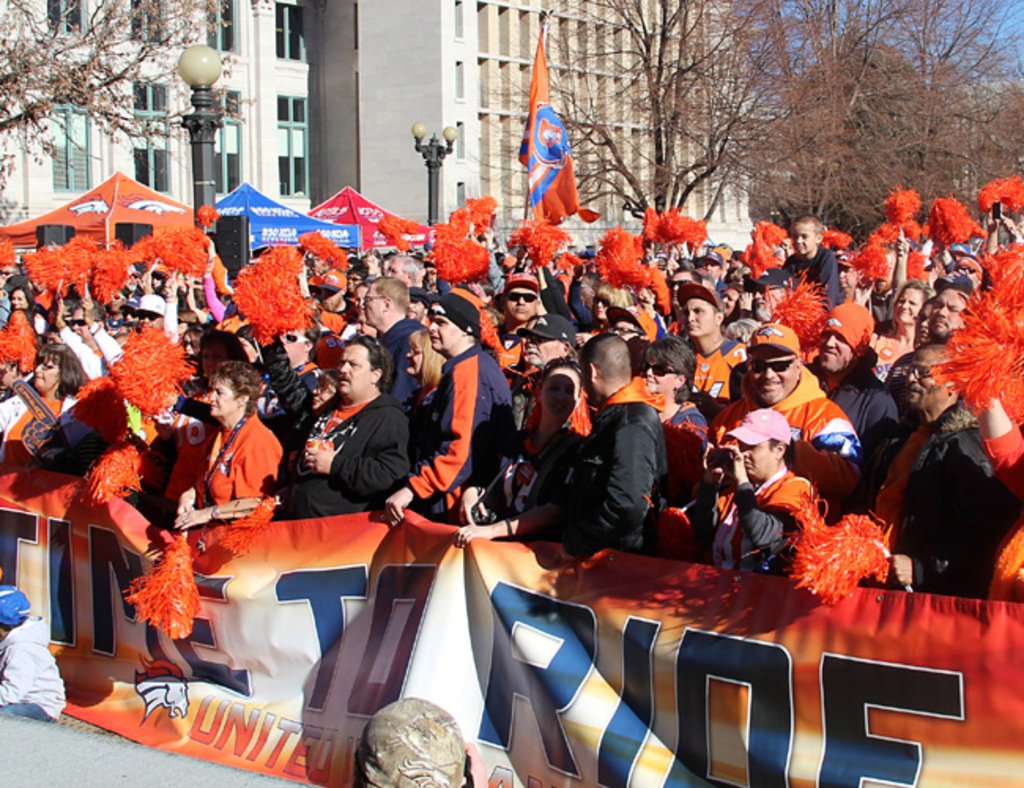 Stay in Denver and go downtown. Your favorite joint, it doesn't matter. But be there sporting your favorite Bronco's gear, or Seahawks gear, if you're into that. If you can't make it to NYC for the game and all its festivities the next best thing is obviously to be in Denver. It will be an historic and raucous weekend for our city. Most places will take advantage of the big crowds and ask a cover, but this is better than a four figure ticket price. Bring at least $20 and have yourself a hell of a weekend.
 Throw your own party. Perhaps the most costly option in staying home, but you'll beat the crowds and the cold and be able to soak in Super Bowl weekend from your couch with a frosty beverage in your hand and a warm plate of nachos in front of your face.  I don't need to tell you (of all people) how to throw a party, but I think I need to give you a nudge to do so. Your carpet will be fine! Gear up for this epic match with your closest friends and family- It will probably be much easier to cry with them out of happiness or sorrow as well!
Don't watch the game, don't even celebrate its imminent start. Merely a suggestion. But if you do this you have no pulse and are dead to me. Obviously. No one will be mad if you bandwagon it this weekend, but you have to tune in and root for someone.. or commercials. Either way, sit down with the rest of the close to 200 million sets of eyes (Sorry to those of you with one eye, I'm not being insensitive) and watch the damn game and drink a beer for the Broncos!