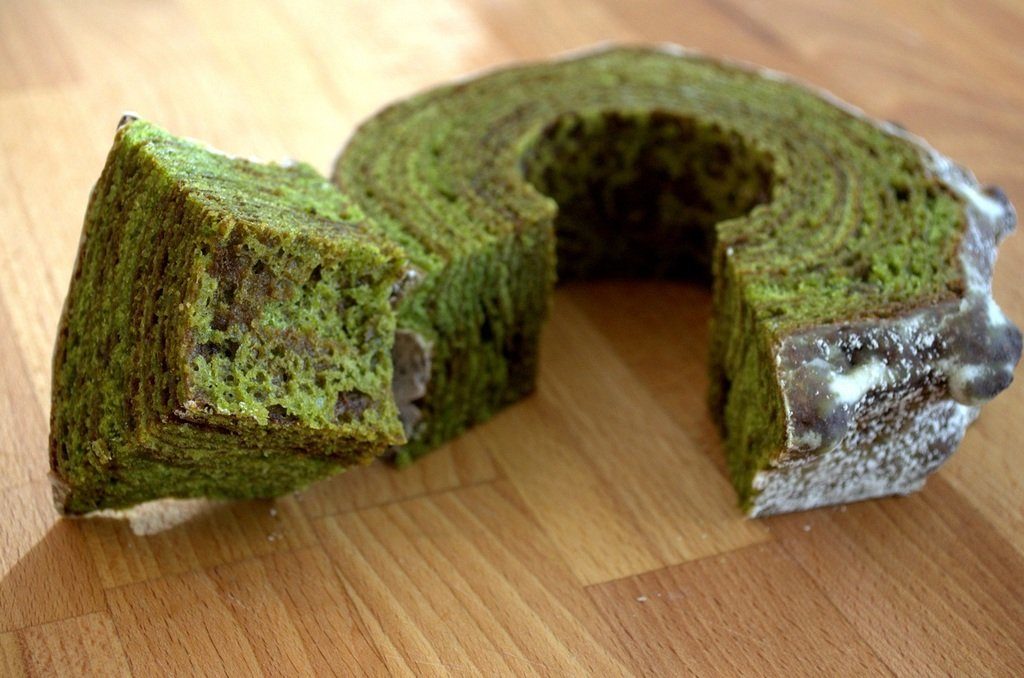 What: Glaze The Baum Cake Shoppe
Where: 1160 Madison St, Denver, CO 80206
When: Open 9 a.m. – 4 p.m. on Christmas Eve! Closed Mondays. Open Tuesday – Saturday: 9 a.m. – 6 p.m. Sunday: 10 a.m. – 5 p.m.
Pros: Their one-of-a-kind German bakery with a Japanese twist including the only Baum cake oven in the United States, ingredients incorporated from all over the world, and impeccable customer service.
Cons: The Mount Baum Cake is made with organic, cultured butter and, true to it's classic Japanese recipe, is on the dryer side for the American palette.
Nestled in a hidden corner of  Capitol Hill, Glaze The Baum Cake Shoppe is your not-so-ordinary bakery. Glaze is the international love child of German, French and Japanese culinary tradition. Heather Alcott, owner and creative mind behind the bakery, has brought something entirely new to Denver: The first Japanese Baumkuchen gastronome experience.
Among cozy boutiques near Cheeseman Park, you'll find Glaze like a diamond in the rough. The store front is quaint and smaller than anticipated yet welcoming. Bamboo wood and sleek design pull your gaze to the colorful, whimsical display of desserts. An airy, open glass partition separates customers from the world-class chefs preparing macarons. In the center you see the Baum Cake oven, also known as the Red Dragon. It is the first and only Baum cake oven in the United States. The chef carefully adds a layer of batter to the Baum cake as the oven rotates, cooking one layer at a time. At 13-20 layers, it is truly a labor of love.
Glaze has spared no expense in their amazing ingredients and over-the-top cooking techniques. Eddie, the amicable marketing director and VIP customer guru, explained the extreme lengths Glaze goes to for their unique ingredients. To name a few: White, dark and milk chocolate imported from Belgium, Macha green tea from Kyoto, Japan, one type of sugar from Canada and another from Japan, as well as local Colorado organic eggs, butter and flour. The experience and taste is above and beyond. It is all about the cake.
The rings in the cake represent the rings in a tree and are meant to bring longevity and good luck. The Baum cake is claimed by many but dates back originally to 1581 in a German cookbook. Watching the process itself is an historic and international experience.
The original Baum cake is my suggestion for first timers because it's consistency, moist texture, and sweetness echo those American cake cravings. I highly recommend the subtly sweet Orange Fennel mini Baum cake.
The Mount Baum cake is more adventurous. Oblong in shape, every Mount Baum cake is different. They use a cultured organic butter and this process which lends itself to the dryer side. This is the traditional taste in Japanese Baumkuchen and might take some getting used to for Denver's sweet connoisseurs. It's flavors, still, are impeccable. If you're feeling adventurous, try the Macha green tea Mount Baum cake with a limonchello glaze. Another great option is the Pumpkin Mount Baum cake with notes of cinnamon, nutmeg, clove, ginger, and a Cointreau glaze.
While the Baum cake is the flagship dessert at the international bakery, Glaze boasts a precious and gleaming array of macarons. They claim to transport you to Paris in one bite, and they did just that. Glaze uses only natural coloring from the ingredients to create the colorful, gluten-free delicacies. Every flavor of macaron can be found: Prickly Pear to Smores, Basil Berry to Sea Salt Caramel, Chocolate Peppermint to Maple Bacon butter-cream—all perfectly executed. The consistency and texture of macarons is another one that is foreign to Americans. I trust it is worth a try and that Glaze is leading Denver's macaron-revolution.
Glaze is open on Christmas Eve and makes a fabulous gift for the dessert connoisseur. Take your taste buds on a world-tour at this trendy, international Cap Hill bakery. Glaze is absolutely Bakauma: Japanese for "foolishly delicious."