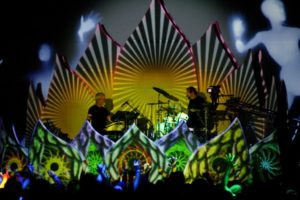 Not many deliverers of heavy bass and dubstep beats can do it night after night with out using a single pre-programmed loop or sample and guarantee that every show will be different. This is what makes EOTO, comprised of beat sorcerers Jason Hann and Michael Travis who do just that and more, the most unique, improvisational, electronic duo in the EDM scene today.
Playing around 200 shows a year, Hann and Travis tear through almost every venue in the country delivering one of kind, wobbly, heavy and innovative breakbeat and bass unique to every show they play. These improvisational wizards have been playing music together for 16 years as the percussionists of Colorado's own the String Cheese Incident.
EOTO strives to break down the wall between artist and audience by creating a fluid show, unrestricted by established songs, that changes with the mood and energy of every audience. Using live drums, guitars, keys and vocals, EOTO mixes and samples beats on stage and in the moment using cutting-edge programs.
EOTO makes every show a visually stunning dance party with their 3D Lotus Stage that delivers insane images from blinking eyelids to blazing fires. It's hard not to get lost in the projections but the non-stop, throbbing bass always brings audiences right back into a dancing groove.
We had a chance to talk with Michael Travis about what makes an improv EDM duo thrive and what to expect from the EOTO show in Denver this Saturday at The Fillmore Auditorium.
303 Magazine: After headlining Global Dance Festival with a stellar performance at Red Rocks this summer, are you guys excited to be back in the Denver area, performing as EOTO before gracing the area once again for 3 nights with the String Cheese Incident?
Michael Travis: Yeah, that was a sick one for sure. We're excited to close out the tour here as EOTO.
303: You guys make all of your shows available for download. Since all of your shows are improv, what is the process like of naming each song after the show? 
MT: We have two guys, Brian and Keith in Denver, that name everything for us as it comes in. They separate it into what seems like songs and put it on the internet.
303: So by listening to the show they come up with these track names? 
MT: Yeah, exactly. Trying to never repeat a song name can be troubling.
303: That must be why so many look like they're from another language. it has been almost an exact year since EOTO took the stage at the Fillmore. Has anything changed or improved for you guys since that last show? 
MT: Yeah, well, you know, since it's all improv it's easy for us to move on from what we've learned the night before and recreate ourselves and invent new things. We continuously evolve on what catches our ear in the world and what we want to try to re-represent on stage so its always an influx. i feel like we're a totally different band than we were last year. We're investigating much broader moves than we used to. We're less of just a straight dance band and more of an exploratory journey.
303: Playing a completely improvisational show doesn't seem like easy work. What are some of the things that help guide you through the show? Like the energy of the audience, venue, etc…
MT: Everything feeds into it, you know. We've done it so much that we have such a common language. We just feed off of each other too, like if I represent some new part and he knows what I'm about to do, he'll address it and we just kind of go with it.
303: I've noticed how you and Jason's love for EDM has had an influence on some of the shows you've played with the String Cheese Incident, like the unforgettable dubstep version of Desert Dawn that premiered at last years Electric Forest Festival. Does the bluegrass/rock style of SCI ever influence or sneak into EOTO shows?
MT: Yeah, you know rock n roll is always such a big part of my heritage, and Jasons too, and I'm feeling more versed with the guitar these days. I'm trying to play more guitar than i used to which is definitely influenced from that world.
303: You guys have never been afraid to break through boundaries and be the first to try exciting new things, like the amazing Circle of Life jam at Red Rocks this summer where you guys became the first musicians to ever play from the top of the pillars on both sides of the stage. Can fans expect or have they seen some more ground breaking moves on this season's EOTO tour?
MT: Well hopefully yes. We try to make very night something that hasn't been heard. We try to be as refreshing as possible.
303: The lotus stage is one of the coolest and most unique stage ideas I've ever seen. Who is responsible for picking out the visually stunning images projected on stage? Is that a reflection or conversation between the music you're playing and your visual artist? 
MT: That's mostly just Zebbler, the visual artist and video jockey behind the 3D lotus structure. He picks all the materials and curates that.
303: You guys seem to always make an effort to get to know your fans, whether its hanging out at the late night after the show or doing meet and greets before hand. Is this important for a group that plays an improvisational show, unique to every crowd?
MT: I think it can be. Jason is very connected to the pulse of the community. It's nice to touch down with what people are loving. Every generation, or even partial generation, has this pulse that comes up, I remember. In the early 90's, for me, it was Phish, beyond a shadow of a doubt, when they first came through and i saw them in 1990. They tapped into that generational nerve. Going out into the world with the crowd is helpful and then that way we can cap what is cool and what kids are playing at the after shows these days and get a reflection of what they liked about our shows and what they didn't
303: You're closing out a 17 date fall tour with us in Denver. Any highlights or favorite moments from this tour?
MT: Yeah, Milwaukee the other night, last Saturday, was amazing. That was quite a show. There was this huge, female, sexy burlesque dancing troupe that got up and was dancing with us and the music was super compelling. People were tearing their skin off. It had a very explosive, compelling energy much like the great String Cheese shows that I've remembered.
303: That sounds awesome. Did you guys know these dancers were going to perform with you?
MT: It was just spontaneous. We were playing in a huge building with multiple stages and they did their show and caught wind of our's and came by. Our crew saw them and said "You guys should get on stage."