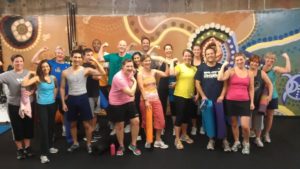 I have always dreamed of going to Australia.  It has been on my travel bucket list since the day I created it in college.  Waking up early, I jogged down Broadway to take a bootcamp class at Bonza Bodies Fitness.  The space is not what you would expect from the professional office building above the basement level.  Jamie Atlas, owner of Bonza Bodies Fitness, has transformed it into a combination of industrial feel with an Australian art mural that stretches the face of the back wall.  Jamie Atlas brings more than 20 years of fitness experience from Australia.
Bonza Bodies Fitness was created in 2009, when Jamie Atlas moved to the States.  He sought to create a goal based training system that gives you the fastest and most effective path to where you want to be.  He prides himself on trying to encourage with care, not punishment.  He does not like the screaming or belittling aspects that most bootcamp programs offer to motivate their clients.  His classes are original, innovative and integrative, which means it's always fun and it's always different.
The bootcamp was indeed creative and different than the others that I have tried over the years.  Jamie Atlas did a great job adjusting his clients throughout the workout so they could get the most out of the movements for their specific bodies.  He used different movements as the switching movements (until this station does X number of reps you can't move to the next movement) so it created a competitive team feel.  The movements varied from push to pull to core activation that kept your body guessing throughout the workout.  Additionally, the movements required your mind to be activated as they included several movements in one.  This is what Jamie Atlas calls, "building a smart body that looks good and functions well."
After the general bootcamp was over, Jamie Atlas had everyone do a circuit of core work.  He has added more core movements to the classes because his clients gave him that feedback.  Talking to Jamie Atlas after the workout, I really got the sense that he truly cares about his clients and he wants to give them what they want.  In the few years since opening, he has built his loyal clientele on this attitude and has won several local awards for best bootcamp classes.
Bonza Bodies Fitness also does weekly workouts at Red Rocks to provide for more space and creativity to larger groups.  Jamie Atlas generally tries to keep the workout at the primary facility to under 12 so he can give the personal attention needed to get the most out of the workouts.
Bonza Bodies Fitness is located in the basement of 1800 Glenarm Pl. in Downtown Denver