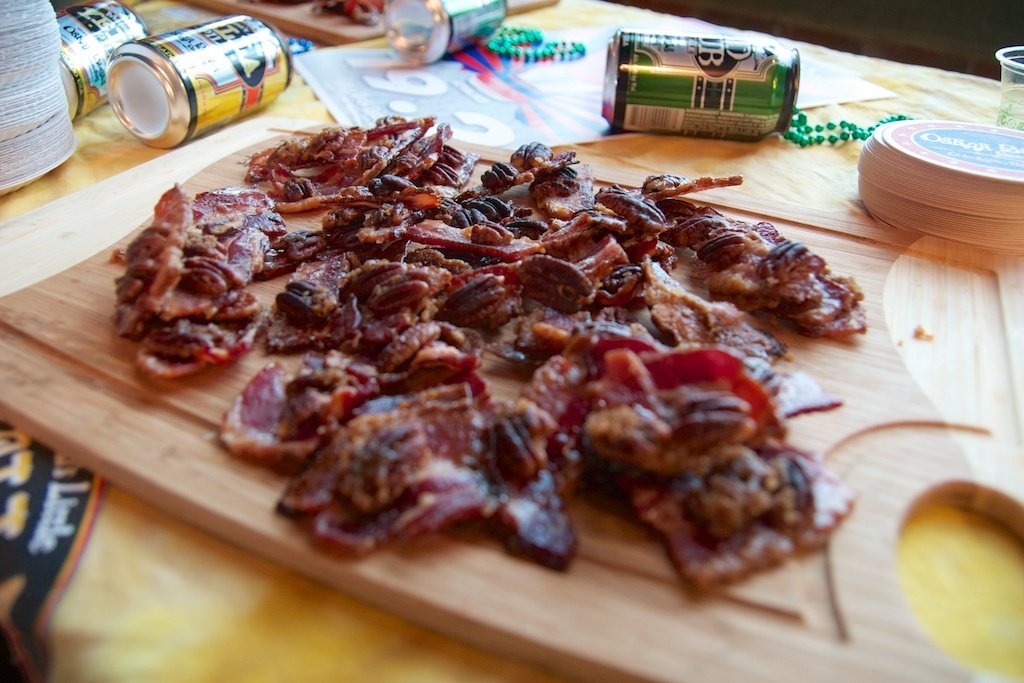 What: A brewer's dinner followed by an afternoon of beer and bacon benefitting Project Angel Heart and Metro CareRing
Where: Wynkoop Brewing Company  at 1634 18th Street is hosting the brewer's dinner. The festival will be held at the EXDO Event Center, 1399 35th St.
When: The brewer's dinner is Saturday November 9th at 7:30. The festival Sunday November 10th, 2:30-5pm
Tickets: Brewer's dinner tickets are $40 and there are still a few left. The festival itself is sold out.
What happens when you combine the magical powers of Bacon and Beer? You get an event that should not be missed by anyone with taste buds.
This weekend, the Bacon and Beer Festival hosted by EatBoston and Denver Off the Wagon returns for its 2nd year. And just like last year, the oh-so-wise people of Denver have snatched up all of the tickets to this oh-so-tasty event. But if you hurry, you can still score a seat at the bacon-filled brewer's dinner happening the night before.
Besides filling the bellies of attendees, this event also helps the community. Proceeds will benefit  Project Angel Heart and Metro CareRing which help to provide hunger relief and nutritious meals in Denver.
The brewer's dinner at Wynkoop will feature five courses of porky, salty creations from some of Denver's best chefs. Check out this preview of the menu and try not to drool on your keyboard:
 Welcome Beer: Wynkoop Koop Deville
 Course 1 
Bacon wrapped shrimp mousseline with shrimp and chile consommé, Uni mayonnaise, and mostarda
from Williams and Graham's Max MacKissock and Blake Edmunds
Beer: Breckenridge Well Built ESB
 Course 2
Onion soup, smoked egg yolk, and bacon
from Kim Alter of Oakland's Plum Restaurant
Beer: Denver Beer Co. Tiffani "Amber" Thiessen
 Course 3
Stout braised pork belly with chestnut polenta, crispy chestnuts, smoked malts-glazed turnips and greens
from Jen Jasinski (Denver's own Top Chef Masters contestant) and Jorel Pierce of Rioja, Euclid Hall, and Bistro Vendome.
Beer: Great Divide Hoss
 Course 4
Carolina BBQ quail, bacon braised collard greens with sweet potato & bacon fritters
from Wynkoop's Cory Treadway
Beer: Wynkoop Kurt's Mile High Malt
 Course 5
Collaboration petit four and mignardises
Beer: One of three selections, Great Divide Oak Aged Yeti Imperial Stout,
Breckenridge 72 Imperial, or Denver Beer Co. Graham Cracker Porter
The festival will feature bacon creations from:
Blackbelly Catering, Cafe Bar, Cap City Tavern, Colt & Gray, Denver Bacon Company, DiFranco's, Fuel Cafe, Gaetano's, Glaze: The Baum Cake Shoppe, Humboldt – Farm Fish Wine, Ignite!, Jax Fish House, Jonesy's EatBar, Kachina Grill, Leaf & Crumb, Little Man Ice Cream, Lola, Lucky Pie, Oskar Blues, Russell's Smokehouse, Salt, Second Home Kitchen + Bar, Tender Belly, The Corner Office, The Mainline Alehouse, The Rocky Mountain Institute of Meat and Amerigo, Trillium, Twelve Restaurant, Uno Mas, Wazee Supper Club, and Whole Foods
And beer from:
AC Golden, Avery Brewing Company,  Boulder Beer, Colorado Cider Company, Crazy Mountain, Crooked Stave Artisan Beer Project, Denver Beer Co., Diebolt Brewing, Dry Dock Brewing, Elevation Beer Company, Epic Brewing, Funkwerks, Grand Lake Brewing, Great Divide Brewing Company, New Planet Brewery, Odell Brewing Company, Odyssey Beerwerks, Oskar Blues, Our Mutual Friend Malt & Brew, Pateros Creek Brewing Company, Renegade Brewing, River North Brewery, Ska Brewing Co., Strange Brewing Company, Wit's End Brewing Company, and Wynkoop Brewing Company.
Photos provided by Denver Off the Wagon