Where: 1700 Humboldt St., Denver, Colorado 80218
When: Happy Hour is available everyday from 3:00 to 6:00 pm
Pros: The updated space is beautiful and welcoming. The food is excellent and a good value at happy hour. I especially loved the Smoked Trout Dip ($7).
Cons: I didn't love the edamame appetizer, cocktails could pack a little more punch, and beer drinkers will be disappointed to know there is no beer on tap.
In early October, Humboldt, a farm, fish, and wine-focused restaurant, opened in the Uptown location that held Strings for nearly three decades. After undergoing extensive renovations, the restaurant debuted with an open floor plan, gorgeous wood accents, and even an exhibition oyster bar. Like most successful restaurants these days, Humboldt decided to offer happy hour along with daily lunch, dinner, and a weekend brunch. Fortunately, this new Uptown hot spot didn't mess around with a weekday only happy hour. Nope, happy hour is offered every day of the week from 3:00-6:00 pm. In another smart move, Humboldt also serves happy hour throughout the restaurant, including the outdoor patio. This means that when the weather warms up this spring, you will definitely find me hanging out on the large patio that seats 40.
Humboldt's happy hour is extensive and they offer a good wine-by-the-glass selection for $4-$5 or cocktails for $6. There's also several beers ($4) available, but while the list looks good, I was disappointed that none it was on tap. The cocktails were tasty and well-balanced. If you're looking for something light and refreshing, try the Cucumber Gimlet ($6) while ginger lovers will enjoy Humboldt's twist on a Pimm's Cup ($6). The Singapore Sling ($6) was also good, made with Pearl Gin, Cherry Heering, sugar, lemon juice, and soda. In a city where the cocktail scene is really generating some buzz, Humboldt's cocktails are less memorable than the drinks at some restaurants, but certainly very drinkable and worth the $6 happy hour price tag.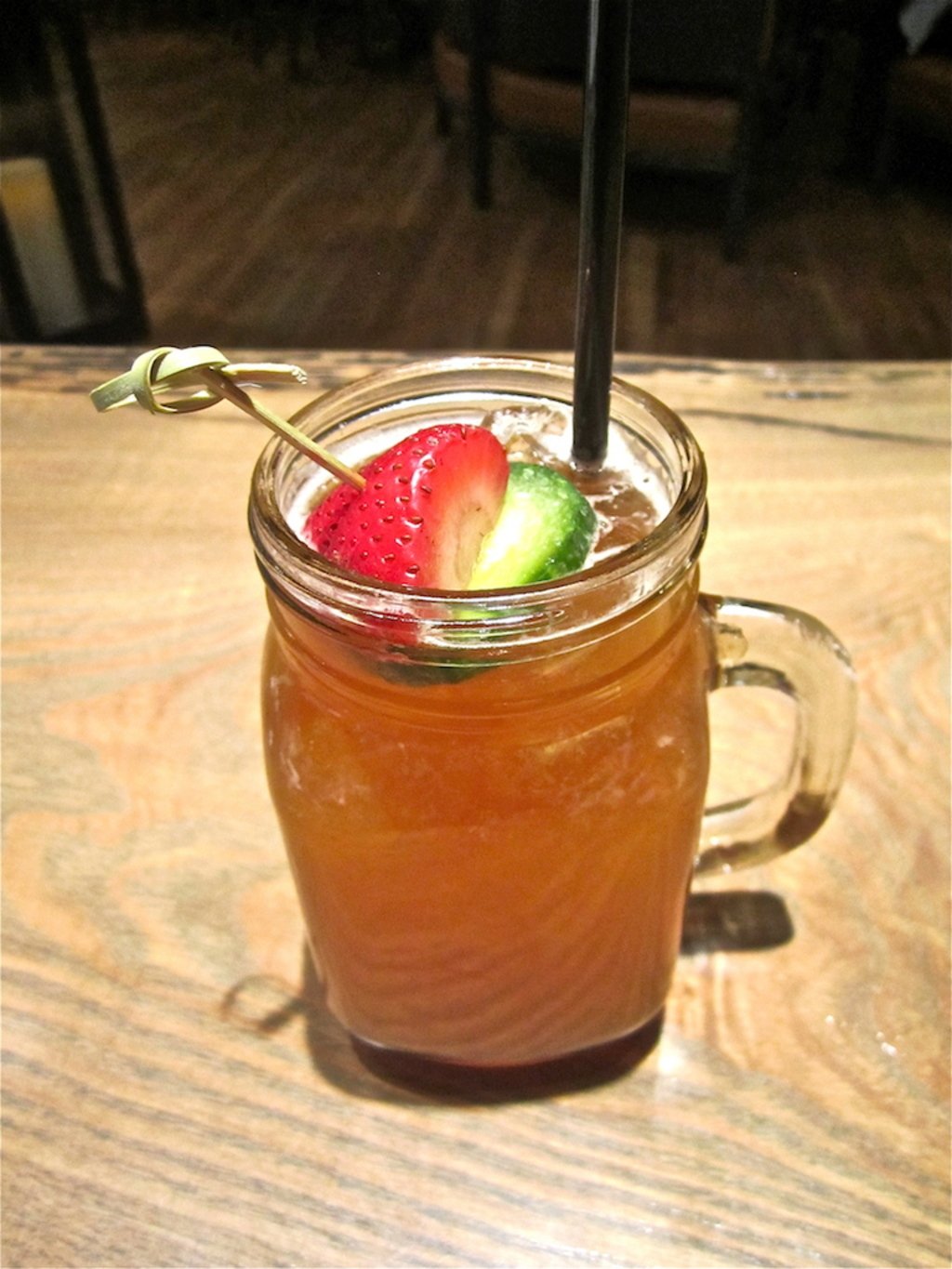 The happy hour food is where Humboldt really stands out from the crowd. While I didn't much enjoy the edamame (I prefer spicy variations), everything else was stellar and a great value. The Crispy Broccoli ($5) comes topped with Grana Padano and pepperoncini aioli and believe me, if your mom cooked broccoli like this you would have always finished your plate. It's the ultimate, gourmet version of broccoli and cheese. I also really enjoyed the Humboldt Burger, which is made with 20% bacon, covered in melted white cheddar, and balanced with a sweet onion jam on a brioche bun. At only $8 (you can fries for a buck more), this burger is once again proving that Denver restaurants have really stepped up their game. But while there are quite a few delicious burgers in town, Humboldt serves up one happy hour appetizer that I haven't seen anywhere else: a Smoked Trout Dip ($7). Here's the thing, I don't even like trout. I've had it many times and each time people say, oh, you'll like my version. But I don't. Humboldt, on the other hand, has turned me into a trout lover. This dip has everything. The trout itself is delicately smoked and topped with delicious sweet onion jam. It's served alongside crispy potato chips for a combination of sweet, salty, smoky goodness that I'm still dreaming about. If you order only one thing at Humboldt, order this dish. I can guarantee it's one of the most unique and delicious things I've had in months.
There are plenty of other items on happy hour to satisfy most palettes and Humboldt seems to have a handle on everything despite only being open a few months. For a new restaurant to be consistently putting out food this good this early on, I expect it to become a favorite Uptown spot. I'll certainly be back for the smoked trout dip and to see what else Humboldt can dish out.