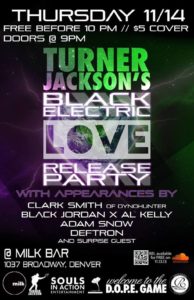 Turner Jackson is riding the wave of the release of his latest project Black Electric Love and will culminate yesterday's release with a party tonight at Milk Bar. Unlike a typical rap album, the MC widened his spectrum of creativity by working with a variety of producers. The nationally recognized CC//NN and Mint! helped create the unconventional sound Jackson was going for.
Known for his dynamism and "acid-rap" style, Turner is carving a niche amongst the rap theatrics that have helped him dominate the progressive sub-genre. On Black Electric Love, there are features from JR Donato (Taylor Gang) and Hustle Man (Welcome to the D.O.P.E. Game) that continue the lyrical onslaught. That track in particular, "Drink These Shots," is a perfect example of Turner's capability to set the tone of a song.
Friday night, the MC will get a little help from his friends at Milk Bar for the Black Electric Love party. In addition to a performance from Turner Jackson, expect appearances from Clark Smith of DYNOHUNTER (the production house for the single "Figure it Out"), Adam Snow, Black Jordan with Al Kelly, Deftron, Al Dean, and more. Doors open at 9p.m., free before 10pm and $5 after 10p.m.
Listen to and download Black Electric Love via Soundcloud.
Watch the video for "Figure It Out," below.