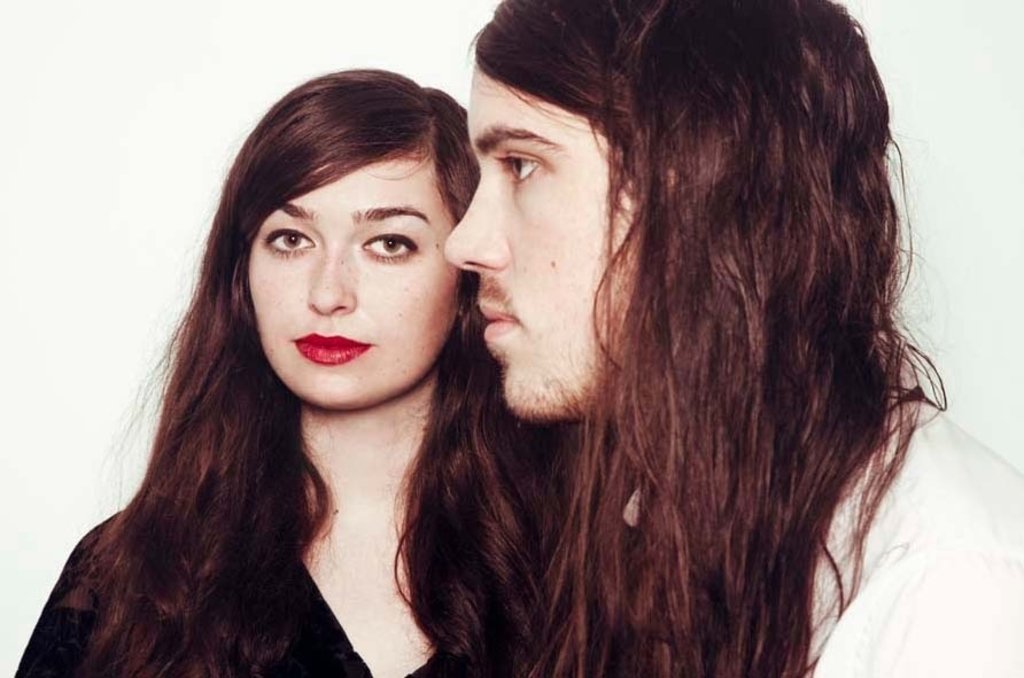 A week away from wrapping up their current fall tour, New York duo, Cults, make their way back to Denver tonight in support of their sophomore album, Static. With their latest effort, the internet gems turned big label darlings (Madeline Follin and Brian Oblivion)– have traded dreamy 50's bubblegum pop for 60's girl-group pop bombast, and critics seem far from disappointed with the evolution.
Guitarist Brian Oblivion spoke with 303 Magazine about the pressures of delivering a standout follow-up album, working with sought-after producer, Ben Allen, and headlining The Denver Post's sold-out Underground Music Showcase last summer.
303 Magazine: Cults has been lucky enough to maintain an indie sensibility while achieving mainstream status. For instance, you just played at Life Is Beautiful Music Fest last month in Las Vegas. What was it like playing on lineup that included big names like Kings of Leon and The Killers? 
Brian Oblivion: It was awesome. Being able to share a stage with Earl Sweatshirt was a real highlight. I think it speaks to the really cool direction that music is going in. People have lost their elitism and like all different kinds of music at once. I think it's going to lead to some really interesting things.
Your self-titled debut album was hugely successful. What kind of pressure did you feel to produce an equally stellar follow-up?
I think we were a lot more nervous making the first record because we put out those singles first. It was a huge challenge to go from writing a few songs in your bedroom to making a full record you could be proud of. This time we felt more confident because we know it could be done.
Thematically, how does Static differ from your first album? What did you want it to achieve with this album? What direction did you not want to take with the new material?
I think that the larger concepts of what we hope for with our music didn't really change. If anything changed it was our interest in timbre and performance. Last record was all made on a laptop, it was all about the songs and the production just kind of stayed the same on every track. We tried to challenge ourselves this time to approach every song on its own terms, with its own eccentricities and style.
What was it like working with Ben Allen (Gnarls Barkley, Animal Collective)? What kind of direction did he provide?
In a way Ben is a very old school record producer. The original job of a record producer wasn't to engineer records; it was to make sure all the instruments and players are in place and that the record gets done on budget and on schedule. It's really a bonus that he happens to be an amazing engineer as well. His most valuable talent for us was helping us commit to ideas and trust ourselves when we came to a consensus.
Since releasing your first album, what are some of the most important lessons you've learned about working and thriving in the music industry?
I think the most valuable lesson we ever learned is to move at your own pace. There's so much music and so much content out there, we try to make sure everything we do is our absolute best effort and something we're going to stand behind forever. Then you can always look back without regrets.
What do you love most about the Cults project? 
Honestly, it's the people. At heart we're still the high school kids that grew up together playing rock shows in San Diego garages. Like most jobs, no matter how cool they might be, if you hate your co-workers, the job sucks.
What worries or frightens you most about being in the music industry?
It doesn't really frighten me, but I think you have to be aware that pop music is kind of a death cult. There's a pretty real age cutoff and no one wants to be one of those people who sticks around too long. It's like being a professional athlete, you get to have one life and then you get to build another.
What music are you listening to on tour?
Mostly current records that we missed out on listening to at home. Lots of Sleigh Bells, Smith Westerns, and Nine Inch Nails.
You've played in Denver a few times before, including this past summer at Underground Music Showcase. What was that experience like?
It was awesome! I don't think I've ever seen so many good-looking rock n' roll people in one place before or since.
Looking forward, how do you want Cults to be remembered?
Half the reason we make this music is in the hope that one day, maybe 50 years from now some kid will dig one of our records out of a crate and connect back to this moment in time. The idea of leaving some kind of document of your time, and being part of a movement is really exciting.
Cults play at Bluebird Theater tonight with Mood Rings and SACCO. Doors open at 7 PM. Show starts at 9 PM.